Riding Dirty Off-Roading in Sundridge, Ontario
Off-roading in the beautiful cottage country of Sundridge, Ontario.
I was recently invited to my friend's cottage in Sundridge, Ontario. For those of you who don't know, Sundridge is between 250-300 kilometres North-East of Toronto (depending on where you are departing from). My drive was exactly 278 kilometres away from Sundridge. According to my GPS I anticipated to get there after a 2.5 hour drive… and that I did!
We went up in the peak of cottage season and on a weekend when the weather was expected to be hot and skies clear! As exciting as that sounds, this meant there was going to be a lot of traffic. Something I recommend in these instances is getting on the road when there won't be a lot of traffic to avoid delays. Anytime between the morning rush and the afternoon rush is ideal. We left around 1pm.
Here is a recap of what I suggest you ensure your vehicle is equipped with while on long drives:
A full tank of gas! Save yourself the extra stop.
A car phone charger (for my cell phone, I rely on my GPS and it drains the battery on my cell)
$20.00 – my jeep always has a $20.00 bill in it as emergency cash. I stash it away so that I am never tempted to grab it out – you never know when or why you will need cash and it is always good in case of emergencies.
My CAA card…for obvious reasons
A flashlight… seriously
Hand Sanitizer! No matter how many times I wash my hands on a road trip, they don't feel clean enough!
Snacks/Water – If you want to avoid having unnecessary stops, pack snacks and water so that if you do get hungry, it's right there in the car with you!
 I was particularly excited to go to Sundridge because it has a lot of trails. I have been looking for the opportunity to off-road and get my tires full of mud all summer long… and this was it!
Before Mudding:
Search for actual Four-Wheel Driving trails that are designated for off-roading. In Southern Ontario there are 5 trails (all of them are a bit of a drive away from Toronto). You cannot take your SUV off-roading just anywhere. Often, big parks are conservation areas and four-wheel driving through them can be harmful to the preserved forestry. A great website to check out nearby trails is: Ontariotrails.on.ca (If you know of other off-roading trails in Southern Ontario, please share them in the comments section!). If you click the link you'll notice there is a trail near Sundridge, Ontario. However, my friend owns a lot of acreage specifically for outdoor adventure sports! There is a trail right on his estate.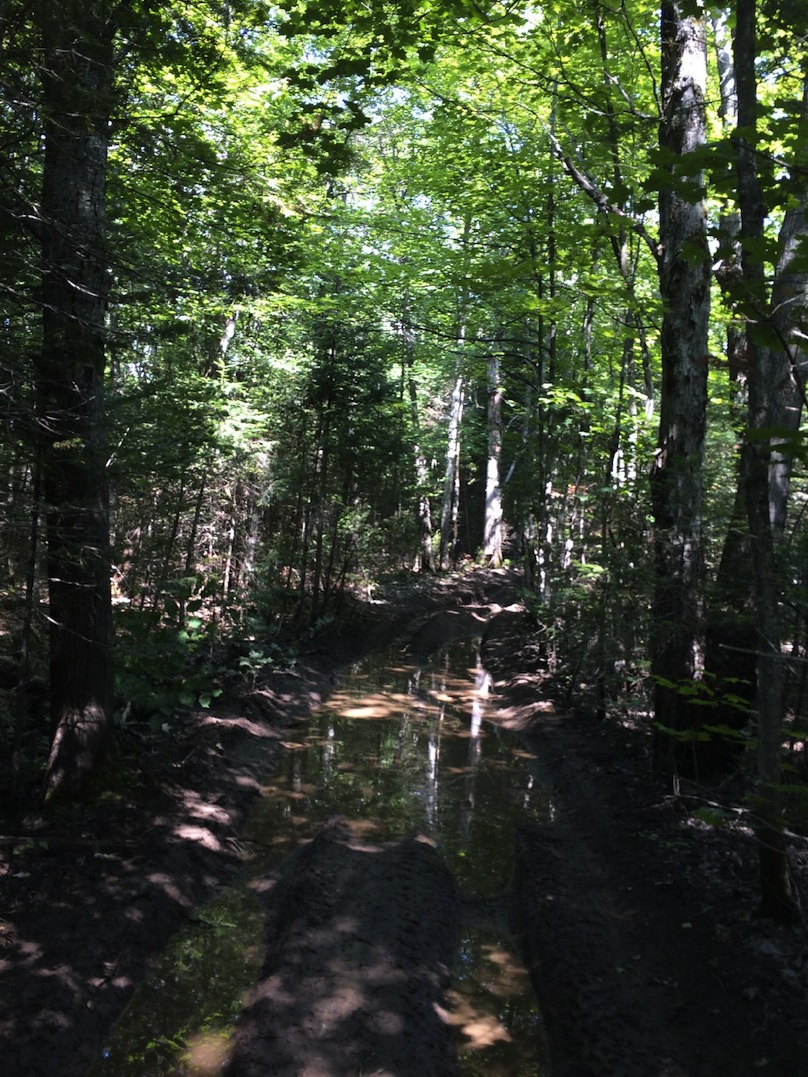 RELATED: 2015 Jeep Renegade Review
Research your vehicle. Before doing any type of extreme driving, research your SUV's year/make/model to not only ensure maximum safety, but to also know how you can maximize your fun! Know your vehicles' limits, especially its level of ground clearance which is usually limited by the differential. If you have read some of my articles you know that I drive a Jeep Liberty. The Jeep Liberty is considered more of a luxury Jeep vehicle as opposed to a Wrangler, which is sporty and commonly seen as the off-roading Jeep. You don't see Liberties mudding very often. Thankfully, I connected with other Liberty drivers on a Jeep forum online and they were able to tell me their Liberty off-road driving experiences.
Make sure the maintenance on your car is up to date. This is a general tip you should follow all of the time (whether you're off-roading or not). You definitely want to make sure your car is not in need of anything before entering an adventurous trail where its performance will really be tested. This ties into my next point… do not go alone. Trails are very secluded, if something goes wrong with your ride, you could be stuck there for a while before getting assistance. You could also get lost. I started having fun and got carried away exploring, thankfully I was with someone who knew the area well and was able to guide me back out of the forest safely.
Test out your four-wheel driving skills on small spots before getting into more extensive off-roading. Slowly go over a few light hills at first and really get a feel for how your car handles bumps. A huge part of off-roading is to thoroughly understand how your vehicle handles and being comfortable with the driving conditions.
RELATED: 2015 Jeep Cherokee Trailhawk Review
Our day was beautiful. My friend's Sundridge trail has a lot of scenic areas! Although it was hot and sunny outside, there were parts of the forest that were in complete shade. The air was dry, but in the forest it was fresh and moist which left some spots with mud puddles! I accelerated through some of the mud puddles just to learn the hard way that this is the worst idea! When four-wheel driving, your best bet is to avoid soft terrain or at least slowly drive through it. My wheels spun and I started rutting (getting stuck). It wasn't a deep mud puddle so luckily I was able to get out of it. This was definitely avoidable… which leads me to my next point of advice…
Educate yourself. Research the area you are going to as much as possible. Talk to people who have gone on this trail. I was fortunate to be with the land owner so he knew the area well. However, that won't be the case for you every time you visit a new off-roading site. Get out of your car and walk every once in a while. Walk on the ground in front of you to ensure that it is stable terrain and not dangerous or swampy. There are vulnerable spots such as soft soils and seasonal nesting or breeding areas. Another aspect of off-roading you should look out for are twigs and tree branches. My Jeep is black, even the slightest scratch on it is noticeable. Regardless of the colour of your vehicle, you probably want to avoid scratches. Tree branches are everywhere and it's very easy to get a scratch!
Keep in mind that the forest is crawling with bugs! A lot of them jump at the opportunity to come and sit in the car, bug spray was a big help. I suggest hosing down your SUV after your drive; it will help remove any insects that might be lingering in the outer crevices.
I must say, my Jeep Liberty may be the least sporty of all the Jeeps, but it did a really good job in the forest. I kept it on Four-Wheel Low for most of my drive, which is recommended for off-roading. Altogether I really enjoyed the experience and would definitely do it again. One of the most important things I researched before going on my trip was Tread Lightly. Four-wheel driving is a luxury. As entertaining as it is, if this is something you are going to do, visit Tread Lightly's website to educate yourself on how you can enjoy this outdoor sport responsibly. Tread Lightly is an organization that teaches how to minimize your impact on the outdoors, how to enjoy yourself while being as eco-friendly as possible, and how to off-road in a conscientious manner. Happy Off-Roading!
RELATED: Top 10 Road Trip Destinations on a Cross Canada Adventure