Top 5 SUVs/trucks at Canadian Car of the Year 2016
Canadian Car of the Year TestFest is divided into categories, and this year, the biggest category (seven vehicles) was SUV/CUV between $35-60k, and here's my conclusion.
The Automotive Journalist's Association of Canada's (AJAC) annual TestFest competition has many storylines; surprises both good and bad, and cars you just know are going to perform well. And SUVs. Lots and lots of SUVs.
It stands to reason; after all, SUVs, trucks and crossovers are huge sellers here, to the point where one—the Ford F-150 pickup—has been the best-selling vehicle in Canada for about 100 million years. They're important for our workers as well as our families, so the massive sales make sense.
Canadian Car of the Year TestFest is divided into categories, and this year, like many before it, the biggest category (seven vehicles) was SUV/CUV between $35-60k; and that's only one of FOUR categories of SUVs, crossovers, and trucks. It's a good indication of how important these vehicles are.
To simplify things a little, here's a list of our top 5 from this year.
2016 Volvo XC90
This had to be one of the biggest surprises of the event.
I'd driven the XC90 before, and I liked it then. However, what's so great about TestFest is that you get to drive vehicles back-to-back on the exact same roads, a practice which really shows what a vehicle is all about.
For its part, the XC90 is about tech and luxury, evidenced by the open-pore wood inserts, the fantastic leather seats (that are adjustable 80 ways, if they're adjustable 1) and commodious cabin. It's just such a fantastic place to be. Then you take it the infotainment screen which appears as big as an iPad, and which controls everything from your drive mode to your navi and more; it's incredibly responsive, intuitive and indeed, great to look at.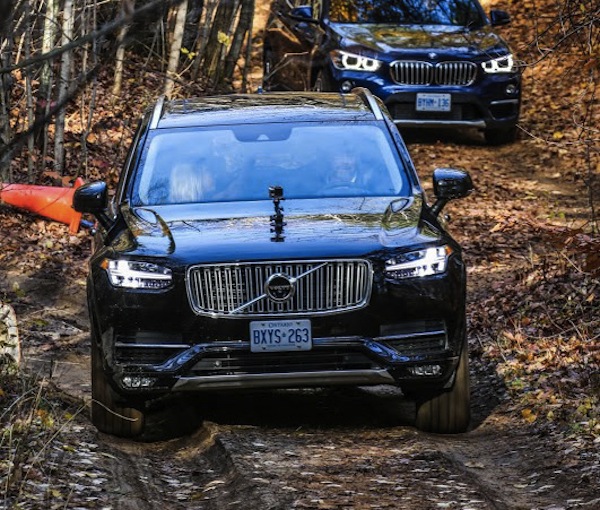 So even before you set off, you're in a good headspace. Once you start going, it gets better in that it showcases little body roll, plenty of turbo power and an almost car-like handling feel, which is saying a lot for a big SUV like this.
2016 Fiat 500X
Yes, it's technically a Jeep in a pretty dress (or is the Jeep Renegade–with which the 500X shares a platform—a 500X in drag?), but I see no problem with that. Indeed, it is pretty; in fact, I would say the 500X is what the 500L should always have been in the styling department. The more streamlined front fascia, the oval headlights, and compact stance are all nice touches.
The car I sampled at TestFest was finished in gorgeous Verde Toscana (green) with a baseball glove brown leather interior, which actually felt as soft and supple as a baseball glove should. Lovely.
Power comes from a 2.4-litre Tigershark four-cylinder that has been serving duty all over the Fiat-Chrysler line-up, and it's a good engine even when coupled with the nine-speed automatic that has caused some of my colleagues fits over the years. Felt fine here, though, and didn't interfere with my enjoyment of the drive one iota.
2016 Jeep Renegade
If we're going to talk about the 500X, then we should talk about this one, too. The internals are pretty much the same, but there's something to be said from the Renegade's styling, which does a good job of adding a bit of European flare to the squared-off, traditional Jeep profile.
I had the chance to drive the Renegade on a proper off-road course that, amongst other things, had pretty much been reduced to a mud pit in certain areas due to the monsoon-like weather thanks to our catching the edge of hurricane Patricia. The Renegade? No problem. There are five different drive modes that change power delivery, transmission mapping and traction control settings to help you handle sandy, muddy, snowy or wet conditions.
The Renegade clambered up steep, muddy grades with ease; never did I feel like I was going to lose my purchase on the track below, as if I was piloting a mountain goat.
The squared-off angles, meanwhile, mean you get a good view out, while also making the Renegade easier to place on the road.
2016 Honda HR-V
Yes, it's little more than a Fit hatchback on stilts, but that is absolutely, 100%, a good thing. The Fit is aptly-named in that Honda has maximized the passenger and cargo room through use of clever seating, large openings for the trunk and doors and a flat floor.
So, the HR-V gets all that, plus the added benefit of all-wheel drive, higher ride height, and taller seating position. It's a great combination that remains unique, even though the compact crossover segment is growing by leaps and bounds these days.
Inside, the real highlight is what Honda calls the "Magic Seat." Basically, the rear seats can be stowed in a number of ways, so you can fit taller items one day, and longer ones the next.
It's practical, it's fun to drive, and it's priced well. In fact, I'd say it's a top contender for Canadian Utility Vehicle of the Year.
2016 GMC Canyon Diesel
The attraction of this truck can pretty much be summed up in one word: diesel. The all-new four cylinder Duramax unit in the Canyon is good for 369 lb.-ft. of torque and 181 horsepower. Paired with a six-speed automatic with manual mode, it's enough to have the Canyon comfortably humming along at highway speeds.
Speeds that are made all that much more enjoyable by a classy, well-appointed interior that features GMC Intellilink infotainment which remains one of the more intuitive systems is the biz. On the practicality front, additions like cornerstep bumpers and 7,000 lb. towing capacity complete the package. Thanks the Duramax diesel for that one.
BONUS: 2016 Hyundai Tucson FCEV
A list of the notable SUVs and CUVs at this year's event wouldn't be complete without some mention of the Tucson FCEV.
It's a little backwards in that the all-new non-FCEV Tucson was also there—the FCEV version still looks like the old model—but the FCEV boasts what could very well be the most notable technological advancement not just at the event, but in today's automotive landscape.
You see, "FCEV" stands for "Fuel Cell Electric Vehicle", as this particular Tusc is powered by an EV motor, itself powered by hydrogen-filled fuel-cell stacks. The waste produced? Nothing but water vapour. This could very well be the next major frontier in alternative energy motoring.