Choosing a car at dealership. Thoughtful grey hair man in formalwear leaning at the car and looking away
The city is eying possible changes to traffic signal timing and detour signs in an effort to manage the traffic fallout from an "unprecedented" skyway closure that could snarl local roads for days.
The Toronto-bound lanes of the Burlington skyway closed Thursday after a dump truck with its box up crashed into an overhead truss and construction platform on the bridge around 3:40 p.m.
A structural engineer from the Ministry of Transportation was examining the safety of bridge this morning.
But city traffic engineering superintendent David Ferguson said he doesn't expect to know until this afternoon whether the closure will be "two days or two weeks."
"It's already an unprecedented closure," said Ferguson, who noted the average highway shutdown for a fatal crash in the area is around 12 hours. "I've looked back 10, 20 years and I don't think we've ever had one longer than a day."
Toronto-bound traffic on the QEW has been detoured onto the Red Hill Valley Parkway, which is already 85 per cent full in morning rush hour. Diverted vehicles this morning created an inevitable backup on the Linc, which sees around 90,000 vehicles daily, as well as on Highway 403 heading into Toronto.
OPP have extra officers out at the site, diverting traffic while they wait for word from the MTO engineer, said OPP spokesperson Sergeant Kerry Schmidt.
Police are still waiting to get a look at the truck as part of their ongoing investigation.
Shortly before the crash the truck dumped its load, Schmidt said, adding that it's not believed to have been traveling on the highway with its box up for long.
The lift bridge was initially closed to marine traffic, but the waterway has since re-opened, he said.
OPP arrested dump truck driver Sukhvinder Singh Rai, 34, from Brampton at the scene and took him to the Burlington OPP detachment for a breathalyzer test Thursday.
He is facing charges of impaired driving and driving with a blood alcohol level of over 80 milligrams. He is expected to appear in Hamilton court Aug. 22.
OPP would not disclose the breathalyzer test results.
City traffic technicians were meeting at 9 a.m. to see if local traffic signal timings in the east end could be changed to "smooth the flow" of traffic trying to escape the highways.
If the closure lasts for weeks instead of days, Ferguson said the city may ask the province to consider offering signs for alternate highway detour routes that include Highway 5 through to Burlington.
"Regardless, given the location and importance of the closure, at rush hour it's going to be stop-and-go wherever you go," Ferguson said of motorists seeking a route past the bridge to the GTA.
"Local residents know their way around. Right now things are moving reasonably, given the situation. But I know my definition of reasonable probably differs from (that of) someone sitting in their car, not moving."
Hamilton police are cautioning drivers to expect delays and be careful.
"We recognize the significant increase of traffic in our city and advise that motorists need to expect delays and we ask that they be cognizant of speed and spacing when transitioning from the highways to the main roads," said Constable Debbie-McGreal Dinning.
Story by: Nicole O'Reilly, Hamilton Spectator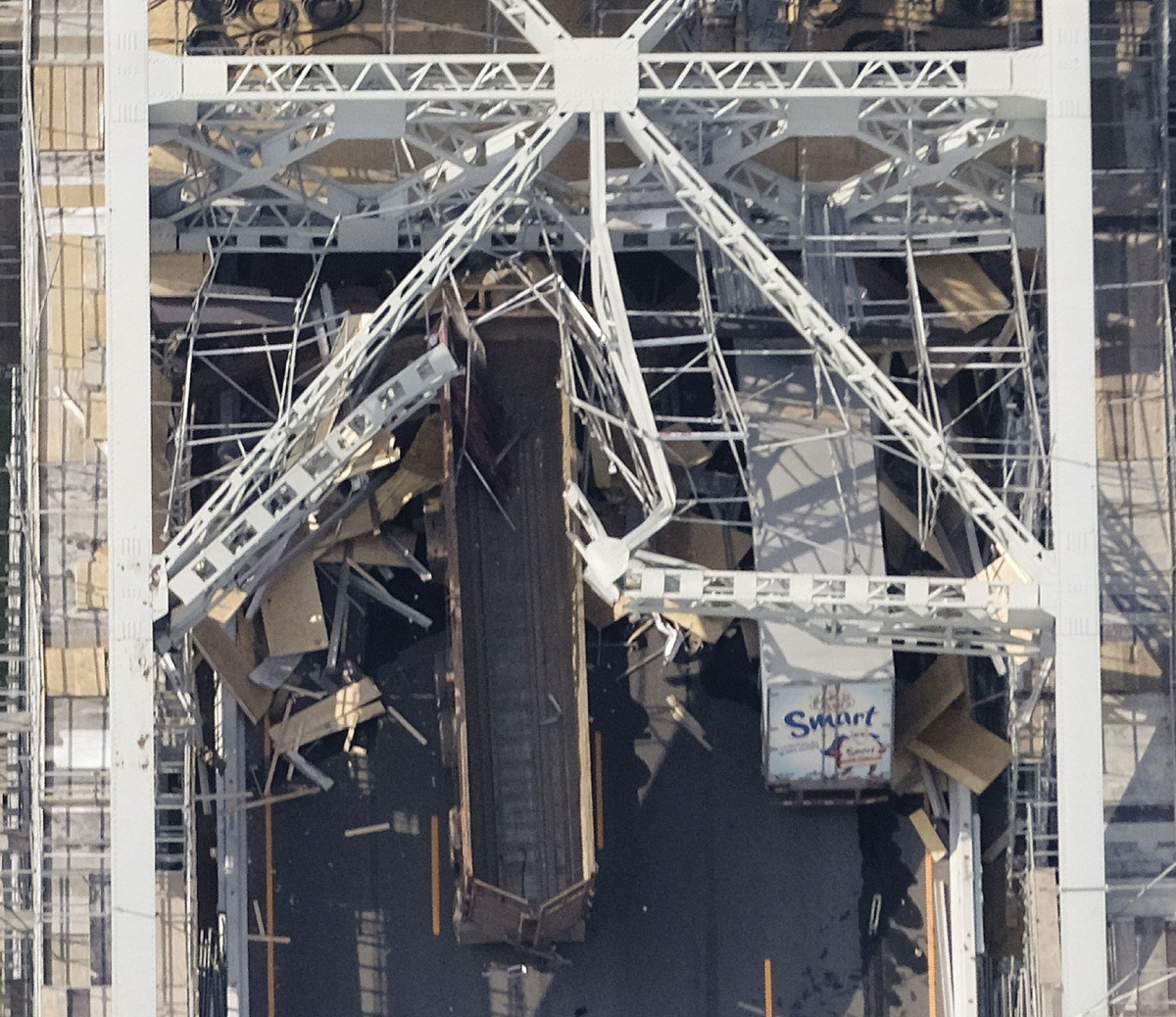 Photos taken Thursday by the Spec's John Rennison from chartered plane shows extent of structural damage on Burlington Skyway.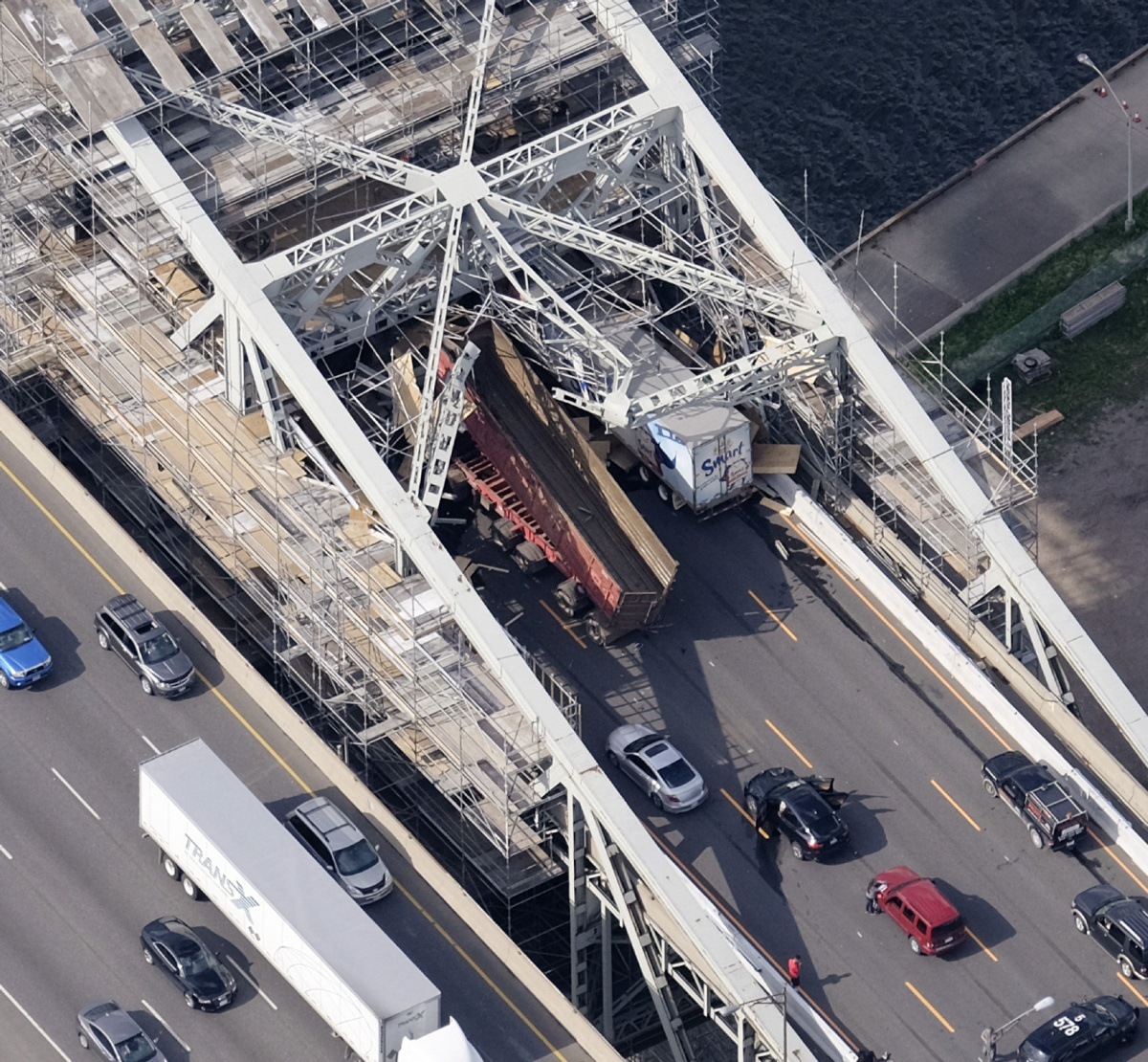 EYEWITNESS REPORTS
Keith James had a bad feeling about the dump truck that was travelling beside him in the Toronto-bound lanes of the Skyway.
"The truck passed me and I noticed that his box was up," the Burlington resident said in an interview shortly after the crash Thursday.
"I thought 'That doesn't look right.' As I saw him approach the bridge, I started backing off because I thought he was not going to make the bridge and then, sure enough, he hit."
James said about three or four girders were "ripped off" and came down on the other truck. He walked up to the crash scene, but did not get too close because he saw "stuff" dangling overhead and didn't know what was going to fall.
"I couldn't believe what was happening in front of my eyes," said James, who was heading home from his job at National Steel Car in Hamilton.
Mike Jilek was heading home to Toronto after visiting his mother in Niagara Falls. He was several cars behind the dump truck.
"He just hit the top of the bridge and everyone just started braking," he said. "I thought 'What the hell is happening?' The police were there pretty quickly. I couldn't believe how fast they got there."
James, Jilek and several other motorists spent a couple of hours parked behind the accident scene before they were lead down the bridge to access Eastport Drive.