Road Trip from Toronto to Mont-Tremblant
In December, we both had a few days off of work and decided it was the ideal time to take a road trip to Quebec. We knew we would definitely find a lot of snow in Mont-Tremblant.
By RogMack – Own work, CC BY-SA 4.0, Wikimedia
Torontonians have barely seen snow this winter and for outdoor activity lovers like my boyfriend Dave and I, the weather has been pretty disappointing. In December, we both had a few days off of work and decided it was the ideal time to take a road trip to Quebec. We knew we would definitely find a lot of snow in Mont-Tremblant. Dave loves to ski, but I haven't skied in years so we opted to try new things that neither of us have done before. A lot of people don't realize that there is so much to do in Mont-Tremblant even if you don't ski, snowboard, or have another skilled way of getting down the mountain.
We took Dave's 2013 Nissan Altima on our road trip because we knew its 4 cylinder engine would be a lot more fuel efficient than my Jeep's V6. We headed to Tremblant from Toronto on a Wednesday morning at 8:00am and our GPS anticipated it would take us roughly 6 hours and 45 minutes to get to our temporary abode. Surprisingly, the drive to Quebec didn't feel as long as one might think. To avoid extra stops, Dave and I packed lunches and snacks and were prepared with a long music playlist. Dave completely filled up his gas tank, which was on empty, because he knew we would be doing a lot of driving throughout our entire trip. A full tank in his Nissan Altima cost $70.00.
RELATED: Top 10 Winter Road Trips You'll Want To Explore!
The GPS app in my phone was accurate, the drive to Mont-Tremblant took about 6 hours and 5 minutes and then it took us about 40 minutes within the region to get to where we were staying for the next 4 days. From the moment we drove into the Tremblant area, we were surrounded by milky white skies. The mountains, hills and fields were completely covered in bright and fluffy snow blankets. This was exactly what we were looking for.
Day 1: Arrival at Les Refuges Perchés
Dave and I both agreed we wanted an adventurous trip that immersed us in nature, so as soon as I saw the photos of Les Refuges Perchés, I knew it was the perfect choice. Les Refuges Perchés is a resort located in the Laurentian Mountains, about a 35 minute drive from Mont-Tremblant. The resort has 10 adult-sized tree houses dispersed throughout a breath-taking forest. The treehouses were built in this area in 2014, so they are fairly new and have been kept in fantastic condition. These unique dwellings are built with an abundance of windows for visitors to enjoy the gorgeous landscape around them. Each house has a sunny terrace, comfortable beds and a propane stovetop for cooking.
Staying at Les Refuges Perchés was a nature lovers dream and an unforgettable experience. On arrival, you are given two large sleds to transport your belongings from the car to the treehouse. My suggestion is to pack as light as you can. Keep in mind this is an adventure; the less you have to carry, the better. We stayed in Treehouse #4, which was located right along a picturesque lake called Lac Cordon. The lake was covered in powdery snow and it was surrounded by evergreen trees that were no longer green despite what their name implies. At night, the cabin stayed toasty thanks to the fire in our wood-burning oven and our drinks stayed chilly thanks to the snow on our deck. We played music, relaxed, and made hot chocolate; it was everything a winter cottage trip should be.
Day 2: Snowshoeing at Les Refuges Perchés
Les Refuges Perchés has over 36 kilometres of hiking trails on endless land. When you purchase the all-inclusive package, it comes with a complimentary snow shoe rental for each person in your treehouse. Dave and I figured this was the best way to start our morning. With 30 centimetres of fluffy white snow on the ground, snow shoeing allowed us to explore this winding forest. If you have never been in the middle of a forest that is covered in snow, let me tell you the view is breath-taking. The forest looks soft and pure, with not a colour to be seen except one shade of crisp white.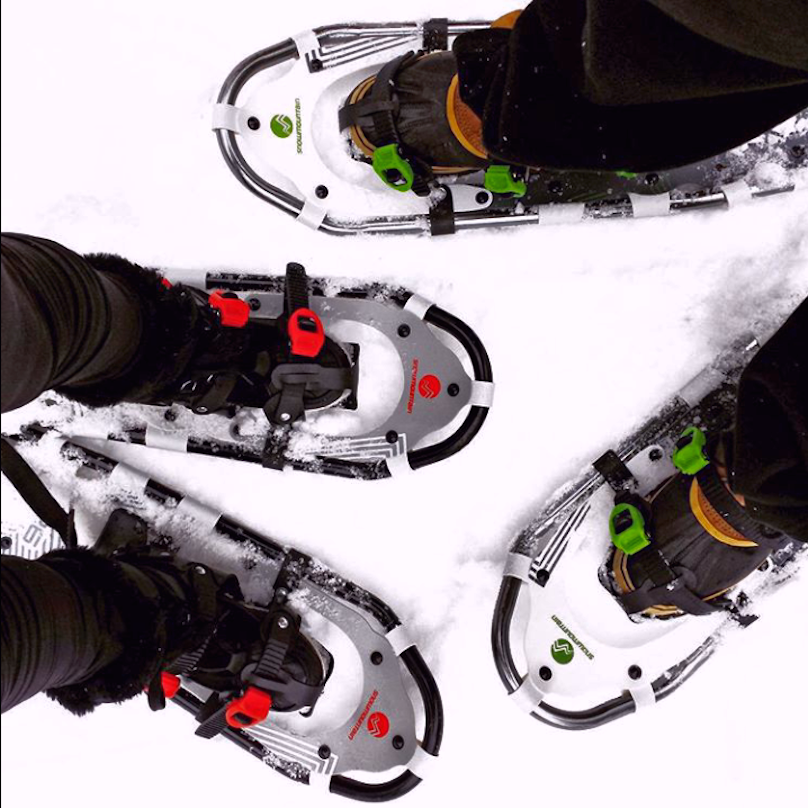 Dinner in the Mont-Tremblant Resort Village
The village at the base of Mont-Tremblant is like a little replica of Europe, just a six hour drive away from Toronto. The architecture was inspired by a mix between the town square of Megéve in the French Alps and the Old Quebec City area. The narrow cobblestone streets give a warm European ski feel. The architecture may be ornate, but the businesses range between modern companies and old fashioned style shops. We stopped to have dinner at Casey's and then enjoyed beavertails at Queues de Castor. After we ate, we spent the night walking through the ski resort and popped into a bar, Microbrasserie La Diable, to grab a beer, listen to music and dance. This was the perfect spot to get our blood flowing and warm up! Before the night came to an end, Dave wouldn't let me leave without a stop at Cabane A Sucre de la Montagne, a sugary treats shop. He said I had to try the maple syrup pops. This was possibly one of the most Canadian things I have ever experienced; they heat up maple syrup and pour it out on top of hard snow in a straight line. After 45 seconds, you roll up the syrup on a popsicle stick voila: a maple syrup lollipop! It was such a fun treat! If you ever go to Mont-Tremblant, you absolutely have to try this.
Day 3: Fat Biking around Mont-Tremblant
The next morning we had Fat Biking booked through the Mont-Tremblant Activity Centre. The employees were so helpful in recommending a trail to us and giving us clear and concise directions. Fat Bikes can be described as mountain bikes designed for the snow. The tires are 6 inches wide, hence the name, which makes it easier to ride through the slippery trails. Even if it's very cold outside, my recommendation is to wear a few layers when doing this activity because you'll warm up after a few pedals into the trail. I made the mistake of wearing endless layers in addition to my winter jacket. If I was carrying less weight I would have been able to ride the bike with more ease. Fat Biking was another awesome adventure that allowed us to explore the snowy forest. The trail was called Piste Multifonctionnelle; it is a 15 kilometer trail that runs alongside the Rivière La Diable (translation: Devil's River), which had mini icebergs floating on it. Riding next to the serene flowing water was a tranquil contrast to the bustling city life of Toronto. This is something everyone definitely needs to try, whether you are an avid bike rider or just want to try something new.
Stop #5: Dog Sledding
Dave and I both agreed that dog sledding was one of our favourite activities. Perhaps it's due to the fact that we are both dog lovers! There are a few options for dog sledding, the one we took was the Mountain Adventure Dog Sledding operated by Adventures Banquise. We drove out to what could be best described as a little campground for over 80 huskies. The huskies are owned by a Quebec couple named Kathy and Bertrand who operate the dog sledding adventure with their daughter Emily (8 years old), son Dylan (6 years old) and some friendly employees. Dave and I showed up a bit early and were taught so much about these gorgeous Siberian Huskies. Two of the trail operators that work with the family invited us to walk around, feed the dogs lunch, and get acquainted with them. We were in heaven! These huskies were beautiful and all of them had a very good temperament.
Before we headed out, Kathy gave everyone a 20 minute training session on the sleds. For those of you who have never dog sledded, there's a lot more to it than you think! One person in your group stands behind the sled (Dave) to steer the dogs, slows them down with a brake pedal when needed, and yells "Allet, Allet! (Go, Go!)," when the dogs need to pick up the pace. While the other person in your group gets bundled up in fleecy blankets and gets to enjoy the scenery (me). Thanks Dave, you're a champ!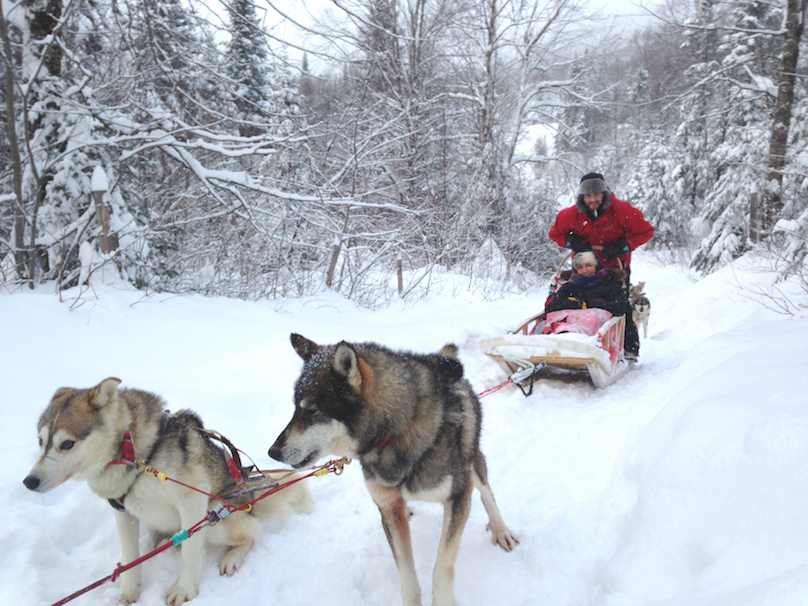 Five sleds headed out on the trails that day. Bertrand led the way with his group of dogs that are the leaders of the pack. The rest of us followed the trail behind him with our own sled of dogs. Right before we left, all of the dogs started getting rowdy and excited to head out… this is what they live for! As we started on the trail, fluffy flakes of snow slowly trickled down from the creamy sky. At this time of year, Mont-Tremblant truly is a winter wonderland. Our dogs stayed at good pace throughout the entire trail and were well behaved the entire time. On elevated hills, I would scream, "Allet, Allet!" to give the dogs a surge of adrenaline while Dave got a workout giving the sled a push (seriously though, thanks Dave). The trail took us through a forest and over a bridge on top of a river with a small waterfall. You could hear the water trickling as you slid through the forest. It was so striking that I didn't notice how cold my toes were until we came back to the campground. Kathy and her children were waiting on site to invite the dog sledding participants into a tent heated by a wood burning oven. We all had fun playing with the puppies, drinking hot chocolate and discussing the experience. Emily and Dylan (Kathy's daughter and son) taught me about their puppies and helped me brush up on my French. Dog sledding was an unforgettable adventure and spending the day with this family and their friends made it even more special.
RELATED: A Snowy Road Trip From Montreal to Lanaudiere: The Road Less Traveled
Dave and I headed back to Toronto around 5:00pm. The road was free of traffic and the sun was low on the horizon. Almost immediately after we crossed the Quebec border, the road was clear and dry aside from a few light flurries trickling down from the sky – an indication that we were exiting our winter paradise. We left this adventurous trip feeling healthy and relaxed. Taking Dave's Altima turned out to be a good choice; it used ¾ of a tank of gas going to Montreal and the same amount on the way back; less than what my Jeep would have burned. We only had to refill gas once throughout our entire trip. As we got closer to home, Dave and I agreed that the best part of our Mont-Tremblant road trip was that we were leaving with so many new experiences.
Links: