Driving Through Small Town Ontario
Ontario is bursting with gorgeous small towns that are ideal for a weekend road trip. Regardless of what direction you are driving in you are sure to find a small town with a rich history that is great for families of all ages.
Ontario is bursting with gorgeous small towns that are ideal for a weekend road trip. Regardless of what direction you are driving in you are sure to find a small town with a rich history that is great for families of all ages. These Ontario towns offer stunning spring and summer scenery, family attractions, rich culture and significant heritage and history of our country. So if you want to explore, dine, shop, and learn about charming towns in Ontario, this list is a great starting point.
A road trip to Elora is about an hour and a half drive from downtown Toronto, 30 minutes off the 401. It's a small community located in the township of Centre Wellington along the banks of the Grand and Irvine River. The Elora Gorge attracts tourists and locals every year for it's beauty as does the 80 foot limestone cliffs, so get your camera ready! Elora is known for it's old world charm, artist's studios, galleries, live music, shopping and dining. There are plenty of places to go hiking, swimming and biking, including along part of the Trans-Canada trail. If you are really daring try a zip line right across the gorge or a hot air balloon ride over Southern Ontario!
The historic waterfront community of Brockville is great for families that want to explore the 1000 islands on the St. Lawrence River. Brockville is located in Eastern Ontario and is 340 km east of central Toronto, and 110 km southwest of Ottawa. The 401 runs through town, however, there is also the option of a scenic waterfront road trip that won't take much longer. The Thousand Islands Parkway is between Brockville and Gananoque and runs parallel to the 401 along the St. Lawrence River. This route has picturesque lookout points for some great photo opportunities.
Once in town, there are parks, walking paths, museums, gardens, and theatres to check out. In July and August there are Sunday concerts in the park and you can bring a picnic and enjoy life along the waterfront.
ALSO READ: Road Trips With A History Lesson: National Historical Sites Across Canada
Meaford is in Grey County and has a beautiful shoreline, as it's located on Nottawasaga Bay, a sub-basin of Georgian Bay and Owen Sound Bay. Meaford is also the centre of Ontario's apple country and there is a farmers market offering local fruits and vegetables. From downtown Toronto it's about a 2.5 hours drive and you can take the 400. Aside from having a beautiful harbour, this century old landmark has local theatre, concerts, a cinema, shopping in distinctive boutiques and lots of local restaurants to choose from in the little villages. You will have no problem getting back to nature with their beaches, countryside, and parks. If you choose to stay overnight there are local bed and breakfasts, hotels and campgrounds that will welcome you.
Merrickville is accessible from the Highway 401 that runs parallel to the St. Lawrence River. If you are driving from downtown Ottawa there is an alternative scenic route via Country Road #5. Merrickville is located on the Rideau Canal and known as "The Jewel of the Rideau". The history here dates back to 1791 when 200 acres of land along the Rideau River were granted to Loyalist William Merrick. In 1832 the opening of the Rideau Canal took place and development in the area flourished. These days there are art galleries, studios, museums, live music in the garden, parades, festivals, and even an antique show where you might find a wonderful treasure. There are also outdoor activities your kids will love such as boating available in the local marina.
By Dwight Burdette – Own work, CC BY 3.0
Amherstburg is one of the oldest towns in South Western Ontario. It's situated along the shores of Lake Erie and the Detroit River and located 20 km from the Canada – United States border. It's a great place to visit National Historic Sites dating back to the war of 1812. The cobblestone streets of Amherstburg will lead you to fountains, gazebos, and riverfront parks where you can shop for fine wine for yourself and fresh fruits and veggies for the little ones. The 4-acre Austin Jones Park is great for kids as they have lots of play structures and a splash pad to cool off in warmer weather. If you really want to get back to nature then check out Holiday Beach Conservation Area for hiking, swimming, biking and boating. From Windsor it's a twenty minute drive, head East via Highway 401.
ALSO READ: Explore these spectacular Parks Canada Destinations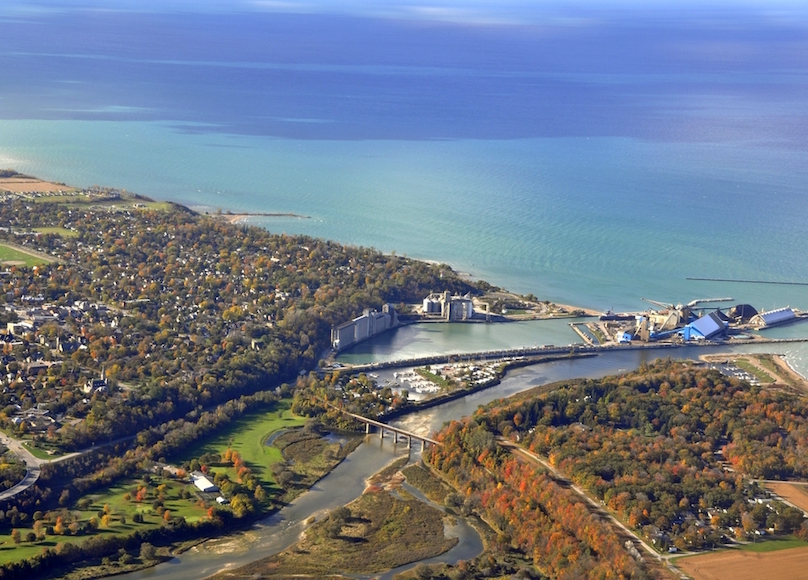 For a road trip to Goderich from Toronto, it's about 2.5 hours drive along the 401 West. If you choose to take Huron Country Road 86 it's closer to 3 hours and really depends on how much time you have and what you want to see along the way. Dating back to Victorian times the Port of Goderich is known as the "Prettiest Town in Canada" – quite an accomplishment seeing as there are so many great towns in this country. This exceptionally "pretty" town is located on the bluffs that overlook the shores of Lake Huron. Along with a delicious family picnic, bring a camera for the stunning views. Being on Ontario's West Coast there are lots of recreation activities to enjoy the natural outdoors and multiple parks that occupy over one quarter of the land in Goderich. For dinner you can enjoy a meal at a locally owned eatery serving fresh food and later take a stroll around town past heritage sites on tree-lined streets. If you choose to stay overnight there are resorts, historic hotels, and bed and breakfasts, all you have to do is pick which one best suits your family.
Port Hope is located on the north shore of Lake Ontario in Northumberland County. If driving from central Toronto it's just over an hour without traffic via Highway 401 East for 100 km. Port Hope is known as a vibrant, cultural and heritage community and has extensive sandy beaches and trails for walking and hiking. The Ganaraska River runs through town and you will see it if you take any of the scenic country driving routes. If you crave fresh food, the farmers market is open for the season on Saturdays behind the Town Hall and will be open until the end of October. If you like browsing through antiques you have come to the right place! Don't forget to check out the fully restored Capital Theatre on Queen Street. A unique adventure for kids in Port Hope is a visit to the Canadian Fire Fighter Museum located on 95 Mill Street South. They open for the season after Victoria Day, check their website for dates and times.
Feel free to add your favourite small town in the comments! As always, drive safely.
ALSO READ: Visit these Canadian Drive In Theatres while you still can
Follow Wheels.ca on
Facebook
Instagram