Chevrolet Volt wins 2016 Canadian Green Car Award
Winner of the 2016 Green Car Award announced at the recent Green Living Show was the Chevrolet Volt.
The 2016 Chevrolet Volt was recognized April 15 with the 2016 Green Car Award at the recent Green Living Show in Toronto.
The Canadian Green Car Award recognizes vehicles, widely available in Canada, that combine impressive environmental attributes with strong mass-market appeal, as a result, the assessments included both "objective" criteria, such as fuel economy, emissions and price, and the judges' evaluations of performance, driving experience, value, features and "green" qualities.
Those environmental benefits not only included fuel efficiency and emissions but also the use of sustainable or recyclable materials and measures taken by manufacturers to green their operations.
RELATED: More Range for the 2016 Chevrolet Volt 
A panel of Canadian automotive journalists selected the Volt, the plug-in family car from among six category winners as the vehicle that best combines environmental benefits and mass-market appeal.
The 2016 Chevrolet Volt electric vehicle with extended range showcases a sleeker, sportier design that offers up to 85 kilometres of EV range, greater efficiency and stronger acceleration.
The Volt's new propulsion system offers a significantly increased total driving range while the new 1.5-litre range extender, designed to use regular unleaded fuel, offers a combined fuel consumption rating of 5.6L/100km eliminating range anxiety.
It was the second time the Volt won the award.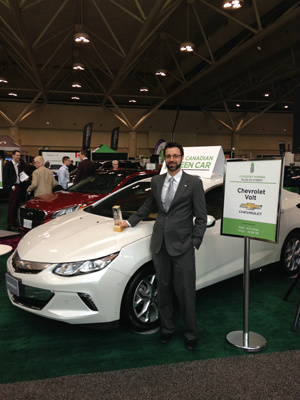 Follow Wheels.ca on
Facebook
Instagram