Canadian International Auto Show display: Indianapolis and the Canadian Connection
Our rich racing heritage will be promoted during this years Indy Centennial at CIAS
The Indianapolis Motor Speedway turned 100 in 2009. This year, the Indianapolis 500 race turns 100. What gives?
The Speedway opened for business in 1909 with a hot-air balloon race (of all things) but the first 500-mile International Sweepstakes (once the official name of the "500") wasn't held until two years later, in 1911.
Then, when racing was cancelled during both World Wars, there were no Indy 500s in 1917 and '18 and from 1942 through '45. Add it all up and the 100th race is seven years younger than the Speedway.
Be that as it may, the Speedway, the city of Indianapolis and the Verizon IndyCar Series are going all out to make this100th race memorable. And the Canadian International Auto Show, which opens to the public at the downtown Metro Toronto Convention Centre next Friday, is doing its bit to promote the Centennial — as well as July's Honda Indy Toronto, which will feature the same cars and drivers — by showcasing some of the machines that have been in competition at the Speedway over the years and highlighting the many Canadian connections.
Although the car driven to victory in 1995 by the only Canadian to win the iconic race, Jacques Villeneuve of St-Jean-sur-Richeleu, Que., was not available (there could have been problems at customs), the car that finished second three years earlier most certainly is. In 1992, with Toronto's Scott Goodyear at the wheel, the Lola T92/00-Chevrolet sponsored by the MacKenzie Financial Corp. of Toronto lost to American star Al Unser Jr. by 0.043 seconds, which is still the closest finish in the history of the race.
Among other famous cars on display during the auto show: the STP-sponsored Lotus wedge powered by a Pratt & Whitney turbine engine built in Montreal, which was raced in the 1968 race by the late Graham Hill; the Leader Cards-owned Rislone Special — really a Dan Gurney Eagle — that was driven to Victory Lane in that same '68 race by Bobby Unser, who for years was a broadcasting partner of ace sportscaster Brian Williams on CBC Indy car telecasts.
It's connections like those that have linked Canada and Canadians to the Speedway, the Indianapolis 500 and the sport of Indianapolis-car racing.
Although only 20 Canadians have made the field to start the Indianapolis 500, many more have raced in Indy cars and some have even tried, but failed, to qualify for the Greatest Spectacle in Racing.
For instance, Formula One driver George Eaton of Toronto had started to race Indy cars in 1972 but was called home to take over as president of the family firm (the T. Eaton Co.) before he got a chance to race at the Brickyard. Greg Moore of Maple Ridge, B.C., raced in the CART Indy car series when the "500" was part of the Indy Racing League. Moore died before the civil war that ripped Indy car racing apart could be settled. Ross Bentley of Vancouver was on the track trying to qualify in 1993 when his car inexplicably caught fire. Another westerner, Ed Kostenuk of Victoria, who was racing for a team owned by Alberta native Rolla Vollstedt and wrenched by Victoria native Grant King, was on a qualifying run in 1962 when a bird flew into his face. You can't have worse luck than that.
Ed Crombie, John Cannon and Allen (Ironhead) Heath were some of the other Canadians who were talented open-wheel racers but never got the opportunity to race in the "500."
So Canada has had a long and rich connection with the race, with a Canadian making the field for the first race and, if all goes well, a Canadian in the 100th. Here is a rundown of other Canadians who have had an impact at Indianapolis as well as the drivers who can proudly say that despite the fierce competition (sometimes as many as 80 cars and drivers would show up to try for one of the traditional 33 starting spots), they made it into the big show.
1909 I: Jake DeRosier was a motorcycle racer from Kenora, Ont., (some source materials list his birthplace as Quebec but that could be an assumption based on his last name) who entered the first motorcycle races promoted at the new Speedway in August, 1909. The motorcycle races preceded the first car races the same month. In a special match race against American ace Ed Lingenfelder, DeRosier was thrown from his motorcycle while exiting Turn Four and suffered serious injuries, thus becoming the first racer to be taken to a hospital as the result of an accident at the Speedway.
1909 II: William (Billy) Bourque of West Farnham, Que., won the third automobile race held at the Speedway but later that same day became the first racing driver to be killed there. His riding mechanic, Harry Holcomb, also died. Ironically, his car overturned while exiting Turn Four after a wheel hit a deep rut identified as the DeRosier Fault that had originally been dug into the track's surface by fellow Canadian Jake DeRosier when he'd crashed there days earlier. Bourque was only 31 when he met his end.
1911: The first Canadian to race in the "500" (that we know of; there could have been others with Canadian roots in that first race) was W.H. (Jack) Turner (also sometimes referred to as "Wild Bill"), who was born in Toronto in August, 1877. He started 12th in that first "500" and finished eighth. There were 40 cars and drivers in that first "500" and Turner was among the 12 who managed to go all 200 laps.
1916: The second Canadian (that we know of) to drive in the Indy 500 was George G. (Pete) Henderson. He was born in Orangeville, Ont., moved as a child to Fernie, B.C., where his father was publisher of the local newspaper, the Fernie Free Press (still in business today) and started racing while he was a student at Drake University in Des Moines, Iowa. He also drove in the 1920 "500" and, so far as is known, was the first Canadian to win an "Indy car" race when he finished first in an AAA national championship race on the two-mile board track at Maywood Speedway, Chicago, in October, 1917.
1919: Ira Vail was born in Montreal in 1893 and moved to the U.S. as a child, his family settling in the Syracuse, N.Y., area. He raced in five Indy 500s starting in 1919 and his best finish was seventh in 1921.
1926: John Duff of Hamilton, Ont., finished 10th in his one-and-only Indy 500 appearance. His parents were Hamilton merchants who did business in China, where he was born. He spent summers in Hamilton growing up but when he struck out on his own, he went into business in England. He won the 24 Hours of Le Mans in 1924 driving a Bentley (he was one of the two original Bentley Boys).
Also in 1926, Winnipeg-born Bon MacDougall started ninth in a Miller. He dropped out because of a mechanical failure and finished 26th. He ran a few AAA events and later promoted races at Ascot Park speedway in Los Angeles and other tracks. Bon was famous for a speed sport other than auto racing: he was one of the leaders of the 13 Black Cats of Hollywood stunt flying group. He died in L.A. in 1970.
1946: Harold (Hal) Robson – who made the field in 1946, '47 and '48 – was born in Toronto on Aug. 16, 1911. He moved to California when he was 12. His brother George Robson, who won that 1946 Indy 500, was 3 years old when he came to Toronto and was 15 when the family moved to the States.
1965: Billy Foster, of Victoria, B.C., was inducted into the Canadian Motorsport Hall of Fame in 1993 as "the first Canadian to make the field at Indy." Wrong. He was, it turns out, at least the seventh. A talented racer who cut his teeth in supermodifieds and stock cars, he was Mario Andretti's best friend. They once bought a used McLaren sports car together and took it to the Nassau Speed Weeks where they took turns driving it. They both made their first "500" starts the same year, 1965, with Mario qualifying fourth and Billy sixth. Mario finished third but engine troubles dropped Billy to 17th at the finish. Billy was killed while practicing for a NASCAR stock car race at Riverside, Calif., in 1967 and Mario said afterward that other than his sons, he would never again get close to another race driver.
1975: Eldon Rasmussen, Edmonton, Alta. Eldon made the 500 three times and failed to qualify two other times.
1977: Cliff Hucul, Prince George, B.C. Hucul raced in three Indys, with a best finish of 18th in 1979. He also drove in several NASCAR Winston Cup races in the 1980s.
1984: Snowmobile racing champion Jacques Villeneuve Sr., the brother of legendary Canadian F1 Gilles Villeneuve and uncle of Jacques, first went to the Indianapolis Motor Speedway in 1984 but while he was an excellent road racer he couldn't cut the mustard on an oval. His car owner, David Billes of the Canadian Tire Billeses, took him to Oswego Speedway in northern New York and had NASCAR short-track star Maynard Troyer teach Uncle Jacques how to run an oval. In 1985, he crashed while attempting to qualify for the "500" and suffered a concussion. He was replaced by Johnny Parsons Jr., who finished fifth. In 1986, Jacques Sr. finally qualified on his own. He started 15th and finished 20th.
1987: Ludwig Heimrath, Jr., Toronto, drove in three Indy 500s with a best finish of 13th in 1989, his last start.
1989: John Jones of Thunder Bay, Ont., ran in one Indianapolis 500 even though he scored points over four seasons in the old CART Indy car Series. In his 1989 start, he finished 11th.
1991: Scott Goodyear of Toronto raced in the Indianapolis 500 more times than any other Canadian — 11 — and he very nearly won the race on three different occasions. He finished second twice, in 1992 and 1997, and was winning the race in 1995 when he was disqualified for inadvertently passing the pace car before a restart late in the race. He finished second to Al Unser Jr. in 1992 by 0.043 seconds, which is still the closest finish in the history of the race. He retired after the 2001 race as the result of injuries suffered in a crash. He has since gone on to a distinguished career as an announcer on ABC telecasts of the IndyCar Series, including the Indianapolis 500, and recently announced the establishment of a team in the SCCA Pro Racing Series with former IRL racer Jack Miller.
1992: Paul Tracy of Toronto is one of Canada's best-known racing drivers but he didn't have the best of luck when it came to the Indianapolis 500. He first went to the Speedway in 1991 but withdrew from rookie orientiation when it became apparent the car he was driving would not be competitive. In 1992, he made his first start while driving for Roger Penske but was only able to start 19th and finish 20th. His best finish came in 2002 for Team Kool Green when he was officially classified second. A crash brought out the yellow caution light just as Tracy passed "winner" Helio Castroneves. Tracy felt he'd completed the pass and should have won the race and many people agreed with him. But an appeal was denied and the results, with Castroneves first and Tracy second, were stamped official. In seven races (he failed to qualify in 2010) it was his best finish. Like Goodyear, the now-retired Tracy has gone into broadcasting of IndyCar races.
1994: Jacques Villeneuve of St-Jean-sur-Richelieu, Que., the son of Gilles Villeneuve and nephew of Jacques Sr., finished second in his first try at the Indianapolis 500 in 1994. He was named Rookie-of-the-Year. In 1995, he came from being two laps behind to become the first (and so far the only) Canadian to win the Greatest Spectacle in Racing. It was a bonanza year for him as he also won the CART Indy car championship before going on to a career in Formula One, where he won the world driving championship in 1997. Following his F1 retirement, Villeneuve returned to Indy in 2014 and finished 14th in the "500."
1997: Claude Bourbonnais of Montreal, Que., was a versatile and talented racing driver who made just one start in the Indianapolis 500, finishing 30th in 1997.
2004: Marty Roth of Toronto was a wonderful motorcycle racer who tried to race cars and didn't have much success. He financed his own IndyCar team and ran the Indy 500 four times (he didn't qualify in 2006), with a best finish of 24th in his rookie year, 2004. Although the IRL made life difficult for him toward the end of his involvement – they basically told him not to come back – it was hypocritical of them to do it because Roth saved their bacon on more than one occasion by running fast enough to qualify for Indianapolis when the league desperately needed 33 cars to make up a traditional starting field.
2005: A victim of the CART/Champ Car/IRL split that kept him away from Indianapolis, Patrick Carpentier of Montreal, Que., made his one and only start in 2005, finishing 21st.
2009: Another victim of the CART-IRL split, Alex Taglian of Montreal didn't make his first appearance in the Indianapolis 500 until he was well on in his career. He's never finished better than tenth. His claim to fame at Indy, however, came in 2011 when he became the first Canadian to win the pole for the world's most famous automobile race. A versatile driver, "Tag" has also raced sports car and made NASCAR starts in both Canada and the United States. In 2015, he was inducted into the Canadian Motorsport Hall of Fame (Tracy, Goodyear and two of the three Villeneuves were inducted earlier).
2011: James Hinchcliffe of Oakville, Ont., is looking forward to racing in the 100th Indy 500 this May because he missed the 99th as the result of a horrible accident during practice that resulted in him losing most of the blood in his body. Prior to 2015, he had raced in the previous four 500s with a best finish of sixth in 2012. A versatile racer who competed in many forms of single-seat formula racing, from the A1 GP Series to Indy Lights, Hinch broke into Indy car racing in 2011 and has never looked back.
Paving with bricks gave Speedway its nickname
Norris McDonald is editor of Toronto Star Wheels. Reach him at: nmcdonald@thestar.ca
Brickyard
In my Family Room at home, there is a brick sitting on a coffee table. This is no ordinary brick.
If you look closely, you can make out the words "Wabash Clay Co." on it. And what do those words on that brick signify?
They tell me — and you — that more than 100 years ago, back in 1909, my brick was among millions of others used to pave the Indianapolis Motor Speedway. Those bricks gave the world's finest, all-purpose, racing facility its nickname, the Brickyard.
The bricks weren't part of the original plan when the racing plant was first conceived.
Built by Indianapolis businessman Carl G. Fisher and partners on 328 acres that once made up the old Pressley Farm about five miles away from downtown (racing historian Charles Leehsen notes that there was no known relationship with a future famous Presley but that the family who lived there did have a daughter named Elva . . .), the 2.5-mile (4.0 km) oval track originally consisted of graded and packed soil covered by an assorment of stones and tar.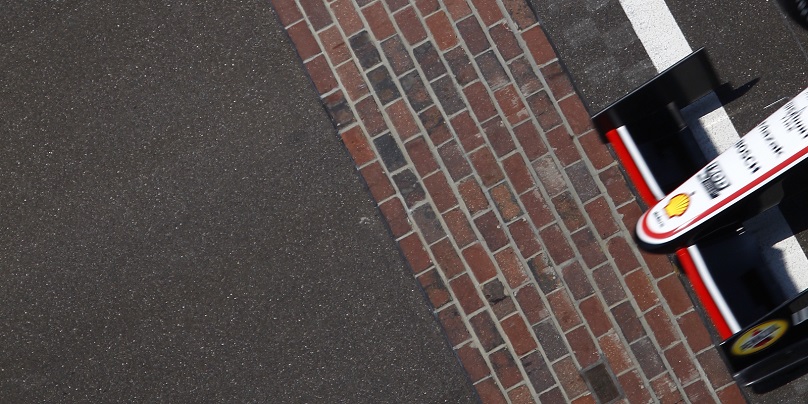 To be exact, 500 labourers, 300 mules and some machines powered by steam packed down the soil and then covered it with 2 inches (5 cm) of gravel, 2 inches (5 cm) of limestone covered with taroid (a solution of tar and oil), 1-to-2 inches (3–5 cm) of crushed stone chips that were also drenched with taroid, and a final topping of crushed stone.
The first two motorsports events proved that the surface of the speedway was not only unsuitable but downright dangerous. What originally was to be a two-day, 15-race event for motorcycles in August, 1909, was cancelled after the first day because riders were being badly hurt, primarily by flying stones that caused them to lose control. Five days later, the first car races were held and Canadian-born driver William (Billy) Bourque was killed along with his riding mechanic, Harry Halcomb. Two days later, two spectators and a riding mechanic were killed when a driver lost control and the car careered off the track.
To save their business, Fisher and his partners were forced to take action and, after rejecting concrete, opted to pave the speedway with bricks and, in the end, 3.2 million 10-pound (4.5 kg) bricks were used for the job. Each was hand-laid over a 2-inch (51 mm) cushion of sand, then leveled and the gaps filled with cement.
Before the work was completed, locals nicknamed the track the "Brickyard."
By the early 1930s, the racing cars were going faster year after year and the danger was also increasing. At least 15 fatalities were recorded between 1931 and 1935. This forced another repavement, with asphalt replacing the bricks on most of the track except for the front straight. Then, in October, 1961, the final remaining brick section of the track was paved over with asphalt with the exception of a three-foot-wide line of bricks at the start-finish line. This has been known since as the "Yard of Bricks."
In 2004, some of the original 1909 bricks were dug up when the Speedway embarked on a major repaving project. A friend of mine who was playing golf at Brickyard Crossing, a course adjacent to the Speedway, came across a pile of them while playing a round several years ago and popped a couple into his golf bag. He gave one to me and that's the brick sitting on my coffee table.
I sure hope the folks in charge of the Indianapolis Speedway don't miss it. But at least now, they know where it is.
— NORRIS McDONALD