Apple CarPlay – A New Experience While Driving
With the revolutionary CarPlay system by Apple, you can now take your favourite music with you in your car, call or text whomever you want and navigate your phone – without actually touching it.
While driving, have you wondered how you could access your music from your phone, knowing that driving and using your phone are not compatible actions?
In Canada, it's illegal to use a mobile phone while on the road – not to add, it's dangerous for your safety and the safety of other drivers.
Well, you don't have to worry about that anymore. You can now take your favourite music with you in your car, you can call or text whomever you want and you can even navigate your phone without actually touching it.
Apple took care of that by launching the iOS CarPlay system. Your Griffin iTrip won't be needed anymore.
RELATED: Chevrolet is Global Leader for Android Auto, Apple Carplay 
What is CarPlay?
Apple CarPlay is a system that allows you to integrate some of your iPhone's functionality directly with your car's in-dash display. Apple says: "It' the best iPhone experience on four wheels."
Maybe you've heard of this new feature, but have a million questions about it – how does it work? Is it compatible with Android? Do I have to install something? Does it work on every car or only on the newer ones? Do I have to buy some complicated device to be able to use it?
If you're not familiar with CarPlay iOS learn all about it with this quick overview.
Who can use CarPlay?
Anyone with a CarPlay compatible car and a newer iPhone can immediately begin using this high-tech system. iOS CarPlay is only compatible starting with the iPhone 5 model and up.
Apple partnered with the major car manufacturers whose latest car models come with CarPlay built-in. But, not all of us want to change our cars to have this feature, as useful as it is.
Not to worry, Apple thought of that too. Both Alpine and Pioneer allow you to add Apple CarPlay to the vehicle you already own by installing an aftermarket infotainment system.
And in some cases, certain existing high-end infotainment systems from these manufacturers can be enhanced – through a firmware upgrade – with CarPlay.
CarPlay doesn't completely take over your car stereo – you will still have the original interface and also be able to access it easily.
RELATED: Most Popular Technology Trends according to J.D. Power
What Can You Do With CarPlay?
Almost everything you do on your iPhone can be done in your car once CarPlay is installed. For example, you can:
Get directions
Send and receive text messages
Make calls
Listen to your favourite music – a built-in way to play iPod in your car
You can do all of this without having to touch your phone or get distracted from driving.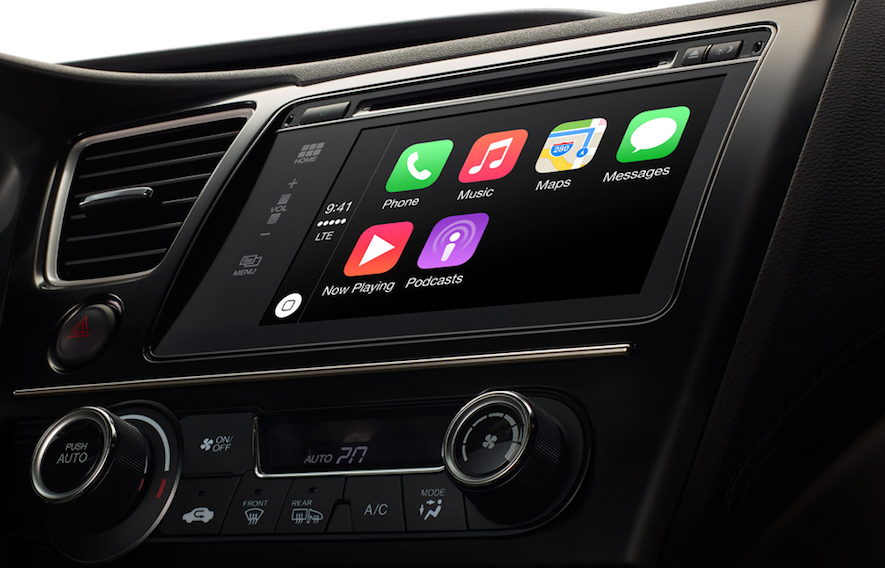 Once you plug in your iPhone, you're ready to have a new driving experience. Or, as announced by Apply at WWDC 2015, the upcoming version of iOS 9 will make it easier for you by doing away with the cable and allowing a wireless connection.
You can control it through your car's touchscreen or through voice – using Siri – Apple's intelligent personal assistant.
CarPlay also works with the knobs or buttons in the car – if it controls your screen.
Siri can be activated by the voice control button on the steering wheel if your car comes with the built-in feature. If you use CarPlay with an aftermarket system, as soon as you press an icon, Siri will turn on and you can tell her what you want to do.
So, you can return missed calls, listen to voicemail, listen to and dictate text messages to Siri and have her send them for you.
You can also listen to you favourite music on iTunes or Spotify and use Apple Maps to navigate your route wherever you need to go.
Apple Maps contains features that are different from other standard GPS systems. It not only gets you to your destination, but you can ask Siri to find you a Tim Horton's near your location – if you want to have a coffee before work, for example.
You pick the Tim's you want to go to and Apple Maps automatically changes the route towards the coffee shop.
With CarPlay, Apple Maps is an almost entirely hands-free experience. No other navigation system on the market today offers such tight integration with the information you have on your phone.
A favourite feature of many is listening to podcasts and audiobooks while taking a road trip or a drive to the cottage. Your children can listen to their favourite stories or you can catch up on the latest books and podcasts.
A New Driving Experience
Apple is constantly updating CarPlay, making it more user friendly and easier to use. With each revision they allow you to access more of your iPhone's apps and features through the system.
With CarPlay, Apple will deliver on its promise to bring the iOS technology to your car dashboard, creating a new experience while you drive.
Over to you – have your tried CarPlay? If not, will your next car have it? Let us know in the comments below.
RELATED: Ford Smart Mobility Plan and Future Technology Trends Revealed