THE PROS & CONS
What's Best: This is a premium offering in the sub-compact class with lots of standard features.

What's Worst: The huge front grille might put off some would-be buyers.

What's Interesting: Although with only 106 hp, the engine pulls well and the car feels like it has more power than it does.
It's a pity that Toyota introduced its new Yaris subcompact sedan just as small car sales started to fall off the proverbial cliff.
At one time, compacts and subcompacts ruled the roost here in Canada, making up a huge portion of vehicle sales.
Now it's crossovers and SUVs dominating the market with small cars becoming almost an after-thought.
RELATED: 2016 Mazda CX-3 sub-compact CUV
The pity as I see it is that many car buyers today won't even give the Yaris Sedan a sniff as they shop the crossover market instead. The sales numbers seem to back this up as Toyota sold only 253 Yaris Sedans in the first three months of 2016.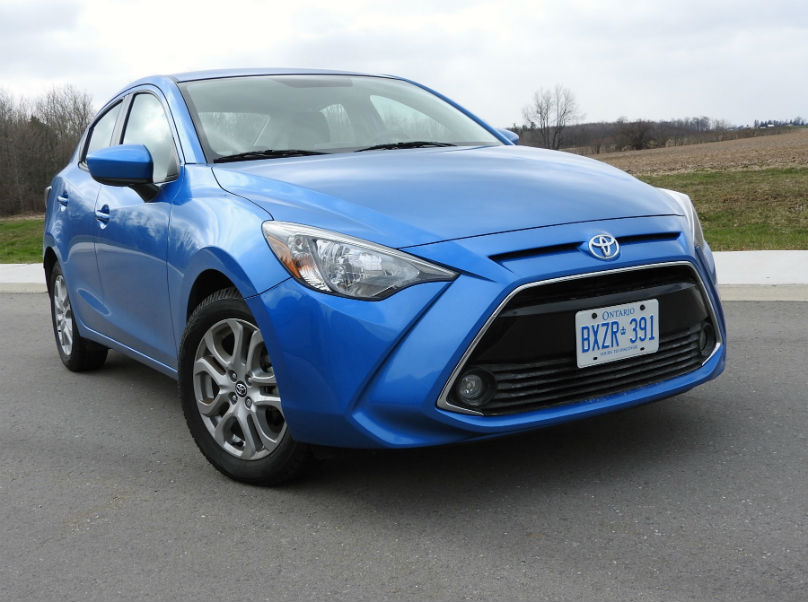 It's unfortunate because the Yaris is a really nice little sedan, making up half of a two-pronged offering under the Yaris nameplate along with the more popular hatchback.
However, unlike the hatchback, the sedan has its roots not with Toyota, but with Mazda.
As part of a partnership between the two Japanese automakers, Mazda is building the Yaris Sedan for Toyota at its plant in Salamanca, Mexico, which also produces the Mazda2.
It is no coincidence that the 2016 Yaris Sedan looks an awful lot like the Mazda2 because that's what it is, with the addition of some Toyota badging and a few other modifications.
Mazda decided against bringing the 2016 Mazda2 into North America so Toyota is marketing the car in the U.S. as a Scion iA and here as the Yaris.
Anyone familiar with Mazda will see the similarities; particularly inside which has a decidedly upscale look for a car in this segment with lots of soft-touch materials and nice use of accent pieces.
Outside, the Yaris Sedan has aggressive styling with a prominent hexagonal grille that undoubtedly will have its share of detractors.
Otherwise, it is a very eye-catching design with a long hood, swept back A-pillars and a short rear deck.
Unlike most subcompacts, Toyota has loaded the entry-level Yaris up with premium features like push button start, power door locks and keyless entry, power windows, cruise control, tilt and telescoping steering column, air conditioning, dual power adjustable exterior mirrors, steering-wheel mounted audio controls and more.
It starts at $16,995 with six-speed manual transmission and $18,220 for a six-speed automatic.
Our tester was the Premium model, starting at $20,200 and available only with an automatic. At this level you add 16-inch aluminum alloy wheels, back-up camera, fog lamps, heated front seats and a display audio system with a seven-inch touchscreen, six speakers and two USB ports.
With all taxes and the $1,535 destination charge, it priced out at $21,866.
Price may be an issue with consumers as the base Yaris Sedan starts at $1,000 more than the larger Corolla but it does have much more standard content such as air conditioning and push button start.
Toyota marketers see it appealing to a different buyer than the hatchback, which they aim at the small car enthusiast.
They look at the sedan as predominately an urban vehicle that would resonate with younger, style-conscious buyers who are technology oriented.
Inside, the cabin of the Yaris Sedan is nicely put together. In fact, the dash is the same as in the CX-3, chosen Canada's Utility Vehicle of the Year by the Automobile Journalists Association of Canada.
The controls are well placed and the fit and finish is excellent.
The seats are comfortable, but if I had one complaint it would be that the short bottom seat cushion doesn't provide enough support for the taller driver. This would be particularly noticeable on longer trips but not so much for jaunts around the city that will likely make up the bulk of the driving with this car.
In back, legroom is not very generous, but on par with other subcompacts on the market. The trunk is fairly spacious with 382 litres of cargo room that can be expanded when the 60/40 split rear seats are folded.
Power comes from a 1.5-litre DOHC 16-valve four-cylinder engine, producing 106 hp and 103 lb/ft or torque.
Not oodles of power, but enough for every driving situation we encountered. We only drove the automatic during our weeklong test but had an opportunity to drive the manual at launch last year.
Both transmissions perform well; my preference would be the six-speed manual, which is only available at the base level.
The car corners well and handles all but the harshest roads with ease. Engine noise is pronounced on hard acceleration although it settles in at speed.
All in all, a fun, spirited little sedan that has a touch of 'zoom, zoom' thanks to its Mazda DNA.
Toyota Yaris Sedan 2016
BODY STYLE: Four-door sub-compact sedan
DRIVE METHOD: Front engine, front-wheel drive
ENGINE: 1.5-litre DOHC 16-valve four-cylinder engine (106 hp, 103 lb/ft of torque) with a six-speed manual or six-speed automatic transmission
CARGO CAPACITY: 382 litres
FUEL CONSUMPTION: (Regular) 7.6/5.7/6.7L/100 km city/highway/combined (manual) and 7.2/5.6/6.4L/100 km for the automatic.
TOW RATING: Not recommended
PRICE: $16,995 (manual), $18,200 (automatic), Premium ($20,200). As tested, $21,866 including $1,535 destination charge
WEB SITE: www.toyota.ca
Follow Wheels.ca on
Facebook
Instagram