THE PROS & CONS
What's best: Gutsy V8 power, luxurious interior

What's worst: Climate control is tough to manage, strange audio issues

What's interesting: The 650i's 0-100 km/h time rivals that of many sports cars
I guess that first of all, you have to ask yourself what, exactly, is the BMW 650i Gran Coupé? Indeed, the jack-of-all-trades attitude displayed by many industry-leading cars has not been lost on BMW, as the brand seems to have a car for every segment except pickup trucks.
Well, for starters, the "6" designates the Gran Coupé as part of BMW 6 Series line-up, which slots just below the flagship 7 Series sedans in the BMW lexicon. Thing is, while the 6 Series was originally developed (and re-released) as a two-door coupe in 2003, it has since grown to accept first a convertible, and now a "Gran Coupé". Which, far as I can tell, is a vehicle segment that BMW pretty much invented on their own volition, and has since grown to contain two models: the car you see here, and the 4 Series Gran Coupé, which shares its underpinnings with the bestselling 3 Series sedan.
If we break it down to numbers, then I guess you can define the Gran Coupé (GC) by the fact that it's got a longer wheelbase than its coupe and convertible siblings, is longer overall, and has a slightly lower roofline than the coupe. So, even though the lines are somewhat broken up by the extra doors, it manages to keep a sleek and handsome profile with some nice details to match. It looks sexy in its matted out, low-slung and HID headlight-equipped glory.
Having already sampled the 435 Gran Coupé, I expected a similar thing with the BMW 650i; seating for four with buckets up front and quasi-buckets in the back and perhaps most importantly, a hatchback body style.
I say "most importantly" because in my eyes, that's one of the best ways to define a body style that's kinda hard to define.
The 6 Series Gran Coupé, however, has neither of these things. It's got seating for five, and a proper trunk.
"Seating for five". That's cute. Yes; it's got seating for five, as long as the rear middle passenger is willing to sit on a convex mound of leather, and also to straddle either side of the transmission tunnel because there is zero place for their legs. Otherwise, the rear seats aren't too bad in terms of headroom as the occupants sit low thanks to those quasi-buckets mentioned earlier.
Really, though, the rear seats are more of cursory addition as the 6 Series—Gran Coupé or not—remains a car meant for covering vast distances effortlessly, while keeping its occupants in comfort.
It does that by providing a pair of heated and ventilated front seats that are adjustable 18-ways (they come as part of the $8,300 M Sport Edition package on our car, not to be confused with the also available $3,500 M Sport Package), plus rear and side sunshades, and dual-zone climate control.
Most of that is fantastic in its implementation; the seats are incredibly supportive and I challenge anyone to not be able to find some seat settings that work for them, no matter the body type. The cowhide that covers them, meanwhile, is of top quality, and all the controls are within reach thanks to BMW's penchant for angling the cockpit surfaces toward the driver.
I do, however, take issue with the climate control system. Outside temperatures were pretty average for the season —that is to say about 5 degrees Celsius—but no matter what we tried, we just couldn't get the cockpit to feel right simply by adjusting the auto temp; 20 degrees felt pretty much the same as 25 degrees. We had to play around with the vents and fan speed manually to get it right. Yes, there are those out there who say auto climate control is too hit-and-miss to be worth it anyway, but it's frustrating to be dealing with this in a $100,000-plus car.
While we're on the subject of interior tech: I'll start by saying I'm a huge fan of BMW's iDrive system, especially now that you can inscribe nav instructions by "drawing" them on the iDrive control wheel with your index finger. It takes a little getting used to the nested menu system, but once you do, you'll start to see how intuitive it actually is. The widescreen display, meanwhile, is bright, colourful and easy-to-read and its alignment allows for a split-screen view; you can have your map on once side, and your radio info on the other, for example.
I just wish the audio was clearer. We tried playing with the balance, fade, bass, treble and even delved into the equalizer menu. No matter what we did, though, we couldn't shake the feeling that we were underwater. Strange; especially when you consider the BMW 340i we tried the following week had a fantastic sound system.
Perhaps BMW didn't want crystal-clear audio to distract from the fantastic growl as you delve into what BMWs are pretty good at: the drive.
Power from the twin-turbo V8 is rated at 445 horsepower and 480 lb.-ft. of torque, enough to get the AWD-equipped BMW 650i GC from rest to 100 km/h in 4.5 seconds set in its most aggressive of five driving modes.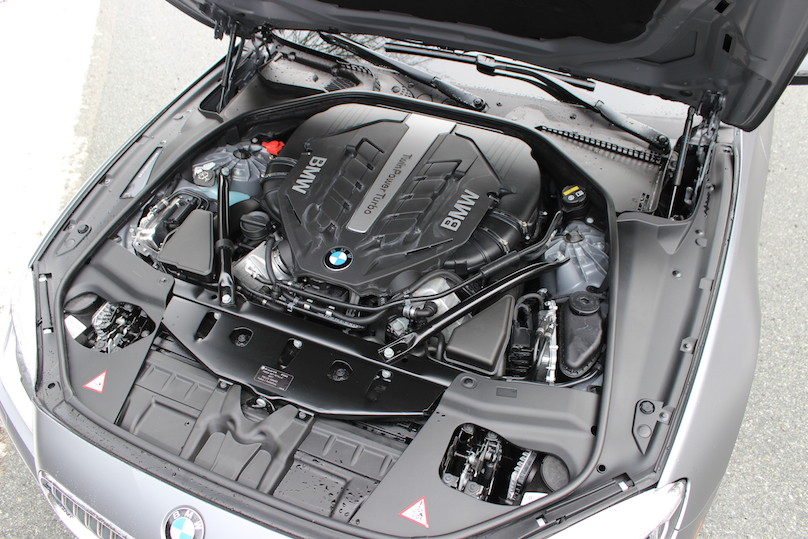 Granted, there's a lot of car between you and the dual exhaust outlets, there's no hiding the chuggachuggachugga as the go-pedal is prodded further into the carpet. It's good that the sound's there to remind you of what's going on, because you'll be reaching none-too-legal speeds quite effortlessly. If the 650 Gran Coupé was built to perform well on the highway, Munich's done its due diligence.
Depress that throttle and the TwinPower turbo motor takes you on an almost endless torque swell, giving the distinct impression that a rubber band is effortlessly slinging the 650 GC to the horizon.  It's gob-smacking, it's thunderous and you have to wonder why in the heck anyone would need any more torque than this.
Of course, BMWs have to handle as well, and while the longer wheelbase may increase your turning radius a bit, it's of no consequence. Even on the squishy winter rubber we had, the 650 GC squats down and carves through bends like its athletic build suggests. Yes, said tires do demonstrate noticeable sidewall flex—due, in part to the 650i's 2,073 kilo weight, making it the second-heaviest 6 Series—but that's going to happen. Really, if you're planning on doing a spirited, bendy drive in this or most any performance car, save it for the warmer months and proper summer rubber.
Transmission duties are handled by an eight-speed auto no matter which Gran Coupé you choose, and gearchanges are carried off lickety-split, whether in auto mode or manumatic, whereby cogs can be swapped either with wheel-mounted paddles or the stubby shift lever. My advice? Considering the available power on-tap and that you'll probably be hoofing it if you're in manual mode, you'll be wanting to hold on tight. Use the paddles. It's so much more satisfying and confidence-building all at the same time.
Of course, there's also an ECO Pro mode if you want to reign things in a little, but even when using it we saw about 14L/100KM of fuel usage; this is not a fuel sipper by any means and there's a reason the more frugal six-cylinder 640i is around.
Indeed, if you've selected the V8, you're going to want to make use of that power, expensive premium fuel guzzling or not. It will reward your need for speed, that's for sure. At the same time, it will squire you out of town, onto the highway, over the mountains and into the valleys from point A to point B, leaving you feeling like you've driven some of the highest-class luxury engineering available right now.
Perhaps the best part, though, is that of the three 6 Series models (we'll exclude the M6 range for now), the Gran Coupé actually has the least expensive cost of entry, undercutting the Coupe by 10 grand . That is surprising considering the GC is the more practical car and, in my opinion, the best looking, too.