Supercharging, Turbocharging, EV driving; this Volvo XC90 has it all!
When it comes to writing about vehicles like the Volvo XC90 T8, I have to tread very lightly. After all, this is a vehicle that's been winning awards left, right and centre
THE PROS & CONS
What's best: Fantastic interior quality, luxury, tech

What's worst: Charging interface could be a little more honest

What's interesting: Two EV engines combine to make 287 lb-ft of torque and 128 hp
When it comes to writing about vehicles like the Volvo XC90 T8, I have to tread very lightly. After all, this is a vehicle that's been winning awards left, right and centre and heaven forbid I should risk writing something disparaging without having my facts straight.
Lucky for me, I found out quite quickly that this wouldn't really be a problem with the Volvo.
That's because it is fantastic in so many ways, that any real fault that I found was mostly a matter of my opinion and little else, and you can't really fact check that now, can you?
First of all, I'll get this out of the way right off the bat: "T8" has nothing at all to do with the cylinder count. Always thought it would, considering the previous models had used Yamaha V8s to great effect; they may not have been the most frugal fuel-wise, but they were powerful, they were smooth and that smoothness helped contribute to their being quite durable, too. When you're Volvo, a brand known for building bulky station wagons that would still start in the coldest winter 20 years after they first rolled off the line, you'd better make sure that your cars last.
Indeed, the XC90 T8 actually has half the cylinders that the model name would suggest, but with two (well, three, actually) important twists. For starters, it's a plug-in hybrid so in addition to the four-banger up front, there are two more electric motors: one between the engine and 8-speed gearbox that makes 46 hp and 110 lb-ft of torque and one on the rear axle, good for 82 hp and 177 lb-ft. So that's the first twist. The second is that the engine is both super- and turbocharged (so you're covered if you ever plan on going back in time and entering your bulky SUV into the Group B category of the World Rally Championship), which combine to make 318 hp and 295 lb-ft. Needless to say that although at 2,400 kg, the XC90 is no lightweight, there's plenty of power from all of those sources to get it going at a good clip, and keep it there, too.
It certainly looks fast. Indeed, that's not something that can always be said about an SUV of any kind, but a few details make the XC90 seem a little leaner, a little more car-like than it has previously. The low-profile headlamp lens, for instance, is modern and athletic looking, almost Range Rover-esque in its application. The chrome stripping on the lower door looks good, but also helps give the XC90 a lower stance overall. The twin outlet exhaust helps in this regard, too, as does the sharp rake of the tailgate.
It's not perfect; the rims on my particular car are a little uninspired in their styling (there are other, better options, of course), and from certain angles, the lower front splitter appears to jut a little harshly out from below the grille.
Inside, however, it's hard to really fault anything that Volvo's done.
First of all, it's spacious and airy thanks to a full-length moonroof and tall greenhouse. As is Volvo's wont, the seats are best described as chairs; they are adjustable in numerous ways, from the seat cushion length to lumbar 4-ways and they come heated and cooled. If I do have to pick a sore spot, it's that when folk with longer thighs are going to extend the bottom cushion, they may find – as I did – that the gap between the extended portion and the main cushion is a little wide and is felt more than I'd like.
RELATED: The 2016 Acura MDX people mover gets new features and tech
Second row passengers also benefit from that airy cabin, and if that's not enough, they get their own individual digital climate controls as well as heated seats. Each side can also individually adjust the rake of the seatback as well as how far fore or aft they want to rest. The third row passengers don't get quite those luxuries, but it appears that Volvo seat tech has made its way to the back row, even though they're likely going to be stowed most of the time.
If you do find the time to use them, however, know that the kids would be fine back there and even an adult – yes, one is likely the max if you care for their comfort – will survive short trips. Accessing the third row is simply a matter of either flipping the same lever you'd use to adjust the second-row seatback, or grabbing hold of a release on either outside second-row seat shoulder. The latter method tilts the entire seat forward, while the former just allows you to fold the seatback completely flat. Would it be nice if they folded and tumbled completely? I suppose, but if you use the second method, clambering back there is no big deal. The flat-folding seats, meanwhile, mean that loading longer items is not a problem, and you get 1,816 L of cargo space once they're all folded.
The two tone colouring on my car is a great blend of both light and dark materials, and since so many commands are done via the large centrally-mounted touchscreen, the dash is pleasing to the eye and uncluttered. The buttons that do remain, however – although they really only feature as redundant controls for the audio – are given a nice jeweled look, with nice chrome surrounding a piano black finish. The same goes for the centre console controls for your engine start/stop, parking brake and drive mode selector, which all look like pieces sourced from a properly high-quality parts bin. As do the real open-pore wood inserts, which continue to be one of my favorite new trends in the luxury vehicle market today; they feel warm, organic and there is very little in a car's repertoire that says "luxury" like open-pore wood.
ALSO READ: 2016 Lincoln MKX Review 
Except, perhaps, proper nappa leather. Which is good, because the Inscription trim adds more of the stuff to the doors and dash. This is a rich feeling interior like few others out there; I'd say it actually takes the fight to BMW, Mercedes and Audi, and wins on certain points.
The absolute highlight detail of the entire cockpit, however, has to be the gear selector. Part of my car's Inscription package is the addition of a crystalized gear selector fettled by Swedish glass expert Orrefors, and it stands as a glistening beacon of the kind of luxury to expect from the XC90. Look closely, though, and more tantalizing details start to emerge; the little Swedish flags on the seat shoulders, for example or the "since 1959" logos on the belts, recalling when Volvo became the first manufacturer to install three-point harnesses on their car. No expense has been spared in the name of detailing.
I guess what's especially impressive is that the lever stands out, even though it has to compete for attention with one of the biggest display screens you'll find in the car market today, this side of a Tesla Model S or X.
It measures 9 inches in length, roughly the display area of an iPad Mini. The graphics it displays are also very Apple-like in their clarity, while a "home" button at the base of the screen will be familiar to many as well. The system does make use of nested menus, however, so there's often two or three input commands required for stuff that normally takes a single button press. It's a little much, sometimes but as more and more manufacturers are going to all-touch interfaces, it's just something we're all going to have to get used to.
The drive modes, however, are accessed via a single button press, though, which is a nice feature. Press the wheel mounted just below the shift lever, and all six – six! — drive mode settings are displayed for you to choose from. Some of the drive mode names are pretty obvious; "power", or "off-road" for example. There are a few question marks, though; "save" lets you save on battery power for when you need it most – in rush hour traffic, say – while "pure" goes to the other end of the spectrum, relying more heavily on the electric powertrain and modifying the climate control setting accordingly.
We kept it in the default "hybrid" setting most of the time, which provides a tantalizing mix of the athletic and the economical. It charges the battery while coasting or braking, just not to the same neck-snapping degree it does in the other modes, providing a more comfortable ride overall.
If you do want to explore the T8's EV creds, however, you'll hopefully find – as we did – that you'll be able to get about 30 kilometers of full-EV range on a full charge. That's pretty awesome stuff; plug in every night and depending on your commute, you could be running EV for your entire work week.
You will have to be patient on the charge front, however; As soon as you plug it in, the XC90 tells you how long it expects to get you a full charge. That's great, but it would be better if it showed a modicum of accuracy.
When using a 110V trickle charge outlet, we tracked our charge time and found it to routinely be 1-2 hours off of the pace. That's pretty severe, and it just goes to show you that when it comes to charging the XC90, the "plug-in and forget" approach is best; when you know you're going to be done for the night, just plug in, hit the sack, and you should be gravy the following morning. Or, just find yourself a level II charger, and you're charge times would be significantly reduced.
Of course, even if you don't have a full charge, the beauty with the XC90 T8 is that you've got a potent gas engine to back you up. Power comes on quickly and smoothly, thanks in no small part to the transition between supercharging and turbocharging. Basically, the mechanical supercharger is on-hand to get you off the line when you haven't built the exhaust gasses required to get the turbo singing. Then, once those have built up, it's the turbo's turn to do the heavy lifting at higher revs.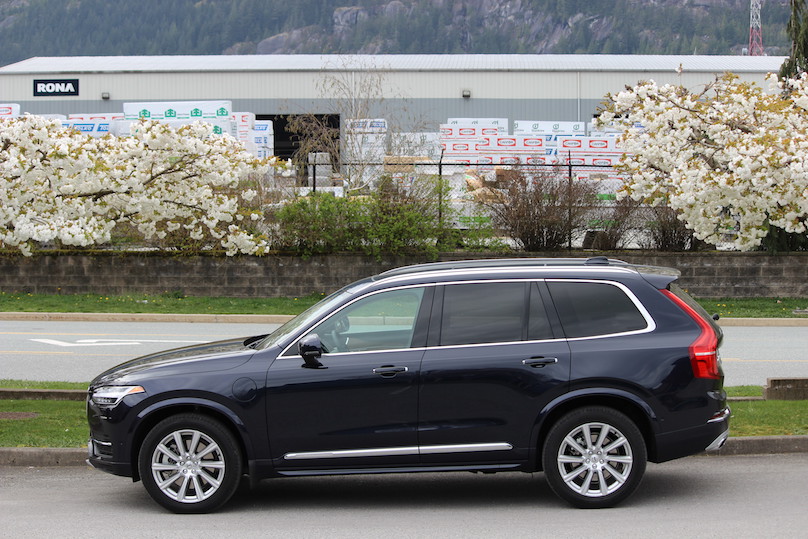 The only thing that really holds it back is not the weight; rather, it's that 8-speed auto. It's a standard torque converter auto – no fancy dual clutching going on here – and I just found it a little lazy to respond to heavy throttle input, for when you need to undertake a pass or freeway entry. It's OK once at speed as it's pretty smooth-shifting, it's just that it takes a while for the shift action to begin. There's no paddle shift option either, which I guess is a bit of a shame, though that's a feature that I feel would be hardly used by any luxo-SUV buyer. Especially one that's considering a plug-in hybrid example.
What they would appreciate – and what more enthusiastic drivers would, too – is the XC90's chassis. For starters, the steering and ride quality can be individually set (once you find the correct menu, of course), and the difference in any of the three settings is absolutely tangible. The highest-resistance steering setting, for example, should really only be used for jaunts on twistier tarmac as it's too heavy for slow 'round town use. At the other end of the spectrum, the "low" resistance setting has the XC90 steer like a soft old Cadillac, making weaving through traffic jams a one-finger-on-the-wheel affair.
The shocks can also be adjusted, as can throttle response and how grabby the brakes are. It's massively customizable and while most will likely find a set of settings pretty early on – we did – and stick with it, it's good to have the choice, especially when there's multiple drivers.
The bottom line, though, is that with that great wood and leather interior, smart hybrid powertrain, customizable user experience and spacious environs (especially those great third-row seats), it's quite clear as to why Volvo is getting lauded left, right and centre for its latest big SUV. Add me to that list of those smitten by the XC90 experience.
2016 Volvo XC90 T8 at a glance
BODY STYLE: 7-passenger SUV
DRIVE METHOD: 8-speed automatic transmission, all-wheel-drive
ENGINE: 2.0L turbocharged and supercharged inline 4-cylinder (318 hp, 295 lb.-ft.) and twin electric motors (128 hp, 287 lb-ft)
Claimed EV range: 30 km
PRICE: (T8 Inscription) $75,750
WEB: www.volvo.ca
Follow Wheels.ca on
Facebook
Instagram