Preview: 2016 Malibu more than just a new face
The 2016 Malibu offers a compelling value proposition, nicely packaged with an impressive array of safety features and technology for the broad mid-size segment.
THE PROS & CONS
WHAT'S BEST: Sleek looks, comfortable interior, quiet ride

WHAT'S WORST: Some of the new tech is only available on higher-end trims

MOST INTERESTING: Starting MSRP is $3,495 below outgoing model
PALO ALTO, Calif. — One of GM's most reliable showroom foot soldiers is all-new for 2016, and this time it's for real.
Why do I say that?
Although the 2013 Chevrolet Malibu was technically a new generation model, it felt more like a refresh of the vehicle it replaced.
The same cannot be said for the ninth-gen Malibu. The 2016 version marks a significant departure for the Malibu nameplate.
The biggest sign that things have really changed is under the skin, where GM engineers have lengthened the wheelbase and its overall length , while keeping the same width.
They've also shed 136 kilograms of weight. More than a third of the savings come from a structure that uses more high-strength steel than its predecessor, which enabled GM engineers to use thinner components that are lighter yet deliver similar levels of crash performance.
A greater use of aluminum in suspension, chassis components and the hood has also contributed to the Malibu's reduced mass.
All of these measures have combined to make the Malibu the lightest car in its class, tipping the scales at just over 1,400 kg. for the mid-range 1LT trim. This all helps to improve fuel economy.
The Malibu offers three four-cylinder engines, two of which are all-aluminum.
An all-new 1.5-litre turbo (160 horsepower / 184 lb-ft. of torque) serves as the base engine, while a higher-output 2.0-litre turbo (250 hp / 258 lb-ft.) powers the range-topping Premier model.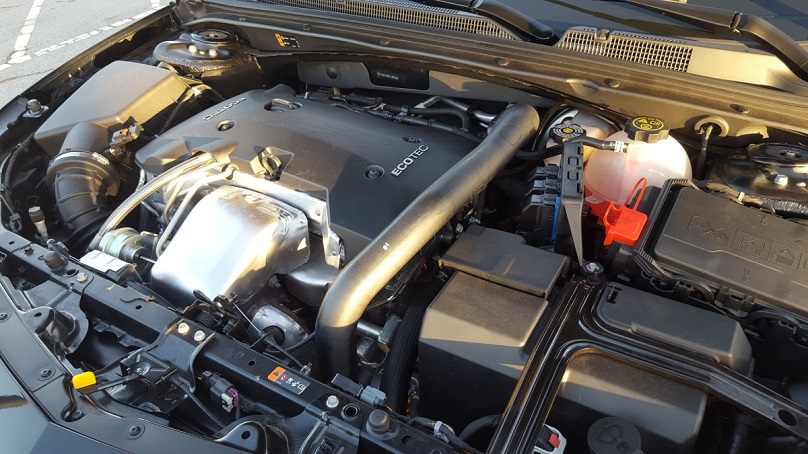 A 1.8-litre mill with a cast iron block mated to an electric two-motor drive unit (182 combined hp / 129 lb-ft.) powers the Malibu hybrid.
Two automatic transmissions are available, a carry-over six-speed pairs with the 1.5, while the 2.0 is mated to an all-new eight-speed, the first to be offered in a GM front-wheel drive vehicle.
From a design perspective, the Malibu cuts a sleeker, more handsome profile compared to the boxier look of the current model.
Inside, the Malibu is spacious, handsomely finished and pleasingly straightforward. Soft touch plastics and fabrics complement well-placed controls and switches.
As is the case with most cars these days, the Malibu becomes more luxurious as one climbs through the trims, but the gorgeous 7-inch touchscreen that governs its many connectivity features is standard on all trims, save for the base L model. The Premier trim comes standard with an 8-inch unit.
Speaking of connectivity, the Malibu is bursting at the seams with the stuff. Part of the reason GM elected to launch the Malibu in Palo Alto, the heart of Silicon Valley, is to highlight the car's tech features.
In addition to Apple CarPlay and Android Auto, safety is a primary focus of the new Malibu.
In order to improve the safety of teenage drivers, the Malibu offers a broad range of collision mitigation technology, the sort of which has become common on many cars these days. This includes front and rear park assist, front pedestrian braking, lane departure warning and rear cross traffic alert.
What's new here is Teen Driver. The industry-first feature lets parents of teenage drivers monitor their kids' driving habits.
Standard on the Premier trim and optional on certain LT models, Teen Driver will limit the car's maximum speed. When it's switched on, all of the other safety features are enabled and cannot be turned off.
Such models can also track distance driven, maximum speed travelled, overspeed warnings issued and stability control events, among other things.
It's an innovative feature on a car that feels very well-engineered and carefully calibrated to consumer preferences.
After spending the better part of a day driving several trims on highways and local roads in the Palo Alto area, it appeared to me that GM has accomplished what it set out to with the Malibu.
All trims I drove delivered a quiet, comfortable ride over a variety of road surfaces. Acceleration was reasonably brisk with all three engines, including the 1.8-litre hybrid. The handling, while not exactly sporty, felt secure in everyday driving environments. The weight-saving measures have helped to give the car a lighter, nimbler and more responsive feel.
Inside, the Premier trim is certainly the most luxe with its sheer volume of bells and whistles, but the lower and mid-range trims (the LT in particular) also come with an impressive array of equipment.
In all, the 2016 Malibu offers a compelling value proposition, nicely packaged with an impressive array of safety features and technology for the broad mid-size segment.
The outgoing Malibu has been a solid sales performer on both sides of the border for GM, and I suspect this car will continue that trend.
2016 Chevrolet Malibu
PRICE: $23,495 — $33,795
ADD-ONS: $1,750 (freight & AC tax), licensing
TYPE: Mid-size sedan
PROPULSION: Front-engine, front-wheel drive
CARGO: 447 L / 328 L (hybrid)
TOW-RATING: N/A
ENGINE: 1.5L 4-cyl. / 2.0L 4-cyl. / 1.8L 4-cyl.
TRANSMISSION: 6-speed automatic, 8-speed automatic
POWER/TORQUE: (1.5) 160 hp / 184 lb-ft., (2.0) 250 hp / 258 lb-ft., (1.8) 122 hp / 129 lb-ft.
FUEL CONSUMPTION (L/100 km): (1.5) 8.7 city, 6.3 hwy.; (2.0) 10.6 city, 7.1 hwy.; (1.8) 10.0 city, 7.0 hwy.
BRAKES: 300 mm (vented disc — front), 287 mm (solid disc — rear)
TIRES: P205/60R16 (standard)
STANDARD FEATURES: 10 airbags, six-speaker audio system, cruise control, push-button start, power side mirrors, OnStar guidance plan (six months) and more
ACCESSIBILITY: Easy and straightforward.
COMPETITION: Ford Fusion, Honda Accord
WEBSITE: chevrolet.ca
LOOKS
Recent Malibus never looked this good. Sleek and contemporary without being too copycat
INTERIOR
A bit understated, but spacious, nicely finished and well-equipped
PERFORMANCE
Pretty lively across the range, but the 2.0-litre Premier offers the most engaging driving experience.
TECHNOLOGY
Lots. In addition to the usual collision mitigation stuff, Teen Driver helps parents track their kids's driving habits.
WHAT YOU WILL LIKE ABOUT THIS CAR:
It looks good, offers a comfortable and quiet ride and delivers impressive fuel economy.
WHAT YOU WON'T LIKE ABOUT THIS CAR:
Some of the new tech is only available on higher-end trims.
RATING
The 2016 Malibu offers an impressive amount of style, content and technology. The mid-size segment is a hotly contested one, and GM has done a good job of really setting the Malibu apart from its entrenched competition. Teen Driver could become a game changer.
8.2 / 10
Freelance writer Lee Bailie is a regular contributor to Toronto Star Wheels. Travel and other expenses for this story were paid by the manufacturer. For more Toronto Star automotive coverage, go to thestar.com/autos . To reach Wheels Editor Norris McDonald: wheels@thestar.ca