Road Test: 2016 Mazda MX-5 Miata GS
Since that first roadster back in 1990, Mazda has described every vehicle it makes as having "the Soul of a Sportscar." and with the 2016 MX-5, that couldn't more true.
THE PROS & CONS
What's Best: You can still have loads of fun and not get in trouble.

What's Worst: Needs a taller top gear for highways.

What's Interesting: The soft top can be raised and lowered with the motion of one hand.
Every year for the past 26 years I have driven a Mazda MX-5 Miata and every time I've come away with a huge smile.
There still is really nothing like it.
Just big enough for two, it responds to driver inputs instantly and you always know where it is planted, whether in a high-speed corner or just cruising down the highway.
I have a colleague who recently bought a used Miata as a treat to himself. Often at night, he slips out to the garage and just takes off for an hour or two.
Why? Simple!
The MX-5 brings back the joy of motoring, something that is missing in most of today's tech-packed vehicles and doomed when a future world is trapped in autonomous cars and trucks.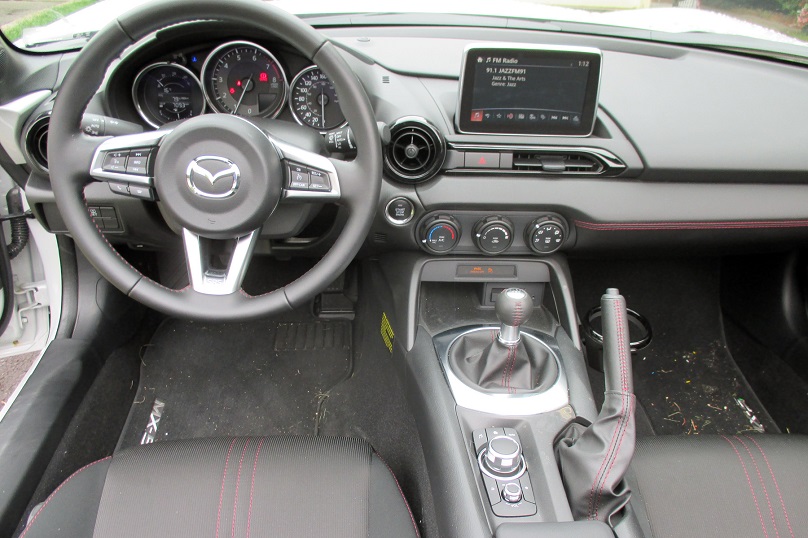 Regular readers may remember last year when the 2016 MX-5 (they don't call it Miata anymore, but I do) was unveiled in California and I spent an unforgettable afternoon driving around with Tom Matano, who designed the first and second generation models.
He told me Mazda took a real chance on the car as the era of British two-seaters was dying and the "Fuel Crisis" of 1973 had the manufacturers scrambling to make more fuel-efficient vehicles, not cars for people to go around driving for pleasure.
It is said success is a blend of preparation and opportunity — and the MX-5 has become the most successful sportscar in history.
RELATED: 2016 Mazda MX-5 Miata Features New Bose Sound System
The little 1990 Miata bowed with "bar of soap" styling that was very "in" at the time, as did the Ford Taurus and Chrysler 300. But over the years it evolved into the third generation that was wider and more squared off, thanks to the "Jinba ittai" design language which, in English, stands for "rider (jin) horse (ba) as one body (ittai)"
But this is 2015 and Mazda has adopted the Kodo styling credo which has transformed the look of the entire Mazda line, the MX-5 in particular.
The new Miata looks smaller, thanks to the tightly bobbed tail, and the cockpit feels snugger. That's because it is two inches shorter overall, 20 mm lower with the top 10 mm lower.
The first Miata I drove had a 1.6-litre inline twin-cam four-cylinder with just 115 hp and 100 lb/ft of torque.
The 2016 has the same 2.0-litre inline four-cylinder the MX-5 has used for some time, but now it benefits from Skyactiv technology, which is skewed to fuel efficiency producing 155 hp and 148 lb/ft of torque on recommended premium fuel.
Fuel consumption is rated at 8.8/6.9L/100 km city/highway for the manual and 8.9/6.5L/100 km for the automatic for a 25 per cent improvement over the 2015 model.
Mazda has adopted a super simple pricing policy for its three trim levels with the base GX ($31,900), a mid-level GS ($35,300) and a top level GT ($39,200) with a $1,795 shipping fee. Interestingly, there are two transmissions with a standard six-speed manual or a six-speed automatic with sequential shift mode as a no-charge option.
I have been waiting some time to put a week's driving in the new car and Mazda furnished the exact one I would have picked, the mid-trim GS with the manual.
Like the GT, the GS gets the sports suspension with Bilstein shocks and limited slip rear differential. The only option was $200 for the Ceramic White paint.
Add the stiffest Miata chassis yet, front double wishbone suspension, supple multi-link rear suspension and 68 kg (150) less weight than the 2015 model and you have the recipe for great driving.
Which is exactly what I did over some 700 km through the back roads of Southwestern Ontario in glorious sunshine.
The engine still jumps into life and then settles down to a fruity little burble at idle. The shifter is small, precise in actuation and finds the next cog without any drama.
The clutch is very, very light, but easy to modulate to the point where it bites.
On Highway 401, the gearing means it is up around the 3,000 rpm in the flow of traffic. But peel off onto the secondary roads and that's where the fun begins.
With the limited slip, the rear stays firmly planted when transitioning through left-right-left S-bends at whatever speed you chose.
There is a sensation you are seated at the nexus of the four wheels, which makes it easy to oversteer and understeer as you wish – magic.
My tester has a great sound system, but I never really turned it on, preferring to drive top down for two days straight enjoying the sound of the engine and exhaust as it went up and down through the gears.
To my mind, it doesn't get better than this.
When you think about it, without the Miata, there probably wouldn't be a Mazda Corporation, as we know it today.
Since that first roadster back in 1990, Mazda has described every vehicle it makes as having "the Soul of a Sportscar."
And with the 2016 MX-5, that couldn't more true.
 
Mazda MX-5 GS 2016 at a glance
BODY STYLE: Compact roadster
DRIVE METHOD: Front-engine, rear-wheel-drive
ENGINE: 2.0-litre, 16-valve, DOHC four-cylinder (155 hp and 148 lb/ft of torque); six-speed manual, six-speed automatic transmission driving the rear wheels
FUEL ECONOMY: (Premium recommended), manual, 8.8/6.9L/100 km city/highway; automatic, 8.9/6.5L/100 km
CARGO: 130 litres
TOW RATING: Not recommended
PRICE: GX, $31,900; GS, $35,300 (optional $200 Ceramic White paint as teased); GT, $39,200; not including $1,795 shipping fee.
WEBSITE: www.mazda.ca