THE PROS & CONS
What's Best: Handsome and pugnacious small car styling, respectable fuel economy and nimble handling. And a wealth of available equipment, the kind of stuff we only used to see in large, premium cars.

What's Worst: An optional 1.0-litre EcoBoost engine, good as it is, unavailable – restricted to SE trim and manual transmission.

What's Interesting: As you climb into the upper echelons of Fiesta packaging and prices, do you go for top features? Or bump to a lesser equipped but larger Ford Focus? It's a personal choice, but worth considering.
It's been six years since a brand new sixth generation Ford Fiesta was resurrected in North America after a 30-year absence.
The newly introduced Fiesta was a true global car, assembled in Mexico with engines from Brazil and Romania.
And with an Aston Martin-like visage distilled down to pocket-sized perkiness, the Fiesta instantly added Euro-style verve and subcompact sensibilities to the Ford lineup, fitting neatly under the steadily growing Ford Focus as the brand's new entry-level car.
"Think big!" may be the mantra of our self-inflated, self-motivational culture.
But there's something to be said for thinking small, especially when it comes to a nimble urban runabout that can fit through city traffic and squeeze into tight parking spots that bigger vehicles have to pass by.
RELATED: Nissan Debuts the Micra Cup Racing Series in Canada
The Fiesta comes in two configurations – four-door sedan or five-door hatchback models.
The components, sheet metal and dimensions of those two body styles are virtually identical but the hatchback boasts a somewhat sportier elan than the understated sedan.
The only real difference is the sedan's added trunk, extending body length and swallowing 363 litres of luggage while the taller storage space in the hatchback offers 423 litres, expanding to 720 litres with the second row folded forward.
Ford deserves bonus points for keeping things simple, offering both the sedan and hatchback for identical prices through the lineup's three graduated trim levels – S ($16,049), SE ($17,049) and Titanium ($20,899). That frees customers up for a personal choice without some kind of arbitrary styling penalty.
Yes, the hatchback lineup also adds a special Fiesta ST performance model ($25,649) as well. But it deserves its own story, so we'll just ignore it for this review.
The Fiesta starts with a standard 1.6-litre four-cylinder engine (tested here) that makes 120 hp and 112 lb/ft of torque.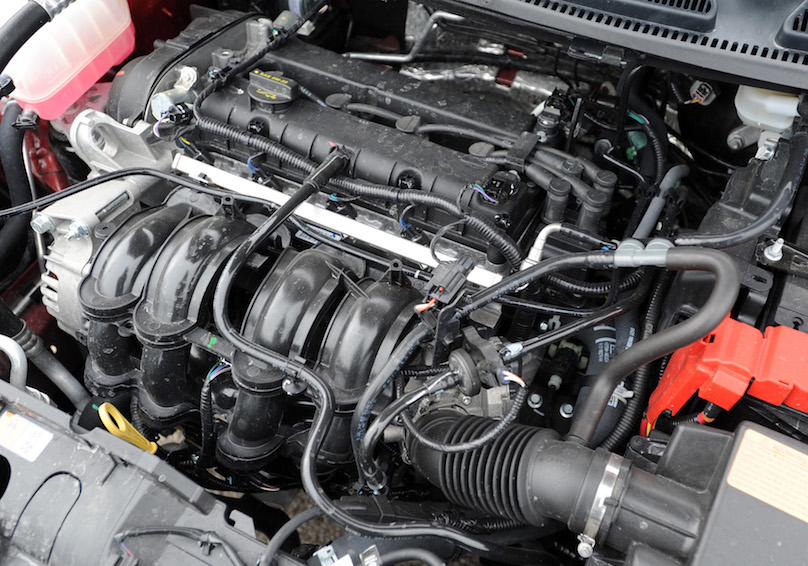 This four-banger won't exactly wear you out with adrenaline rushes but it gets the job done while offering a reasonable 8.5/6.5L/100km (city/hwy) fuel economy rating with the standard five-speed manual. Our Titanium tester with the optional six-speed PowerShift automatic ($1,250) earns an almost similar fuel economy rating of 8.7/6.4L/100km (city/hwy) but, more significantly, in real world testing it returned an average of 7.6L/100km (comb).
The PowerShift automatic offers a "D" setting, an "S" setting with delayed sport upshifts and also allows manual shifting via a SelectShift +/- thumb toggle on the left side of the shift knob.
With this automatic, the 1.6-litre usually spools at a leisurely 1,500 rpm around town, spinning a little higher than usual on the highway, at around 2,500 rpm at 100 km/h and up to 3,000 rpm at the quasi-legal 120 km/h that everyone drives.
I'd almost whine for a taller top gear to lower the revs and save even more fuel but I suspect the engineers compromised for the best ratio applicable to the limited power.
COMPETITOR REVIEW: Chevrolet re-ignites its Spark
Ford also offers a 1.0-litre three-cylinder turbocharged EcoBoost engine ($1,500), the smallest available engine in its class. This award-winning, mighty midget manages to make 123 hp and 148 lb/ft of torque while improving fuel economy numbers to 7.5/5.5L/100km (city/hwy).
Which is all pretty impressive, but I'm taking back my earlier bonus points anyway because, while we can argue about whether the mileage improvement offsets the price premium, for whatever reason, this powertrain choice is restricted to the SE trim level and can only be mated with the five-speed manual.
There are, however, plenty of other extras that come standard or available with our top-of-the-line Fiesta Titanium.
New for 2016, the Fiesta adds four new colours – Shadow Black, Electric Spice, Kona Blue and a White Platinum Metallic Tri-Coat.
And inside, upper trim models like our tester, now offer the latest SYNC3 enhanced voice recognition infotainment system, featuring a 6.5-inch centre LCD touch screen with all the latest smartphone-like features – finger swiping and navigation with pinch-to-zoom ability, AppLink and 911 Assist systems.
These latest technologies bolster an up-to-date Titanium cabin replete with leather appointments, rear view camera and reverse sensing, 8-speaker SONY audio and, added to our tester, a power moonroof ($1,200), remote start ($300) and Fiesta lower-door graphics ($200).
You know, whenever I'm reviewing a fully loaded entry-level vehicle, I can't help but wonder if a customer wouldn't be better served by moving up the model line, in this case to a Focus.
Yes, the Focus Titanium ($26,499) rings in at nearly $6K more than the Fiesta Titanium ($20,899), but a nicely loaded Focus SE ($19,599) might come with fewer bells and whistles but would offer a more accommodating second row and almost twice the luggage space.
But for those thinking small, and thinking premium, the 2016 Fiesta Titanium loads Ford Canada's smallest car with a lot of big car technologies, luxuries and features.
It's certainly worth a test spin around the block.
 ALSO READ: 2015 Nissan Micra S Review
Ford Fiesta Titanium 2016 at a glance
BODY STYLE: Five-door hatchback.
DRIVE METHOD: Front engine, front-wheel drive.
ENGINE: 1.6-litre Ti-VCT DOHC I-4 engine (120 hp, 112 lb/ft).
FUEL ECONOMY: 8.7/6.4L/100km (city/hwy); As tested 7.6L/100km (city/hwy)
CARGO CAPACITY: 285 litres, 720 litres behind first row
PRICE: $20,899. As tested, $25,499 includes Ruby Red Tinted Clearcoat ($400), Power Moonroof ($1,200), Navigation ($800), Engine block heater ($100), Fiesta lower door graphic ($200), Exterior Protection Pkg ($300), Remote start ($300). Dest. & Delivery ($1,600) not incl.
WEB SITE: www.ford.ca
Follow Wheels.ca on:
Facebook
Instagram