Camaro 2.0 T Coupe's lightness of being
Once on boost, this lighter four-cylinder Camaro scoots along nicely. Handles very well, too. Big tires, big brakes, and lowered sports suspension are on the menu.
THE PROS & CONS
WHAT'S HOT: looks, handling, fuel economy

WHAT'S INTERESTING: the first Camaro rolled off the line 50 years ago
PAHRUMP, NEV.-It's amazing the things you find in the deserts of the American West. Lizards, jack rabbits, the World's Tallest Ice Cream Stand, a functioning opera house in the ghost town of Death Valley Junction, and four-cylinder Camaros.
I've been cut loose for a day of sampling a fresh new face in the sixth-gen Chevrolet Camaro family — the 2.0L, four-cylinder turbo Coupe that comes on the heels of the 3.6L V6 and 6.2L V8 models.
Built on GM's excellent rear-drive Alpha platform that debuted under the Cadillac ATS, this latest Camaro benefits from reduced mass, tidier dimensions and the sharp responses that gave the Caddy ATS its BMW-beating dynamics right out of the box.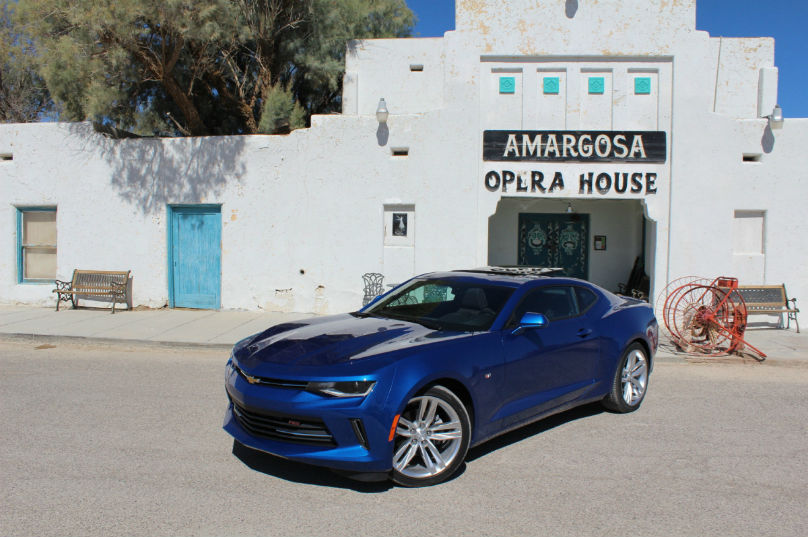 So it makes sense that Chevy would take the 275 horsepower, 295 lb-ft., direct-injected, 2.0L turbo found in the entry-level ATS and drop it under the Camaro's new sexy hood. Unlike the Ford Mustang, which positions (and prices) its 310 hp, four-cylinder, turbo 2.3L EcoBoost as a performance upgrade over the base V6, the Camaro Coupe 2.0L — with a starting price of $28,245 — acts as an entry point into this Chevy pony-car fraternity.
And a sweet point it is. Mated to either a decent shifting six-speed manual or optional in-house, eight-speed, paddle-shift automatic ($1,570), this coupe is all about lightness of being — up to 177 kilograms lighter than last year's base V6. Yes, there's turbo lag below 2,500 rpm., but it pulls strongly and with a gratifying snarl above that, and less mass in the nose means this newest Camaro (suitably optioned) is a pointy, agile creature that loves to be flung about on a racetrack. A morning session at the Spring Mountain Motorsports Ranch had us driving the 2.0 T Coupe (with both transmissions) back-to-back against a last-gen Camaro V6 and a current Mustang V6. The 2.0 T was easily the most balanced and responsive car out there.
There's no badging here to give away its four-cylinder status. Fitted with the $2,145 RS package (20-inch wheels and deck lid spoiler), it looks as nasty as any V6 or V8 Camaro.
Camaro Chief Engineer Al Oppenheiser points to a faction of Camaro enthusiasts who want this small turbo engine for its high degree of tuneability. You can get crazy horsepower out of these, and Oppenheiser says, "These guys want to be able to outdrag the 6.2L V8 car." Safe to assume their warranty goes up in smoke as fast as their rear tires.
Not that the 2.0 Coupe is a slug. Chevy boasts its zero to 60 m.p.h. time of 5.4 seconds matches that of the 1970 Chevelle SS 454 that did the deed with 390 fume-spewing bias-ply tire-melting horses.
But I'm not thinking burnouts as I cruise my civilized auto-equipped blue 2.0 Coupe under a similarly hued sky between spectacular rock formations and from an elevation of 3,000 feet to about 200 feet below sea level in the cradle of Death Valley.
This new Camaro's interior is leagues ahead of the plastic embarrassment that was in the old car, but with its high belt line and gun-slit green house, you still feel like you're sitting in a bathtub while wearing a sombrero. The rear ¾ blind spots are big enough to hide a pack mule.
Plenty of headroom though, and the fabric buckets in this base model are comfy and supportive. The new flat-bottomed steering wheel is more ergonomically sound, and it connects to a quick electric rack that shows a hint of on-centre numbness. GM's in-house, eight-speed manumatic is a smooth operator but doesn't respond to shift paddle inputs with the quickness of the ubiquitous ZF eight-speed found in everything from BMWs to Jags to Maseratis.
While Chevrolet is positioning its four-pot Camaro as an entry-level car, it does not penalize buyers with lack of available kit. You want head up display, ventilated seats, heated steering wheel, six-piston, front brakes, suspension lowering kit, or modern driver safety aids? All on the menu.
If there is one criticism one could level at the all-new 2016 Camaro coupe, it's the enclosed, bunker-like cabin experience that carries over from the outgoing car.
This convertible version, which lands in Canadian showrooms later this spring, dispenses with the coupe's bunker-like cabin in about 18 seconds. The fully automatic fabric top hides neatly under a body-coloured tonneau cover faster than you can lather on a layer of SPF 30, and it will perform this ballet at speeds up to 50 km/h. It looks terrific. It's clean, lean, and (depending on which engine you choose) mean.
2016 Camaro 2.0L Coupe
BASE PRICE/AS TESTED: $28,245/$35,000 (test)
DESTINATION CHARGE: $1,750
TYPE: Sports Coupe
PROPULSION: front engine rear-drive
CARGO: 257 L
TOW RATING: not advised
ENGINE: 2.0L turbocharged 4-cylinder with direct injection
TRANSMISSION: eight-speed manumatic or six-speed manual
POWER/TORQUE: 275 hp/295 lb-ft
FUEL CONSUMPTION (city / highway L/100km): TBD
BRAKES: 4-wheel disc
TIRES: P245/50R18 or P245/40R20 run-flat
STANDARD FEATURES: rear-view camera, 18-inch alloys, six-speed manual, cruise, dual exhaust, Bluetooth, USB, and more
ACCESSIBILITY: rear seat access is awkward
COMPETITION:
Ford Mustang V6 — $26,393-$32,000, 3.7L, V6, What's Best: strong and smooth V6 styling: 7/10
Dodge Challenger SXT — $31,795-$41,500, 305-hp, 3.6L, V6 What's Best: If you like big and brutish …: 6/10
MANUFACTURER'S WEBSITE: www.gm.ca
LOOKS: This sixth-gen Camaro keeps its show-car looks, but being a bit smaller and more sculpted, it comes across as better resolved
INTERIOR: Both fabric and leather seats are well contoured, although outward visibility is compromised by high belt line and chopped roof. Gone are the acres of cheapo plastic.
PERFORMANCE: Once on boost, this lighter four-cylinder Camaro scoots along nicely. Handles very well, too. Big tires, big brakes, and lowered sports suspension are on the menu.
TECHNOLOGY: Get Chevy MyLink with 8-inch screen and Apple CarPlay capability. OnStar, 4G, LTE with Wi-Fi hot spot. Driver Mode selector (Snow/Ice Tour Sport) on all models
SCORE: 8 out of 10
Peter Bleakney is a regular contributor to Toronto Star Wheels. Travel was provided by the manufacturer. For more Toronto Star automotive coverage go to
thestar.com/autos . To reach Wheels Editor Norris McDonald:
nmcdonald@thestar.ca