2016 Subaru Forester 2.5i Touring Review
The 2016 Subaru Forester 2.5i Touring is one great package that just does almost everything well.
THE PROS & CONS
 What's Best: This is one great package that just does almost everything well.

What's Worst: Not a lot to complain about here, although handling may not quite match class leaders.

What's Interesting: A rear-view camera is now standard across the board.
2016 Subaru Forester 2.5i Touring at a glance
BODY STYLE: Compact, five-passenger crossover.
DRIVE METHOD: Symmetrical all-wheel-drive.
ENGINE: 2.5-litre DOHC 16-valve Boxer four-cylinder engine (170 hp, 174 lb/ft of torque).
CARGO CAPACITY: 974 litres, with rear seats folded 2,115 litres.
TOW RATING: 680 kg with trailer brakes, 453 kg without trailer brakes.
FUEL ECONOMY: (manual) 10.6/8.4/9.6 L/100 km city/highway/combined, (CVT automatic) 9.6/7.5/8.7 L/100 km city/highway/combined.
PRICE: $29,995 plus $1,675 freight and PDI.
It's not surprising that Subaru enjoys a loyal, enthusiastic, almost cult-like following among owners of its vehicles.
The Japanese automaker has long been known as a manufacturer of dependable, safe, fuel-efficient cars and crossovers. All except one model boast Subaru's revered symmetrical all-wheel drive system.
It is a combination that keeps Subaru buyers coming back, again and again.
In the Subaru lineup, however, one model stands out above the rest. It's the Forester, a compact crossover SUV that for years has been one of the most highly rated in its segment.
The Forester accounts for about one-quarter of all Subaru sales in Canada with 9,314 units sold as of the end of September.
And while the Forester has been available on these shores since 1997, this vehicle like other Subaru models has undergone quite the transformation of late, particularly in the area of exterior styling.
At one time, it seemed that Subaru paid little heed to styling, almost as if they thought the vehicles would sell themselves regardless of looks.
But times have changed, and although Subaru can't be said to be in the forefront of the styling universe, their vehicles now boast a sense of good looks and style.
And because of that, Subaru appears to be attracting a new breed of buyer and it all bodes well for the sales numbers.
That's not to say that Subaru has abandoned its core values— namely building safe, reliable vehicles.
In fact, the Forester is one of the safest vehicles on the road, having been named an Insurance Institute for Highway Safety (IIHS) Top Safety Pick (TSP) in the small SUV class for nine years in a row from 2007-2015 — the longest run of any vehicle in its class. There's no reason to believe the Forester won't garner another TSP with this 2016 model since this year's model is largely a carry-over from last year when it was redesigned.
Subaru is also the only manufacturer with IIHS Top Safety Picks for all of its models for six consecutive years from 2010-2015.
Our tester was a 2.5i Forester with the Touring Package and six-speed manual transmission, priced at $29,995. For a continuous variable automatic transmission, you'll have to add $1,300 to the tab.
The 2.5i Touring is the third of four levels on the 2.5i trim chart, sitting just below the Limited ($34,595) and Limited with Technology Package ($35,795).
RELATED: 2015 Subaru Impreza 2.0i Limited 4-Dr with Tech Review
The base 2.5i is the only other trim level offering the six-speed manual and it is priced at $25,995, $27,295 with the CVT. Between the base and Touring level is the Convenience Package, also available with a PZEV option (a low emissions, eco-friendly model).
Power comes from a 2.5-litre DOHC 16-valve four-cylinder Boxer engine, making 170 hp and 174 lb/ft of torque. It's no speed-burner by any stretch of the imagination, but it gets you where you want to go with enough oomph for any driving situation, even off-road if you so desire.
For those who want more performance, a 2.0-litre DOHC 16-valve four-cylinder Boxer is offered with a twin-scroll turbocharger and intercooler. This engine produces 250 hp and 258 lb/ft of torque and is available in the 2.0 XT model with either Touring, Limited or Limited with Technology trims, priced from $33,495 to $37,995.
Fuel consumption for the 2.5i Touring manual is rated at 10.6/8.4/9.6 L/100 km city/highway/combined. As is the case with many automatics today, the CVT actually gets better fuel economy than the manual with numbers of 9.6/7.5/8.7 city/highway/combined.
The ride is comfortable, in the same ballpark as the class leaders and the vehicle cruises nicely on the highway. Being a tall wagon, handling is a touch behind some of the competition.
Just as the exterior styling of the Forester has been spruced up over the years, so too has the interior, yet it is still functional, family-friendly and spacious with a best-in-class cargo capacity of 2,115 litres with the rear seats folded.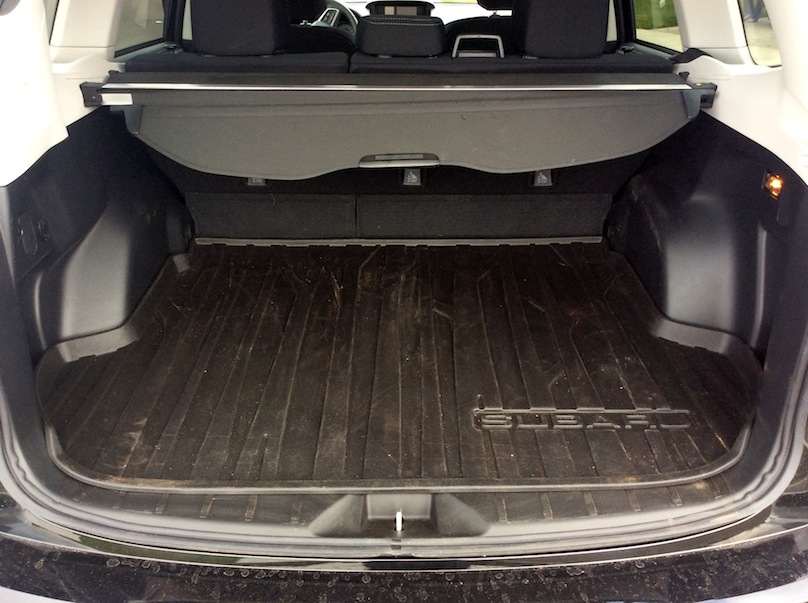 For taller drivers, headroom is often an issue in compact SUVs, but not so in the Forester, which really fits the bill of a 'tall wagon' with loft ground clearance and great sight-lines and even stadium-style seating in the second row.
The six-speed manual is silky smooth and easy to use with a handy 'hill hold' feature. Although I'm not a big CVT fan, I'd still probably opt for it in the Forester, particularly if you do any off-roading at all. It features X Mode, which increases traction and control in extreme driving conditions through the use of lower gear ratios to generate extra power and wheels that have grip. It also activates Hill Descent Control so the driver doesn't have to apply the brakes on steep slopes.
So what's new for 2016?
Not a lot except new infotainment systems with integrated larger backup camera. Our tester had a 6.2-inch high-resolution touchscreen unit, while a seven-inch high resolution capacitive touchscreen display with GPS navigation is available.
Also new is the availability of steering-responsive fog lights for improved visibility.
Despite competing in one of the most crowded segments in the industry, the Forester continues to grow sales year after year.
It's not the prettiest, it's not the fastest and it's not the most powerful vehicle in the class, but it more than makes up for some minor shortcomings with its versatility, functionality and go-anywhere ability.
 RELATED: 2015 Subaru Impreza Review