2016 Kia Optima Sedan
ASPEN, CO: Kia calls the 2016 Optima the "evolution of a revolutionary design that became a game changer within the traditional intermediate segment."
THE PROS & CONS
What's Best: Styling, value and fuel economy.

What's Worst: Confusing array of trim packaging.

What's Interesting: Kia is the only manufacturer I know of to date to recommend regular fuel for its turbo engines instead of premium.
2016 Kia Optima at a glance
BODY STYLE: Mid-size sedan.
ENGINE: 2.4-litre inline four-cylinder (185 hp, 178 lb/ft of torque with six-speed automatic transmission; 2.0-litre direct injection turbo four-cylinder (245 hp 260 lb/ft of torque) with six-speed automatic transmission; 1.6-litre direct injection inline four-cylinder (178 hp, 196 lb/ft) with seven-speed dual clutch transmission
FUEL ECONOMY: (Regular): 2.4-litre, 9.4/6.1L/100 km city/highway; 2.0-litre, 10.9/7.4L/100 km; 1.6-litre, 8.4/6.1L/100 km
CARGO: 450 litres
TOW RATING: Not recommended
PRICING: LX, $23,495; LX +, $25,695; LX Eco, $27,295; EX, $29395; EX Tech, $31,794; SX, $34,995; SXL, $37,595
ASPEN, CO: Kia calls the 2016 Optima the "evolution of a revolutionary design that became a game changer within the traditional intermediate segment."
Now in its second generation, the 2016 Kia Optima is at the forefront of 26 new or refreshed Kias coming by 2018. Also in the works is a Kia fuel cell vehicle expected to be in full production by 2020.
It's safe to say Kia is the "House that Schreyer built," which means it was designer Peter Schreyer who joined Kia in 2009 and transformed the brand through his now famous Tiger Mouth styling language.
It's a winner and something you don't trifle with. One of the first to get the full Schreyer treatment was the first generation Optima, so the look of the 2016 is not that much changed.
The most obvious change is the deletion of fog lamps, replaced on both sides by functional air ducts to cool the brakes. Also the grille now wraps around into the fender line and the headlight treatment.
Inside, the driver has two "zones". Instead of the almost universal main gauge cluster and centre stack, the Optima has a horizontal upper "display zone" with the gauges centre and the infotainment screen centre and below that the "control zone" with buttons and knobs for such things as audio selection, navigation and climate. The upper zone is angled at 8.5 degrees toward the driver.
The Optima also has three choices of seating covers starting with the base LX models with "YES Essentials" cloth that is odor/stain/bacteria resistant. On the EX models, black or light grey leather is found with dark wood trim while the SX has black leather with red stitching. And on the SXL there is quilted Nappa leather.
There are now three engines instead of two and two automatic transmissions and no manual. All are front-drive with no all-wheel-drive available.
The first is the trusted 2.4-litre direct injection inline four-cylinder found on the LX and mid-trim EX models with 185 hp and 178 lb/ft of torque coupled to a six-speed automatic with Sportmatic sequential manual with a fuel rating of 9.4/6.1L/100 km city/highway.

On the top trim SX and SXL models is 2.0-litre direct injection turbo four-cylinder with 245 hp and 260 lb/ft and a fuel rating of 10.9/7.4L/100 km.
And then we come to the all-new 1.6-litre turbo inline four-cylinder with 178 hp and 195 lb/ft combined with a new seven-speed dual clutch transmission with Sportmatic with 8.4/6.1L/100 km.
Turbos usually need premium fuel, but Kia says regular is all that's required — going so far as to say premium is not recommended.
This engine is found in only one model, the LX Tech.
RELATED: 2015 Kia Sportage LX Review
All Optimas come with Drive Mode Select that allows the driver to toggle between Sport, Eco and Normal by a button just behind the shifter.
With a slightly wider track (30 mm) and longer wheelbase (10 mm) the Optima was already very enjoyable, but now the difference is more pronounced especially when you go from Eco to Sport.
I spent the day in a SXL with all the bells and whistles starting out at 8,000 feet outside of Aspen and climbing to 12,095 ft at the "Continental Divide" through some of the most majestic scenery I've ever seen.
When you get up that high, thin air means a drop in power no matter what you are driving, but I have to say the 2.0-litre turbo was strong throughout especially on 270-degree, 25 mph switchbacks where power was on tap even with the revs dropping through the corner.
This was helped in no small part by the rack-mounted electric power steering on the SX and SXL, which is sharper than the steering column mounted unit on the other trims.
On the highway coming back to Aspen, the Optima proved to be one of the quietest mid-size sedans I've driven to date.
Something else new for Kia (EX Tech, SX and SXL trim) is a Harman/Kardon premium sound system with eight-inch media interface with navigation. The system is loaded with new technology, including SIRI, voice-activated navigation and something called CLARI-fi that can take songs brought in through Bluetooth and digitally restore the data lost when the song was compressed.
All three will get Android Auto at a later date to take advantage of such systems as Google maps, Google music and Google Hangouts messaging.
You can tell the LX Tech with its drivetrain and the Harman/Kardon sound system are where Kia is heading in the future.
At this writing pricing is close to being finalized, but for now Kia is only saying the Optima will start in the mid-$23,000 bracket with the topline SXL between $37,000-$38,000.
In studies, Kia found Canadian intermediate buyers generally rate value, fuel economy and reliability in that order as purchase priorities. But when it came to those who bought the Optima, a full 10 per cent looked at value, exterior styling and warranty in that order.
And that has proved to be a winning formula throughout the Kia lineup and why the second generation 2016 Optima is bound to continue its sales success.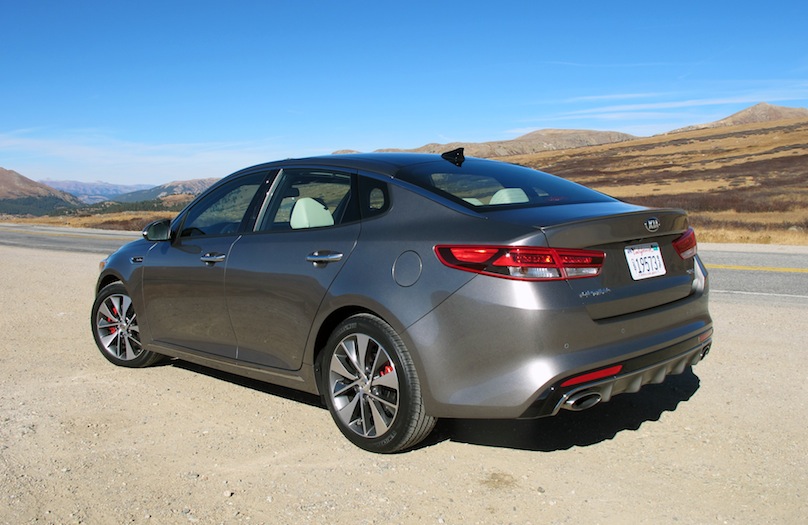 RELATED: 2015 Kia Rio 5-Door SX Review