HIGHLIGHTS
TORQUE
277 lb.-ft. @ 4,800RPM
THE PROS & CONS
What's best: The performance is surprising from a vehicle with only 306 hp.

What's worst: The mouse-like apparatus that controls the Lexus remote touch interface is small, finicky and hard to operate.

What's interesting: Lexus has decided do away with the rear-wheel drive GS 350 and bring in only all-wheel drive to Canada for 2015.
Lexus has two models in its GS lineup representing the Japanese automaker's vision of what a grand touring sedan should be all about.
But while they are both sold under the GS label, the two models are as different as night and day or should we say gasoline and hybrid technologies.
For 2015, Canadian consumers can choose from a gasoline-only GS 350 AWD model or a gasoline-electric hybrid GS 450h.
We tested the GS 350, which is now sold here in all-wheel drive format only. The GS 450h, meanwhile, is a high-performance, rear-wheel drive hybrid-powered vehicle.
The GS 350 was restyled for 2013 and few changes have been made since then in this mid-size luxury sedan that finds itself in a segment dominated by German sedans.
In 2014, the Mercedes-Benz E-Class had a healthy lead on the pack in the sales race of premium mid-size sedans with the BMW 5-Series and Audi 6 rounding out the top three.
Cadillac's CTS and the Jaguar XF also outsold the two GS models combined. The former are excellent vehicles in their own right, but the lack of traction (excuse the pun) with the GS models among Canadian buyers is surprising.
I say this because the GS 350 AWD has so much going for it. Start with exterior styling that I see as eye-catching, something not always associated with the Toyota/Lexus brands. Their vehicles can usually described as reliable, comfortable and economical, but not always at the forefront of the styling curve.
However, others are not so taken with the styling of the GS 350, which can polarizing to say the least.
Inside, the GS cabin is roomy, luxurious and welcoming with space for four passengers in addition to the driver.
Classic-looking wood trim, soft-touch materials and leather upholstery and trim with contrasting stitching create an inviting interior environment with a premium look and feel.
Lexus says its designers aimed for a driver-focused dashboard and the GS 350 fits that criteria. They have created distinct "display" and "operational" zones with the gauges positioned directly within the driver's field of view. Controls are placed intuitively within reach.
The heated and cooled front seats are nicely bolstered and comfortable for long distance road trips, as one would expect in a high-end grand touring sedan. Our tester came with the F Sport Package, adding even more seat adjustments than the base model offers.
If I had one complaint with the GS 350 it would be with the Lexus remote touch interface. The large 12.3-inch LCD display screen is wonderful, but the controller is a mouse-like apparatus on the centre console that is awkward and not particularly user-friendly.
Power for the GS 350 AWD comes from a 3.5-litre V6 engine that cranks out 306 hp and 277 lb/ft of torque. It is mated to a six-speed sequential shift-mode automatic with paddle shifters. With all the eight- and nine-speed transmissions out there today, it's surprising to see Lexus still using a six-speed in such a high-end vehicle.
That said, I have no complaints with the transmission; it shifted smoothly and the driver has the option of using the side-shift gated manual or paddle shifters if desired.
The GS 350 has a new advanced all-wheel drive system that has front, rear and centre differentials that distribute power to the wheels at 30 per cent front and 70 per cent rear under normal operation. On wheel slip, the traction control system automatically adjusts the power, sending up to 50 per cent to the front wheels. All is done seamlessly, creating stability and worry-free drivability.
Priced from $57,850, our test GS 350 AWD had an expensive ($8,800), but very nice option package called F Sport Series 2 that is loaded with features.
Series 2 includes among other things a 17-speaker Mark Levinson audio system, Lexus pre-collision and driver monitoring systems, dynamic radar cruise control, power folding exterior mirrors and a handy head-up display.
This is all in addition to the Series 1 features like drive mode selector, sport steering wheel, 10-way power adjustable front passenger's seat, adaptive variable suspension, 19-inch alloy wheels and various F Sport feature items like unique front grill, rear spoiler, scuff plates, shift knob, metallic dash accents and aluminum sport pedals.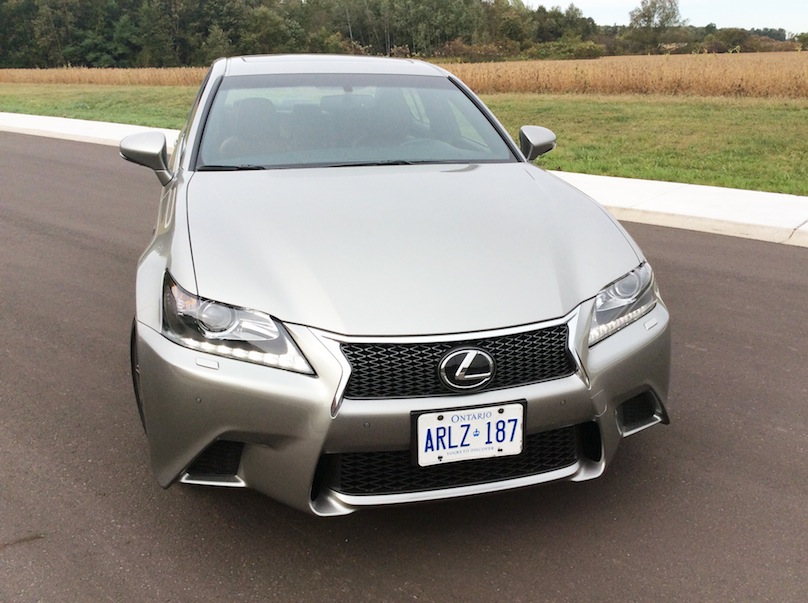 Using the console-mounted drive mode selector, one is able to choose from Eco, Normal and Sport Snow settings. The F Sport package adds Sports and Sport+ models to the mix for even more spirited driving. For example, Sport+ ramps up steering input and suspension settings.
The instrument cluster even changes colours depending upon the selection— blue for Eco mode and red for Sport.
What makes this car interesting is the split personality. It can be calm and comfortable around town and on the highway in Normal mode when you take it nice and easy, but punch Sport+ mode and the mood changes to an energetic performer that yearns to be driven hard. In fact, this is a much quicker car than one would expect simply by looking at the horsepower numbers, particularly when you employ the paddle shifters.
Trunk space is adequate at 405 litres, but strangely the rear seats do not fold to add more cargo room. There is a pass-through, however, for longer objects like skis and the like.
Natural Resources Canada rates the GS 350 AWD fuel consumption at 12.6 L/100 km city, 9.1 highway and 11.1 combined.
For drivers who like a touch of performance and their comfort in a luxury sedan, the GS more than fits the bill. Many sedans in this category offer one or the other, but with the GS 350 you don't have to sacrifice comfort for performance— particularly with the F Sport option box checked off.
2015 Lexus GS 350 AWD at a glance
BODY STYLE: Four-door, five-passenger luxury mid-size sedan
DRIVE METHOD: Front engine, all-wheel drive, six-speed automatic transmission.
ENGINE: 3.5-litre 24-valve V6 engine (306 hp, 277 lb/ft of torque)
CARGO CAPACITY: 405 litres
FUEL CONSUMPTION: 12.6/9.1/11.1L/100 km city/highway/combined
PRICE: $57,850, as tested $68,824 including 42,045 freight and PDI