2015 Acura RDX Tech Review: Acura's second-highest seller soldiers on
HIGHLIGHTS
TORQUE
251 lb.-ft. @ 5,000RPM
THE PROS & CONS
WHAT'S BEST: Well-appointed interior, smooth V6 power
WHAT'S WORST: It's an AWD-lite, really; bland styling
WHAT'S INTERESTING: Infotainment may look slightly dated, but is very functional.
2015 Acura RDX Tech At A Glance
BODY STYLE: Luxury compact SUV
DRIVE METHOD: Front-engine, all-wheel-drive, six-speed automatic transmission
ENGINE: 3.5 litre SOHC V6 (273 hp, 251 lb.-ft.)
FUEL ECONOMY: 12.1/8.7/10.6L/100km (city/highway/combined)
CARGO VOLUME: behind 60/40 split second row seat 739 litres (26.1 cu. ft.); second row folded 2,178 litres (76.92 cu. ft.)
PRICE: $44,390; as tested $46,385 including $1,995 shipping fee
While the RDX doesn't have quite the sales figures to match its MDX bigger-brother, it remains the second-highest selling vehicle for the luxury brand.
This should come as little surprise; compact sport-utility vehicles (or crossovers) are hot sellers in Canada; the combination of all-wheel-drive and a high ride height make a very appealing package for Canadians, especially those that have to deal with adverse conditions in the winter. Which, if we're honest, rings true for the greater percentage of our population.
Being an Acura, the RDX sits in kind of another sub-segment—the "luxury crossover"—so on top of all of those features we mentioned before, there's a healthy dose of luxurious niceties to go along with them.
RECENT REVIEW: 2016 Mazda CX-5 GT Review
Let's consider the interior, for a moment. Nice, high-quality real leather covers the seats, front and rear armrests and doors, and where you don't find leather, proper soft-touch materials are present. It may not be hugely adventurous in the interior styling department (the door cards are a bit of a helter-skelter combination of angles), but nice touches like slightly wing-backed front seats and upswept dash add some flare to the proceedings.
Since ours was the Tech model (there are two trims available: base RDX, $41,690 and RDX Tech, $44,690), we had a whole brace of extra electronic goodies, including advanced navigation, 8-inch LED infotainment screen, and upgraded sound system. The sound system upgrade provides 410 watts of power, 10 speakers (up from seven without the package), hard-drive media storage, in-dash CD player and Dolby Pro Logic II, which adds 5.1 surround sound. Clarity is the word of the day with this system, whether you're listening to AM radio or streaming audio through your Bluetooth device. The Tech package also adds a power liftgate.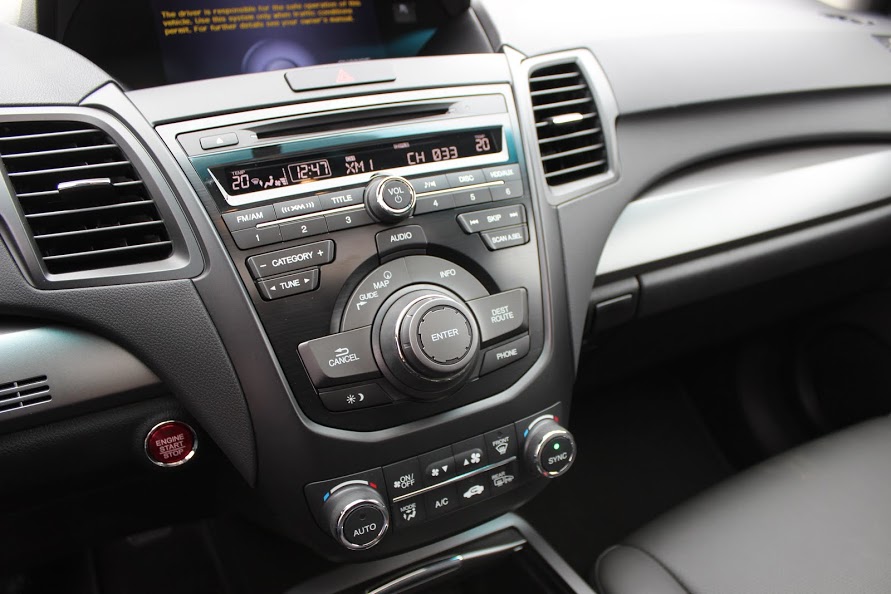 Unlike the MDX (and even unlike top trims of its Honda cousin, the CR-V), there are no touch screens here to speak of, no matter which trim you choose. I, for one, wont' complain about that; touch screen systems can be frustrating to use when not properly implemented, and the way the RDX employs a set of easily-reachable buttons and knobs (plus one central control knob) is pretty perfect, actually. I also like how there are shortcut buttons for switching between radio and music sources. The audio display is pretty old school-looking, however; reminds me a little of my bedside clock in college.
The large screen mounted atop the dash, meanwhile, is the outlet for you navigation system, and while it's nicely sized and hooded, glare does hamper the visibility more often than I'd like.
Since Acura has (wisely) decided to eschew the thought of trying to jam a third-row of seating in the back, second-seat occupants get plenty of room to stretch their legs, to the tune of 973 millimetres of rear legroom, and 969 mm of rear headroom.
Up front, occupants get 983 mm of headroom and 1,068 mm of legroom. Add the 739-litre rear cargo capacity (which grows to 2,178L if you fold the rear seats flat), and you've got a surprising amount of interior space considering the RDX's compact dimensions (although it did grow a little when it replaced the previous-gen version for the 2013 model year).
COMPARE: 2013 Acura RDX prototype revealed at Detroit Autoshow
Power comes for a single engine choice: a 273 horsepower i-VTEC V6 that also makes 251 lb.-ft. of torque. There's no more turbocharged option, but the V6 is smooth the point that you don't miss it all that much, either. It's also fairly efficient, rated at 12.1/8.7/10.6L/100km city/highway/combined, which are better figures than what Infiniti claims for its entrance into the segment, the QX50. The RDX's Variable Cylinder Management system helps here, as it allows the car to either run as a V4 or even an inline-3 when engine load is low.
So good fuel figures are good to have, but it's nice when a car can still be fun to drive to get them. Luckily, the RDX has the answer for that, too.
Being part of the Honda stable, Acuras tend to remain married to Honda's mantra that when driving fun should be considered, too. In that light, the RDX responds with agile handling, direct steering and a nice engine-transmission (it's a six-speed automatic with paddle shifters) combination that allows the powertrain as a whole to flex its muscles.
Especially when running in V6 mode, power comes on smoothly and with little drama (peak power arrives at 6,200 r.p.m., peak torque at 5,000), including the noise it makes. That's because Aura employs both active noise cancellation and active engine mounts that help reduce driveline vibration, which, in turn, makes for smoother progress. Very few rattles and shakes make their way into the cockpit. The drive-by-wire throttle, meanwhile, helps the driver by metering out their inputs and making smoother forward progress.
The trouble is, when you arrive at the bends, the chassis doesn't feel quite as playful as the MDX, which gets Acura's Super Handling All-Wheel Drive and the rear axle torque vectoring that comes with it. The RDX makes do with the same system used in the CR-V, which means it operates as a front-wheel drive car until slip is sensed, at which point power can be split 50/50 between both axles.
RELATED: 2014 Acura MDX Review
The steering is also a little aloof; while I dig the chunky, leather-wrapped steering wheel, it doesn't quite provide the feedback I'd expect from a Honda/Acura product. It's not the worst, by any means, but it's definitely a nod to the car's luxury crossover chops as opposed to any sporty slant it has.
Which, I guess, is the real takeaway for the RDX. It represents pretty good value, it's superbly engineered (especially in the powertrain department) and it's spacious inside without needing a long wheelbase and third-row seating. It's not a spectacular, stylistic standout by any means (it doesn't get the eye-catching Jewel Eye LED headlamps, found throughout the line-up, for example), but it gets the job done and in a segment where a little anonymity is often required, it outshines its rivals as, well, not shining.
RELATED: Top 5 Best SUVs at the Canadian International Auto Show