10 Winter Festivals For Families In Canada
These winter festivals are sure to inspire fun filled snowball fights, snow angels, and of course magical snowpeople with carrots for noses. Let the winter wonderland activities begin!
The snow has begun in many regions across Canada, so you know what that means, time to play outside!  Also time to stock up on hand and foot warmers and unpack all those warm hats and scarves hiding at the back of the closet. This list of super cool winter festivals across Canada are adventures the whole family can enjoy. Most take place in early 2016 so you will have lots of time to plan for a road trip adventure. It's also the perfect time to get your car tuned up and installed with reliable winter tires to ensure safe driving. These winter festivals are sure to inspire fun filled snowball fights, snow angels, and of course magical snowpeople with carrots for noses. Let the winter wonderland activities begin!
Carnival de Quebec – Quebec City
When: January 29 – February 14, 2016
Kids of all ages will love meeting Bonhomme – the seven foot talking snowman and carnival celebrity dressed in a traditional red hat and fléchée ("arrowed sash"). He dances, laughs, jokes, and loves talking to kids about eliminating climate change! Carnival, now in its 62nd year, is one of the largest winter carnivals in the world and there is something for everyone to enjoy in the world's snow capital. Carnival takes places in the heart of Old Quebec and includes snowy slides, night parades, a special children's villa, a canoe race, a snow sculpture event, and so many more fun winter activities. Definitely dress warmly because you will want to be outside all day!
Ice On Whyte Festival – Edmonton
When: January 21 – 24 & 28 – 31, 2016
There are tons of outdoor fun games and activities the whole family will enjoy. In fact, schools are dismissed early on Thursday to encourage attendance. There is a professional ice carving competition where visitors can vote for their favourites; live music by Alberta artists; a massive ice slide; crafts; and you can even try ice carving at the L'il Chipper igloo. Then visit the outdoor food court to warm up with hot drinks.
Grouse Mountain's Peaks Of Christmas – Vancouver
When: November 27, 2015 – January 4, 2016.
It's called Vancouver's North Pole because magical elves help transform Grouse Mountain into a winter holiday wonderland. But regardless if you celebrate Christmas or not, you can still enjoy this festival, as there are lots of other fairy-tale activities to enjoy. There is a sliding zone on a magic carpet; a gingerbread village; a craft station; an outdoor theatre; skating; and skiing.  And should you be so inclined to meet the man of the North Pole, you can have breakfast with Santa.
Winterlude – Ottawa – Gatineau
When: January 29 – February 15, 2016
Our Capital's winter celebration since 1979 takes place in Ottawa-Gatineau annually. It first began as a celebration of Canada's diverse culture and distinctive northern climate. If you want play in North American's largest snow playground it's worth the road trip to this awesome family festival. You can skate on the world's largest skating rink (The Rideau Canal Skateway); meet the Winterlude ice hog mascots at Snowflake Kingdom in Gatineau; observe ice sculpture competitions at the Crystal Garden; enjoy a delicious authentic beaver tail, and zip down snow slides of all sizes! Snow pants are a must not just for kids but for adults too.
Gravenhurst Winter Carnival – Gravenhurst
When: February 15 – 21, 2016
This Gravenhurst winter tradition includes the famous polar bear dip in the lake, puddle jumps, snowmobiles, a snow sculpture competition, entertainment, kids events, plus much more. This carnival was so successful for Gravenhurst that it expanded to last an entire week and is worth the road trip if you don't happen to live in the area.
Winterfest – Barrie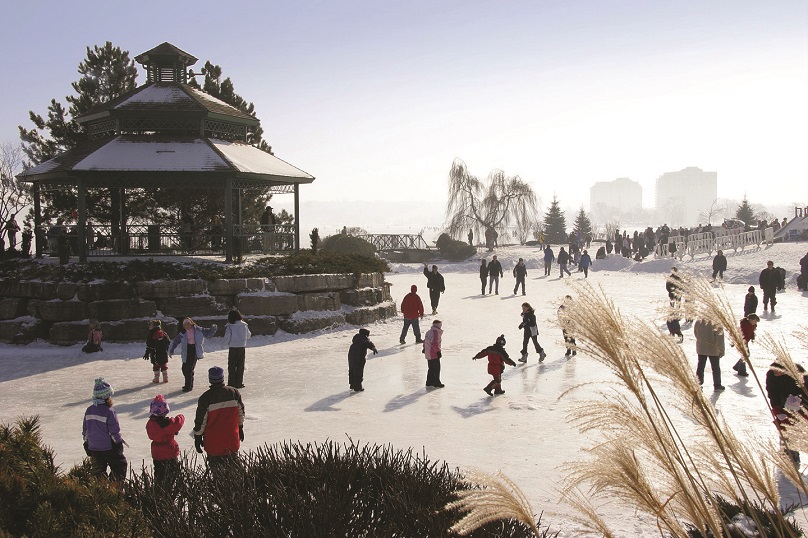 When: February 6 & 7, 2016
Listed as one of the top 100 festivals in Ontario, Winterfest in Barrie is great for the whole family. There are snow and ice sculptures, tube slides, a mini curling rink, an ice maze, hockey, a skating party, a polar bear swim, and you can take a tour of Barrie's stunning waterfront via cross country ski, snowshoe or even a large bike with special tires. There is a unique event called kites on ice where kites of all colours and shapes fly high over Kempenfelt Bay. You can warm up with the bonfire and enjoy fireworks when the sun goes down.
Festival du Voyageur – Winnipeg
When: February 12 – 21, 2016
Winnipeg's French quarter, Saint-Boniface, is transformed into an exciting winter paradise when it hosts the biggest winter festival in Western Canada. Voyageur Park showcases the history of Voyageur, Metis, and First Nations cultures through historical interpretation and the attractions at the festivals sites. There are also snow sculptures, shows, entertainment, and a visit to the reconstructed Fort Gibraltar. There is something for everyone to enjoy at this ten-day winter festival that celebrates Manitoba's francophone heritage.
Yukon Sourdough Rendezvous – Whitehorse, Yukon
When: February 19 – 28, 2016
The mission behind this festival is to showcase winter tourism in the Yukon and showcase their Northern culture and heritage.  The Rendezvous Festival includes events specifically for children called Kidsfest; there are vendors; traditional events such as a log toss, snow sculptures, a scrabble championship, a parade, canoe races, a hockey tournament, and even world famous snowshoe shufflers! This original arctic event is definitely worth attending in this Northern Territory.
Fort Calgary Winter Festival – Calgary
When: February 2016 – Date TBA
The Fort Calgary Winter Festival includes music, entertainment, sports, carnival games, sports competitions, and cool winter activities for the entire family. There is also a free family fun zone for kids to enjoy. Fort Calgary is run by the Fort Calgary Preservation Society whose goal is to create harmony where people and history intersect, making this winter festival an important part of Calgary's culture.
Montreal En Lumiere – Montreal
When: February 18 – March 5, 2016
The Montreal High Lights Festival (As it's called in English) is one of the biggest winter festivals in the world and attracts approximately one million attendees that all want to celebrate the joy of winter. This distinctive festival showcases performing arts such as music, theater and dance; outdoor family activities; gastronomy; and a Nuit Blanche celebration. (Maybe arrange a babysitter if you want to stay out super late.) Montreal in the winter transforms into a magical wonderland and En Lumiere is the perfect event to celebrate the transformation of the Quartier des spectacles.
Là où vous vivez au Canada d'avoir du plaisir à votre carnaval d'hiver !
(Wherever you live in Canada have fun at your winter carnival!)