This is what Europe has to offer at the 2016 Detroit Auto Show
For Euro car companies, coming across the pond to the 2016 Detroit Auto Show has always been as important an audience as the Geneva, Frankfurt and Paris debuts.
DETROIT, MI: For Euro car companies, coming across the pond to North America's biggest automotive show in Detroit has always been as important an audience as the Geneva, Frankfurt and Paris debuts.
And even though a few of the brands – namely Bentley, Jaguar Land Rover and MINI – had nothing new to take onto the stage this January, there's no shortage of new entries from the old world.
Let's touch on a few of the highlights:
Audi
The new fuel cell-powered h-tron quattro crossover concept, a solid indicator of Audi's future, follows up on an electrically powered e-tron quattro concept that debuted earlier at Frankfurt. And the 2017 Audi A4 made its North American debut along with a wagon version, the new Audi A4 allroad quattro.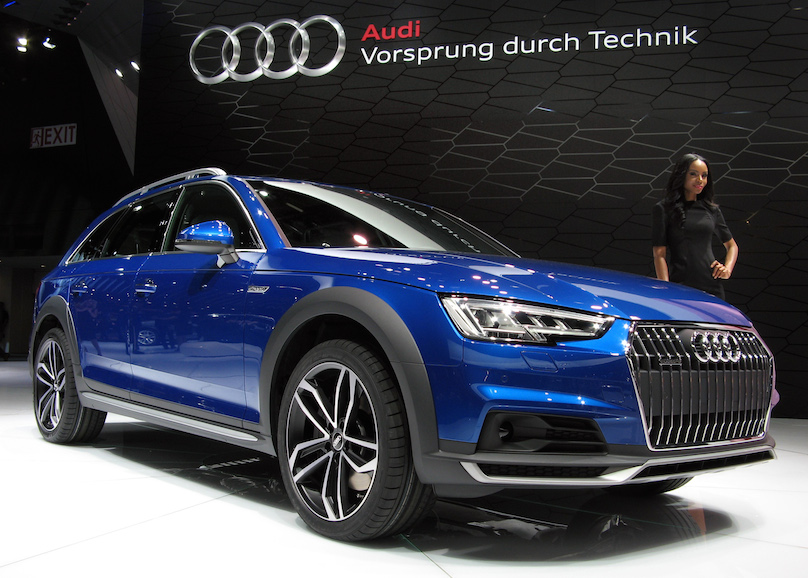 BMW
BMW has been no slouch either in developing new sustainable technologies either, adapting their lineup with hybrids and electric vehicles. But the bottom line in Bavaria has always been performance, perfectly illustrated by two new M treatment debuts – the M2 and X4 M40i.
The 2016 M2 trims a little mass off the already sporty 2 Series Coupe while adding muscle with the latest twin-scroll turbocharged 3.0-litre inline six-cylinder engine, boasting 365 hp and 343 lb/ft of torque. Stand on the gas and an overboost function will pump in an additional 26 lb/ft when you really need it, contributing to a 0-100 km/h time of under 4.5 seconds via a standard six-speed manual or the even quicker DCT auto tranny.
The 2016 X4 M40i adds the M treatment to BMWs X4. They can call this a "coupe" until the cows come home but it is still just a fastback four-door grand touring version of the X3, although this uber X4 certainly gains performance oomph with added M components and the same twin-scroll turbocharged 3.0-litre inline six, making in this case, 355 hp and 343 lb/ft of torque.
RELATED: Six things to know about the 2016 North American International Auto Show
Mercedes-Benz
Mercedes replaces two icons with a new 2017 SLC roadster and the new 2017 E-Class executive sedan.
The SLC takes over from the SLK with two flavours – the SLC300 and the AMG SLC43 high performance variant, both reconfigured in a sleeker, smooth style with substantial suspension upgrades, new technologies and cosmetic tweaks inside and out.
The SLC300 starts with the company's 2.0-litre four-cylinder engine making 241 hp and 273 lb/ft of torque.
The AMG SLC43 ups the ante with a twin-turbocharged 3.0-litre V6 instead of its predecessor SLK55's big old 5.5-litre V8. But don't despair sport enthusiasts because the new V6 roars forth with a potent 362 hp and 384 lb/ft of torque.
The 2017 Mercedes-Benz E-Class was an open secret with pics and details leaking out (probably on purpose) weeks before the show.
This new executive sedan is lighter and longer. The squared-off design cues of the past are long gone and this latest E-Class evolution brings the sleek styling even closer to S-Class cues, even more so inside with a digital dash and accompanying upgrades to screen sizes, equipment and quality of fit and finish. The new 2017 E-Class will waste little time showing up this spring.
Mercedes' smart division revealed the new 2017 smart fortwo cabriolet to follow up on the latest 2016 smart fortwo coupe.
Porsche
Porsche unveiled two new 2017 sports cars – the 911 Turbo and the 911 Turbo S. Minor changes include new door handles, new fascias, new taillights, modifications only true aficionados would notice. But those diehard fans will appreciate Porsche always managing to find a few extra horses, this time bumping 3.8-litre twin-turbo engine power up to 540 hp in the 911 Turbo and 580 hp in the 911 Turbo S. Sign me up if my lotto numbers come in.
Volkswagen
Go to a magic show and you might notice how the beautiful assistant distracts you from what's really going on.
So, look over here, everyone, at the debut of the Volkswagen Tiguan GTE Active Concept, an off-road ready plug-in hybrid that expands a second generation, lighter and leaner 2016 Tiguan. There were also special edition Beetles and even more in the shiny, full lineup.
To be fair, the VW presentation time started with apologies and promises to resolve the diesel deception fiasco. Hair shirts and humility must lie uneasy on the skin of Teutonic pride.
But if there's one thing Germans have learned historically, it's how to rebound from bad errors of judgment.
So once the furor has passed (no pun intended) and the lawyers and government agencies have carved out their piece of the pie, the whole VW's diesel emissions deception will fade eventually with a minor fix, continued reassurances and maybe a few fire sales to placate the public.
RELATED: Korean carmakers prominent in Detroit Car Show 2016
Volvo
Meanwhile, from Scandinavia (and China, sort of) comes the 2017 Volvo S90, a new flagship for the Volvo sedan lineup, replacing the current S80. This new sophisticated sedan, coming on the heels of the new XC90 CUV is bigger, better and powered only by 2.0-litre four-cylinder engine choices (gasp!). But these are some special four-bangers, with a model choices that include a 240 hp turbocharged T5, a 316 hp turbocharged and supercharged T6 and a 400 hp (combined) hybrid T8 Twin Engine version. Expect all the latest Volvo safety wizardry and more techy details to come.