Road Trips With A History Lesson: National Historical Sites Across Canada
Canada is home to over 950 National Historic Sites, 168 of which are administered by Parks Canada.
If you have ever dreamed of combining a fun family road trip with a Canadian history lesson for your kids, look no further. Canada is home to over 950 National Historic Sites, 168 of which are administered by Parks Canada. Located across all provinces and territories these unique sites can be found in natural environments, urban cities and rural areas. Some of these historic locations reflect old battlefields, ancient buildings, archaeological places, cultural traditions, and represent moments of significance in our country.
Don't forget to pack a camera to take photos of your smiling kids and a notebook for them to write down all the cool things they will learn on these historical adventures. For complete driving directions to each Historic Site check out their individual websites.
© Parks Canada / J. Gordon
If your kids like panning for gold (Who doesn't?), visiting timber buildings, and checking out an old 1827 blacksmith's shop to learn about molten metal, they will love it at Fort Langley. You can listen to First Nations interpreters talk about the 1800's and learn about Canada's past while admiring the beauty of the Fraser River. There is an option to stay over night in the fort and sleep in an "oTENTik" – which is a unique combination of a cabin and tent situated on a raised wooden floor. This site is located in Fort Langley at 23433 Mavis Avenue. From Vancouver, drive along the Trans Canada highway east for 40 km, and follow the Parks Canada "beaver" signs.
© Parks Canada
The history lessons at Canso Islands date back to when the British and French were fighting for control of the land. This historic site has two sections, the visitor centre located on the Canso waterfront and a 15-minute boat ride to Grassy Island. There is a replica working fort that outlines military experiences back then, a great way to teach kids about Canada's history. You can also hike along a trail and visit eight cool sites including a stone fort. You will learn about life in the 18th century and discover secrets of Atlantic island. It's a 90-minute road trip from Antigonish on the Trans Canada Highway 104, along Chedabucto Bay to Canso. Canso Islands National Historic Site is just off the Canso waterfront near the Atlantic, and their visitor centre is in the town of Canso, in Nova Scotia.
ALSO READ: 8 Inspiring Museums across Canada
© Parks Canada / Andre Cornellier
If your kids are interested in ancient 17th century stone forts and cannons, a trip to Castle Hill in Newfoundland will be really interesting. Families can walk through the ruins and take a guided tour with a smartphone app to learn how the old European empires battled for control so many years ago. There is also a 'learn to camp' program that is ideal for anyone that wants to learn the skills that are needed to have an outdoor overnight adventure. From St. John's you can drive on Route 1 for about 90 kilometers to Whitbourne, then take Route 100 south towards Freshwater and eventually to Castle Hill.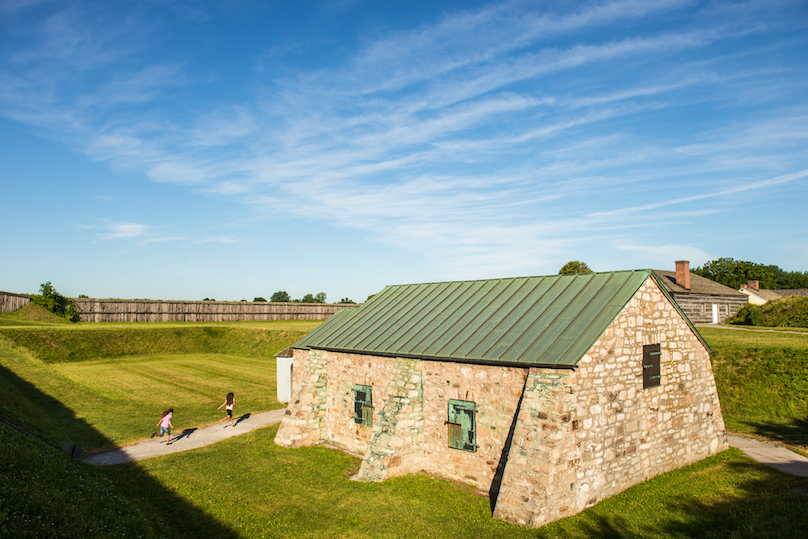 © Parks Canada / Scott Munn
Fort George is the site of an important battle over 200 years ago. Kids can learn about the War of 1812 from guides dressed in historical clothing telling stories about the British soldiers. They can also try food from that era cooked over an open fire like it was during the 19th century and listen to military music performed by the 41st Fife and Drum Corps. You can examine old cannons and if you are brave you can even fire a musket! Of course it doesn't hurt that this destination is overlooking the majestic Niagara River. Fort George is located at Niagara on the Lake and accessible from the QEW; take Glendale Ave, RR 89 via Exit 38B towards Niagara on the Lake.
© Parks Canada / Kevin Hogarth
A road trip to Merryflat Saskatchewan's Fort Walsh is like going back in time to the 1870's. Your kids can interact with costumed staff that will tell stories of cannon's being fired and authentic Métis legends, make traditional crafts, and even watch a stage performance dating back to the 1870's. You can also go hiking along the backwoods trails on the highest point of Canadian soil and trek through Saskatchewan's rough 5 KM terrain among pine trees. Fort Walsh is located 55 km southwest of Maple Creek, off the Trans Canada Highway.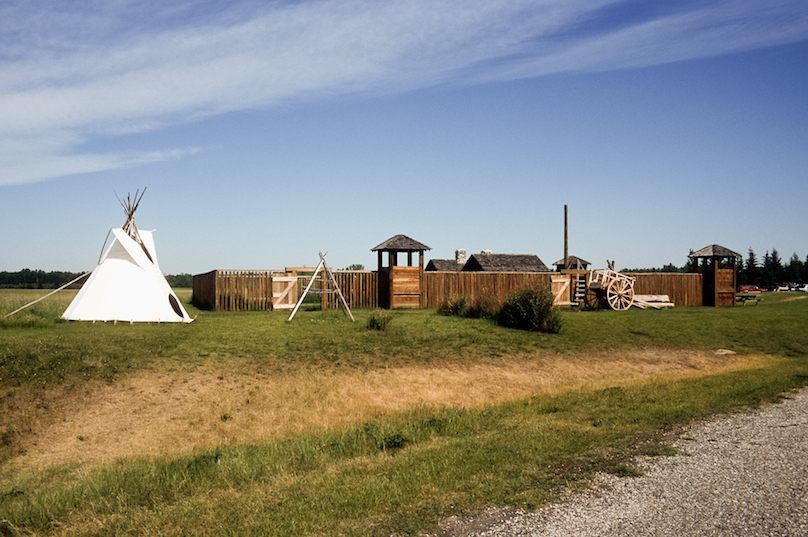 © Parks Canada / M. French
The Rocky Mountain House in Alberta is home to nine Aboriginal cultures. The history here dates back to 1799 when the North West and Hudson's Bay Company set up rival posts and competed for trade. Today, visitors can explore and learn about the archaeological remains, which includes thousands of artefacts. While you are here you can also go camping, biking, hiking, and bird watching! Kids will have the opportunity to play in a fort and watch a puppet show. The National Historic Site is 6 km west of Rocky Mountain House on Highway 11A. From Red Deer it's a one-hour road trip and from Edmonton it's a 2.5-hour drive.
© Parks Canada / Ron Garnett
The history at Fortifications of Québec dates back to 1608 and the colonial period. It's here you can learn about Quebec's military history. There are plenty of hands-on activities for kids such as searching for clues on the old stonewalls, a magic sword, and sensory tours where the object is to solve the mystery and learn about history at the same time. There is also a firing demonstration using historical muskets just like in 1775 New France. This site is a UNESCO World Heritage City and the only fortified city north of Mexico. There are two reception centers, the Artillery Park Heritage Site and the Frontenac Kiosk at the corner of St-Louis and Du Fort Streets in Quebec City.
ALSO READ: Visit these Canadian Drive In Theatres while you still can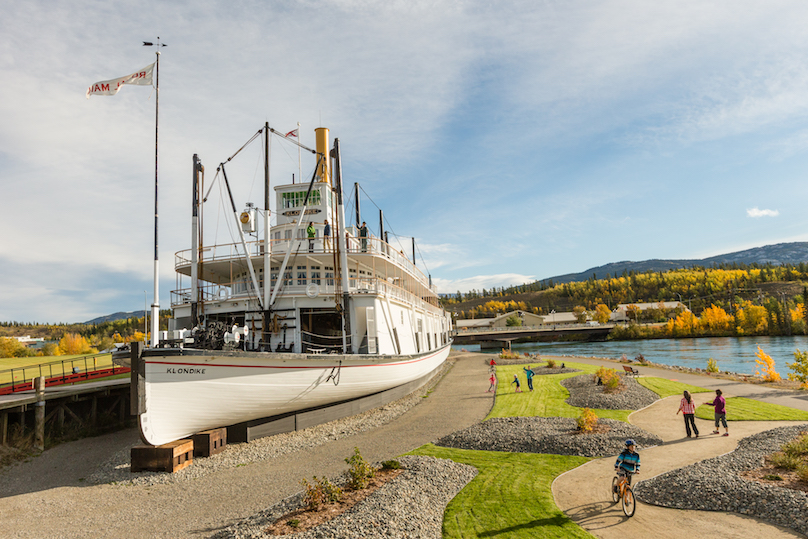 © Parks Canada / Fritz Mueller
If you want to learn about riverboats then the huge white S.S. Klondike sternwheeler is a great place to start. You can find out about the history of life on the ship, how it worked, and the types of things it carried. The S.S. Klondike was the largest of the fleet and was crucial back then when riverboats and rail are what linked the Yukon to the rest of the world. Experienced tour guides will answer all your questions, so get them ready! The S.S. Klondike is located on the banks of the Yukon River on the borders of downtown Whitehorse. If you are looking for an exceptional road trip you can drive along the Alaska Highway from British Columbia, Alberta or Alaska.
© Parks Canada / Robin Andrew
This National Historic Site in our country's capital has guided tours where you can learn about two former Prime Ministers of Canada, Sir Wilfrid Laurier and William Lyon Mackenzie King. Located in downtown Ottawa, the Victorian mansion is the perfect place to become familiar with Canada's political history. There is an interactive theatrical performance and also an opportunity to check out personal collections of artwork at this unique historical site. Laurier House is located at 335 Laurier Ave. East in Ottawa and accessible from Highway # 417 / the Queensway.
© Parks Canada / François Houle
This historical canal involves 150 years of history dating back to the Montréal-Ottawa-Kingston inland waterway. These days you can walk along the boardwalk and check out the historic ruins, enjoy a meal outdoors on the terrace, and even go boating on the waterway. During the second part of the 19th century the Sainte-Anne-de-Bellevue Canal had a huge impact on commercial and tourism development, which helped it become the great destination it is today. If you decide to travel here in mid-June, don't miss the annual classic car show along the shores of the Sainte-Anne-de-Bellevue Canal. The Canal is at the western end of Montreal and makes a fun spring or summer road trip adventure.
Feel free to share your favourite National Historic Site in the comments!
ALSO READ: The Great Canadian Road Trip: Day 1 of 20
Follow Wheels.ca on
Facebook
Instagram