IIHS Crashing cars for safety's sake
At the Insurance Institute for Highway Safety (IIHS), a sprawling complex on 130 acres of land in rural Virginia, and right in the middle of the main lobby of their Vehicle Research Centre are the wrecked bodies of two cars— a 1959 Chevrolet Bel Air and a 2009 Chevrolet Malibu.
RUCKERSVILLE, VA- The next time I'm in an automotive discussion and someone says to me, " They don't make them like they used to," I'll think of this place.
It's the Insurance Institute for Highway Safety (IIHS), a sprawling complex on 130 acres of land in rural Virginia, about 100 miles from Washington D.C. And right in the middle of the main lobby of their Vehicle Research Centre is something you'll likely never see anywhere else in the world, the wrecked bodies of two cars— a 1959 Chevrolet Bel Air and a 2009 Chevrolet Malibu.
Six years ago, the non-profit, independent research organization funded by U.S. auto insurers crashed these two cars together. It's part of what they do in an effort to reduce highway crash deaths and injuries.
Look at the accompanying pictures and you'll see that bigger isn't always better. If it had been a real accident, the driver of the 1959 Chevy would have been lucky to come out alive in the 40 miles per hour (64 km/h) collision. The driver of the newer Malibu would likely have fared much better with the cabin of that vehicle left largely intact after the violent collision.
There were no humans in this accident, just 'crash test dummies', but it does demonstrate the destruction and potential for injury when two vehicles collide, even at speeds lower than those posted on most of our highways.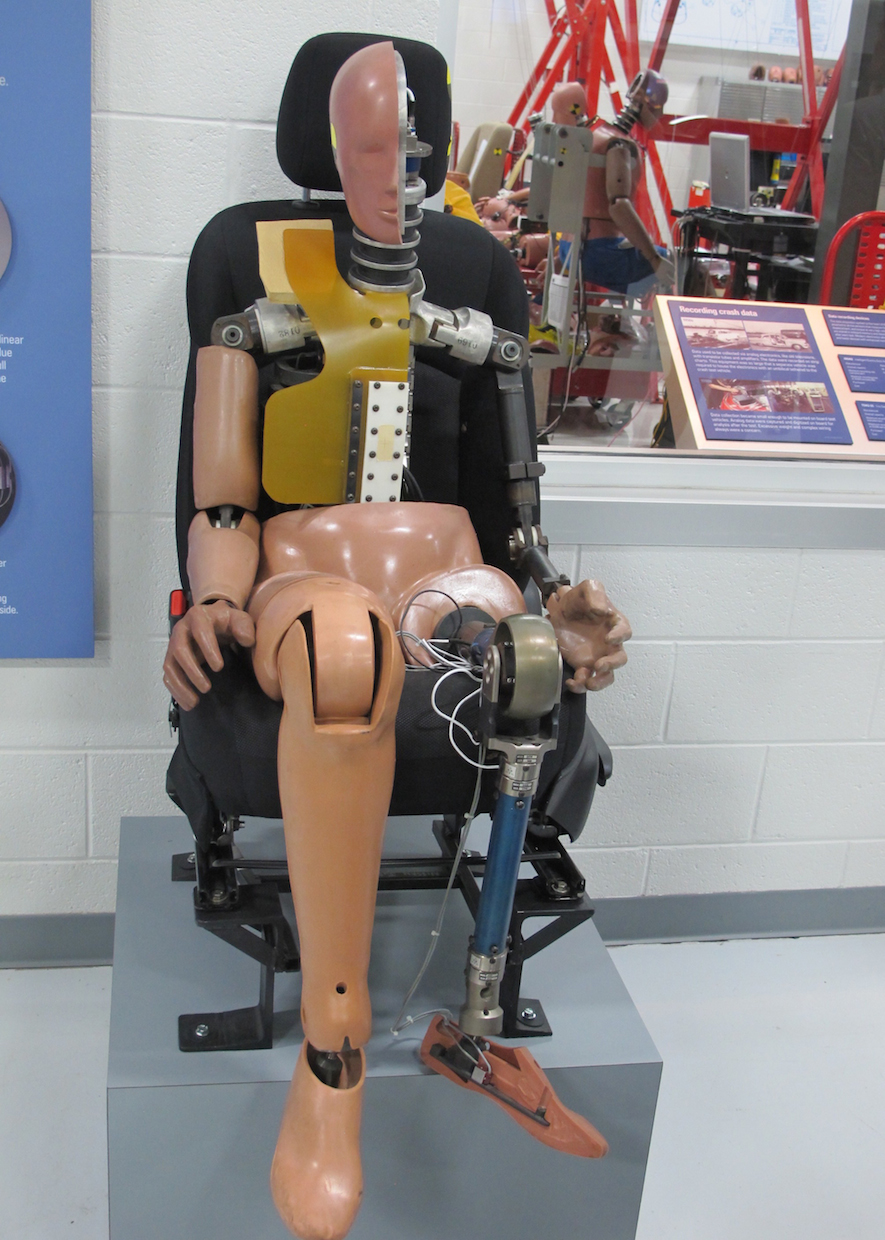 "No, we do not build them like we used to… in fact, we build them a lot better," said Raul Arbelaez, vice president, operations for the IIHS.
And Arbelaez should know because his organization spends more than $4 million a year to purchase vehicles that are tested in controlled crash situations to see how they fare. It is one of two U.S. organizations, the other being the government-operated National Highway Traffic Safety Administration (NHTSA), that perform somewhat similar crash-test programs.
I visited the IIHS facility recently among a group of automotive journalists as guests of Subaru Canada. Safety is something that Subaru takes very seriously, so much so that in the past six years all of its models have been either a Top Safety Pick or Top Safety Pick + in IIHS testing. It is the only manufacturer to achieve this goal.
IIHS uses its tests to evaluate two areas of safety— crashworthiness and accident avoidance and mitigation (i.e. technology that helps prevent a crash or lessens the severity of one).
As far as crashworthiness is concerned, the IIHS rates vehicles as good, acceptable, marginal or poor in five tests— moderate overlap front (40 per cent overlap), small overlap front (25 per cent overlap), side, roof strength and head restraints. To get a Top Safety Pick rating, a vehicle must get a good rating in moderate overlap front, side, roof strength and head restraints and a good or acceptable rating in the small overlap front test.
The IIHS frontal tests are conducted at speeds of 40 mph with the vehicle striking a rigid barrier. In the moderate overlap test, 40 per cent of the front end strikes the barrier and in the small overlap test, the left front quarter hits the barrier.
Vehicles can get a Top Safety Pick + designation if they earn an advanced or superior rating for front crash prevention.
In the NHTSA tests, the cars are crashed at 35 mph (56 km/h) and the entire front of the vehicle collides with the fixed barrier, rather than just a portion of the front as in IIHS tests.
The IIHS considers its frontal tests more stringent since "a smaller part of the structure has to manage the crash energy, and intrusion into the occupant compartment is more likely. An offset test is more demanding of a vehicle's structure than a full-width test, while a full-width test is more demanding of safety belts and airbags."
So while I mentioned earlier that bigger isn't always better, when you have two vehicles of the same vintage, size usually wins out.
"The laws of physics can't be denied," said Arbelaez, during a tour of the IIHS facility where several wrecked vehicles sit in a display area with decals detailing how the vehicles fared during testing.
As part of our tour we were able to watch one of the small overlap front tests. I wish everyone could witness one of these; I think it would make us all better drivers.
It is in one word, scary.
We may think that 40 mph is not very fast, but when you see the impact of the collision with bits and pieces of the vehicle flying every which way, one realizes why the IIHS research is so significant.
In our case, the vehicle tested was a mid-size sedan (not a Subaru) and it came to rest a few feet away from the point of impact. Pieces of the car scattered everywhere, including the left front wheel that came off on impact. We can't tell you what kind of car this was until all the data has been analyzed.
The small overlap front test is a relatively new one (since 2012), designed to determine how a vehicle would fare when just the front corner collides with another vehicle or a stationary object like a tree or hydro pole. At the outset, most cars received poor or marginal ratings in the test, but now many like the Subarus are getting good ratings.
To say that Subaru takes these tests seriously would be an understatement.
"Safety is the Number 1 priority at Subaru and it has always been," said Ted Lalka, vice president of product planning and marketing for Subaru Canada.
Helping Subaru to attain the Top Safety Pick + designation on some of its vehicles is the preventive technology called Eyesight, a feature available on the Forester, Legacy, Outback, XV Crosstrek and Impreza models. Eyesight is a preventive, driver assist safety technology that operates using two cameras mounted near the rearview mirror to monitor activity on the road ahead. The system issues a warning if the vehicle gets too close to one in front of it and even aiding the driver to avoid potential danger by applying the brakes.
Crashing cars is not the only thing the IIHS does. It also carries out tests and rates booster seats as well as conducting research into driver behavior, highway design and traffic enforcement.
Drivers beware: a loophole in Ontario's child safety seat rules no longer exists
While manufacturers aren't forced to improve vehicle safety as a result of IIHS testing, Arbelaez said it stands to reason that they will want their vehicles to perform well and he advises potential new car buyers to look at the ratings of both the IIHS and the NHTSA before they take the plunge into the marketplace.
RELATED: 2016 Kia Sorento CUV Receives NHTSA Five-Star Safety Rating
Follow Wheels.ca on
Facebook
Instagram