FCA AT DETROIT: Hopes pinned on Windsor-built minivan Pacifica
Replacing the boxy Town & Country for 2017 (the Grand Caravan is being phased out). FCA announced that its new, premium, minivan model will be known as the Pacifica.
You could argue to death whether or not Chrysler invented the minivan. Was the Volkswagen bus really the first? The Euro-market Renault Espace?
The list goes on, but there's no question that the company created and popularized the minivan as we've come to define it. And there's no doubt that it's continued to dominate the segment, reinventing and refining the modern people-mover with each generation since the original 1984 incarnation.
RELATED: ROAD TRIPS: TOP MINIVANS
Replacing the deliberately boxy Town & Country for 2017 (the Grand Caravan is being phased out) and riding atop a brand new platform, Fiat Chrysler Automobiles' announced at this week's Detroit auto show media preview days that its new, premium, minivan model will be known as the Pacifica.
The Pacifica will be manufactured in Windsor, Ont., as the result of a $2-billion investment by FCA and governments.
It seems an odd choice to revive a nameplate that failed to gain traction in its first go-round as a premium crossover.
Whatever the branding rationale, Pacifica marks a welcome return to the rounded, more organic styling of the previous two generations of Chrysler minivan. The front-end, grille, and exterior lighting strongly echo that of the brand's mid-size 200 sedan. Seen in profile or from behind, you could mistake it for a Japanese model, and I mean that as a compliment.
Among the myriad expected improvements and added features is one major addition, a first for both the automaker and the minivan segment: a plug-in hybrid model. Slated to trail the non-hybrid Pacifica's spring 2016 launch by roughly 3-to-6 months, the plug-in Pacifica Hybrid sacrifices the second row seating's ability to stow in the floor (the battery packs occupy the wells that the seats would otherwise fold into; however, the seats are removable) for an all-electric range of up to 48 km.
Both models feature a revised version of parent company FCA's 3.6 litre "Pentastar" V6; the 286 hp conventional models now use a 9-speed automatic, while the Hybrid uses a new FCA-designed dual-electric motor variable transmission dubbed "EVT." Unlike the original Pacifica, drive is front-wheel only.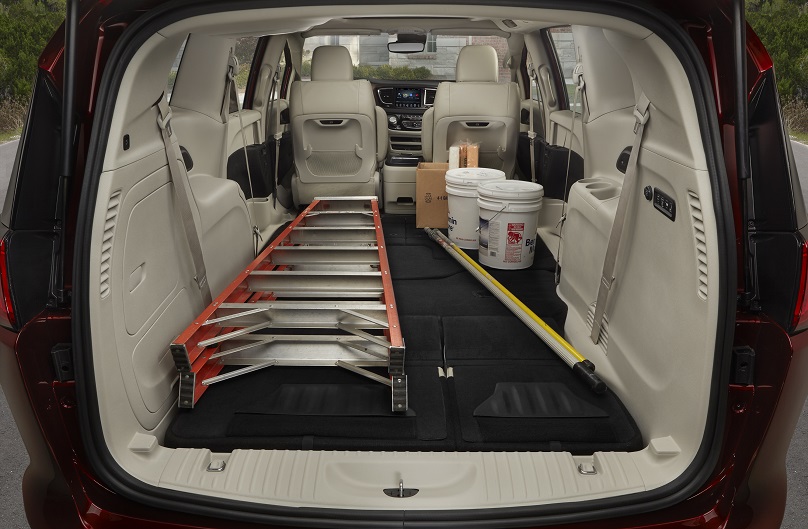 Both models are available with a substantial array of tech features, including adaptive cruise with full stop capability, lane keeping and collision mitigation systems, a new surround-view camera option, and a multimedia system with dual 10-inch high-def screens and a built-in BluRay player. Audio equipment ranges from six speakers to a 20-speaker Harman Kardon audiophile setup; all feature active noise cancellation.
Similar to systems already offered in some GM and Ford models, the Pacifica can have a key programmed for use by beginning drivers to prevent the disabling of safety features and to limit speeds and audio volume.
Pacifica is also available – a la Honda's Odyssey – with a built-in Ridgid-brand vacuum cleaner. Who knew that this would become a thing?
RELATED: Review: 2014 Honda Odyssey – Safe, quiet, comfy and very, very clean 
Freelance writer Brian Early, a licensed mechanic, is a regular contributor to Toronto Star Wheels. To reach him, email wheels@thestar.ca and put his name in the subject line.