Toyota brings a hybrid to the RAV4 lineup
Toyota has long been the leader in hybrid technology with no fewer than seven hybrids in its lineup and another six in the Lexus fleet.
THE PROS & CONS
What's Best: Toyota has so much experience building hybrids that the technology is now tried and true rather than a novelty

What's Worst: The RAV4 Hybrid is only sold in XLE and Limited trim levels, starting at $34,465

What's Interesting: The RAV4 Hybrid is built in Japan, but the next generation will be built in Woodstock, Ont. alongside the gasoline model.
Toyota has long been the leader in hybrid technology with no fewer than seven hybrids in its lineup and another six in the Lexus fleet.
For many, the world's first hybrid, the Prius, is what first comes to mind when one thinks of this gas-electric technology.
But in addition to the four Prius variants, Toyota has been able to turn its Camry and Highlander models into hybrid success stories.
So it comes as no surprise that the compact RAV4 crossover has become the latest Toyota to get the hybrid treatment for 2016.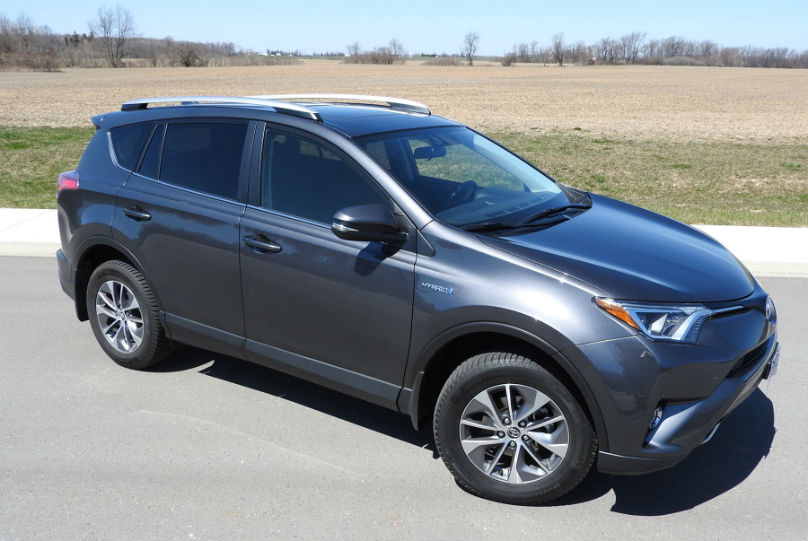 Toyota has rolled out this new hybrid as part of a mid-cycle refresh of the fourth-generation RAV4, which made its debut in 2013. The RAV4 itself has been around more than 20 years ago and spawned the compact SUV revolution.
Given the success of the Camry Hybrid, Toyota has high hopes the RAV4 Hybrid will also be a hit among compact crossover buyers who place fuel economy at or near the top of the must-have checklist.
The five-passenger RAV4 is Toyota's second-best selling vehicle behind the Corolla and closing in fast.
Toyota hopes to sell 40,000 of these crossovers this year and that's good news for Canada as the gasoline model is built at the firm's Woodstock, Ont. plant. The hybrid, tested here, comes from Japan, however Toyota has announced the next generation hybrid will also be built in Woodstock.
Toyota uses the same hybrid synergy drive that powers the Lexus NX 300h AWD.
Power comes from a 2.5-litre inline four-cylinder Atkinson cycle engine, combined with a pair of high-torque electric motors and a continuously variable transmission (CVT). The second electric motor on the rear axle powers the rear wheels when slippage is detected.
The hybrid system combines to produce 194 net hp and 206 lb/ft of torque with a Natural Resources Canada fuel efficiency rating of 6.9/7.6/7.2 L/100 km city/highway/combined.
This is more power and better fuel economy than its gasoline-only powered RAV4 stablemate.
The RAV4 Hybrid has a towing capacity of 795 kg (1,750 lb) and is nearly a second faster in the 0-100 km/h sprint than the gasoline-only variant.
Energy for the hybrid's electric system is produced through regenerative braking and stored in a nickel-metal hydride (NiMH) battery pack for use when the vehicle is in electric mode (EV) at low speeds.
EV is one of four selectable drive modes along with Normal, Sport and Eco, allowing drivers to dial up vehicle efficiency and responsiveness.
Two trim levels are offered in the RAV4 Hybrid, an XLE that we tested and a top-shelf Limited. Prices start at $34,465 for the XLE and $38,265 for the Limited.
In contrast, the gasoline version of the XLE AWD starts at $31,900 and the Limited AWD $37,750.
The XLE Hybrid comes very well decked out with comfort features like dual zone automatic climate six-speaker audio system with 6.1-inch screen, power rear hatch, heated front seats, power moon roof and more.
ALSO READ: 2016 Porsche Cayenne S E-Hybrid Review 
In the upmarket Limited, features include a seven-inch display screen with integrated XM satellite radio and navigation system, leather seating surfaces, and LED headlamps.
The Limited can be further upgraded with the Technology Package that offers Toyota Safety Sense, made up of a pre-collision system with pedestrian protection, forward collision warning, lane departure alert, automatic high beam and dynamic radar cruise control. There is also an 11-speaker JBL audio system, front and rear sonar parking assist and Bird's Eye View Monitor.
The latter gives a live, rotating 360-degree view around the vehicle.
So how does the RAV4 Hybrid drive?
Actually, quite well for a compact crossover that places fuel efficiency ahead of performance.
Acceleration is brisk with almost instant power thanks to the electric aspect of the hybrid system. The CVT transmission is a bit noisy on hard acceleration but mellows out at speed as Toyota has added more sound insulation to make the cabin a generally quiet and comfortable place.
The electric steering provides minimal feedback, but the vehicle handles most driving situations without fuss or bother. I noted that the regenerative braking was much less noticeable than on many hybrid vehicles.
Consumers buy crossovers partially for the utility they offer and the RAV4 Hybrid provides decent passenger and cargo room.
Cargo capacity is limited somewhat by the battery packs, but still comes out at 1,010 litres (36.7 cu ft) behind the second-row seats and 2,000 litres (70.6 cu ft) when the 60/40 split folding rear seats are down.
The RAV4 is already a best seller in the crowded compact crossover market and with the addition of the hybrid variant for 2016 has another option for fuel economy-minded consumers.
ALSO READ: 2015 Lexus NX 200t Review
Toyota RAV4 Hybrid 2016 
BODY STYLE: compact crossover utility vehicle (CUV).
DRIVE METHOD: front-engine, all-wheel drive; electronic CVT transmission.
ENGINE: 2.5-litre DOHC 16-valve four-cylinder engine with two electric drive motors (194 net hp, 206 lb/ft net torque).
CARGO CAPACITY: 1,010 litres (38.4 cu ft) behind second row seat, 2,000 litres (70.6 cu ft) folded.
TOW RATING: 795 kg (1,750 lb)
FUEL ECONOMY: (Regular) 6.9/7.6/7.2L/100 km (41/37/39 mpg) city/hwy/combined.
PRICE: RAV4 Hybrid XLE, $34,465; Hybrid Limited, $38,265
WEB SITE: www.toyota.ca