THE PROS & CONS
WHAT'S HOT: Perhaps the most versatile sports car on offer

WHAT'S NOT: Muddying of the AMG brand identity may alienate some purists
NICE, FRANCE — The Mercedes-Benz SLK pretty much invented the compact luxury roadster market segment 20 years ago, and continues to dominate it with over 650,000 units sold worldwide over those two decades.
The third generation was launched in 2011. For 2017 it receives a significant facelift, an expanded model range, and new name: SLC.
RELATED: Mercedes-Benz is ready to roll out whatever you need 

THE DRIVE
The roads north and east of Nice offer some of the world's most stringent challenges for a sports car. Twists, turns, hills, steep drops. If they're tough enough for the Monte Carlo rally — and they are — they'll hold any car's metaphorical feet to the fire. Then there's the locals' penchant for taking their half of the hairpin turn out of the middle of the road …
The SLC's compact size, stalwart roadholding, strong brakes and performance that ranges from very good (the base SLC 300, with a 241 horsepower turbo 2.0-litre four cylinder) to excellent (Mercedes-AMG SLC 43, 362 horsepower twin-turbo 3.0-litre V6) make it an excellent fit for this environment.
Plus, neither is so scary-fast that you fear ending up in the Mediterranean.
The weather was lovely for our all-too-short drives, so we left the top down on both mounts. Should a sudden shower threaten the fun and you start to raise the roof at a stoplight but it turns green before it's finished, you can continue the sequence at speeds up to 40 km/h. Visibility to the rear is zero however, so not really recommended.
Despite the wind blocker between the headrests, there is still is a fair amount of buffeting in the cabin. You can play with the side windows — even the small rear quarter windows can be raised individually — to minimize this.
The first SLK originated the "Airscarf" — a heated panel in the seats allows warm air to be wafted out below the headrests to flow over your shoulders. Perfect, especially for cooler evenings when you still want to enjoy top-down motoring.
Our bright red AMG was clearly faster, but the lovely blue 300 acquitted itself very well.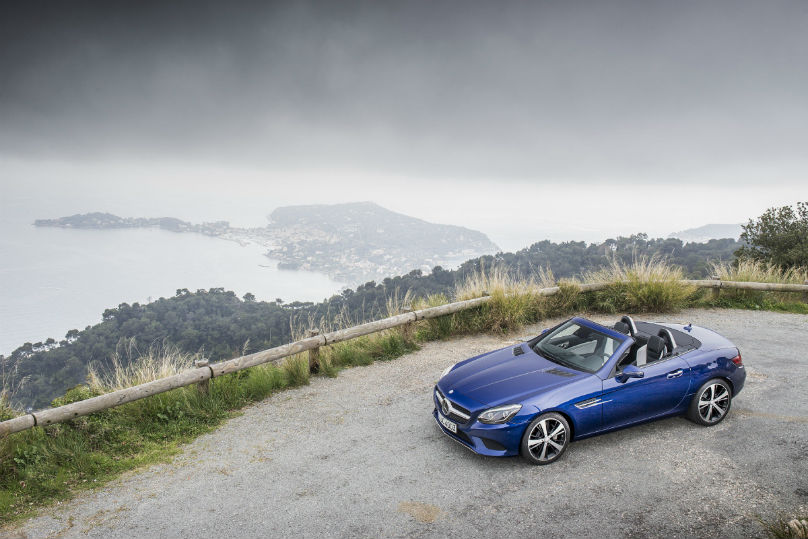 The main disappointment with the 300 is that the turbo four sounds more Massey-Ferguson than sports car. We followed an AMG 43 into a long tunnel; both of us revved the heck out of our respective cars, and ours just sounded awful.
So, turn up the radio.
The nine-speed automatic transmission, standard in both models, can be left in Drive, shifted manually with steering column paddles or switched to full manual mode.
Frankly, it seemed to work best when left to its own devices. It will downshift under braking anticipating a corner. The manual downshifts were sometimes rather slow, and you really don't want to hit the rev limiter in manual mode because it takes the car a while to figure out what to do.
So, both hands on the wheel. Right pedal to go, left pedal to stop. You'll go faster and be smoother too.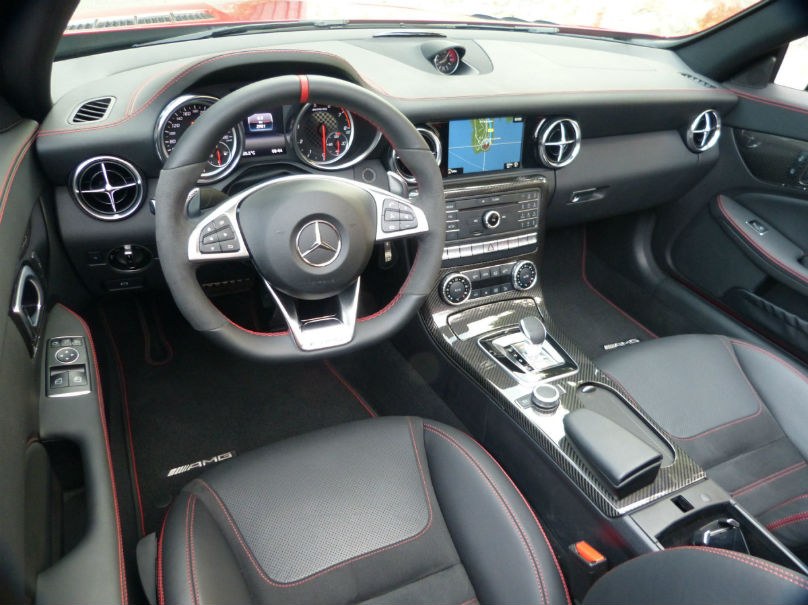 The electric steering is light, but can be firmed up using the Dynamic Select function which also changes throttle response and transmission shift speed.
I don't have a built-in hate for light steering. It isn't effort that you want, but feedback, and the SLC delivers.
Turn-in is crisp, and ultimate cornering power is satisfyingly high. The AMG variant predictably has a firmer ride and sharper reactions, but again neither car embarrasses itself on either side of that spectrum.
We would need way more than half a day to evaluate all the options that Dynamic Select offers.
THE CAR
The 2017 SLC starts with the existing structure, and refreshes the sheet metal front, rear and sides. A revised grille along with LED Daytime Running Lights and tail lights add jewel-like touches.
The AMG model adds unique badging, larger air intakes and rear diffuser, quad tailpipes and unique wheels.
Upgraded materials and added connectivity, including available Apple CarPlay and Benz's COMAND Online Navigation system, highlight the interior changes.
The SLK was one of the first "modern" folding-metal hardtop cars. The so-called "vario-roof" has been updated.
The luggage cover will automatically slide into place when you lower the roof — no need to get out and do this yourself, unless the car detects that there's too much gear back there, and you'll have to shuffle it around.
Should a sudden shower threaten the fun and you start to raise the roof at a stoplight but it turns green before it's finished, you can continue the sequence at speeds of up to 40 km/h. Visibility to the rear is zero however, that's so not really recommended.
You can also order the "Magic Sky Control" roof panel, which can be switched from opaque to translucent at the touch of a button.
A host of safety technologies includes all the lane keep/blind/spot/nanny-nonsense which seems particularly irrelevant in a car designed for active driving, but these days a car company can not install this stuff.
Brake Assist might, however, come in handy — it detects if you are closing in too quickly on the car in front, and will initiate braking automatically if need be to either avoid the collision or at least mitigate the consequences thereof.
THE VERDICT
The SLC is everything the SLK was, and more. More equipment, more safety, more connectivity, more fuel efficiency too.
The trade-off in having a solid closed car when the weather gets ugly is that you are limited in luggage space. If you can accept that and can pack carefully, the SLC makes a near-perfect car for a couple's weekend getaway.
WHAT'S IN A NAME
In Mercedes-speak, "S" has traditionally meant "Sport." "L" is "leicht," or "light" in German.
The "C" now implies the component set derives from the C-Class family.
So far, so good.
The numeric components of the model designations however are, like all new Mercedes models, pulled out of thin air.
The "300" used to imply the engine displaced 3.0 litres. Not here. It has a 2.0-litre turbo four, while the SLC AMG 43 has a twin-turbo 3.0-litre V6.
RELATED: Porsche Boxster and Cayman will be rebranded as the 718
Where does the "43" come from? Your guess is as good as mine.
As the French might say, figurez-vous …
Mercedes has been trying to trade on the AMG sub-brand image, offering AMG components on a wider range of cars — essentially the same thing BMW is doing with its M performance brand. The danger is possible dilution of that brand image.
AMG models are built on the same Mercedes assembly lines as the "donor" cars, but with AMG-specific suspension, powertrain, styling and interior modifications.
The AMG engines are assembled in AMG's own facility in Affalterbach, north-east of Stuttgart. Each engine is built by one technician who attaches a plate with his signature to the engine. All but one AMG engine is still built there, and even the exception gets the one engine/one signature autograph plate.
But the AMG SLC 43 engine does not get that plate. While re-engineered by AMG, its engine is built in a conventional Mercedes engine plant. So, is the SLC 43 a real AMG or not?
We purists would probably say "not," but as always, there's more of them than the rest of us, and marketing always rules these days.
Mercedes-Benz SLC 300 / Mercedes-AMG SLC 43
PRICE: TBA
ENGINE: SLC 300 — 2.0-litre turbocharged four. AMG SLC 43 — 3.0-litre twin turbocharged V6
POWER/TORQUE: SLC 300— 241 horsepower, 273 lb-ft.; AMG SLC 43— 362 horsepower, 384 lb-ft.
TRANSMISSION: 9-speed automatic with paddle shifters.
FUEL CONSUMPTION (L/100 km, premium req.): TBA
SCORE: 9.0 / 10
Competitors: Audi TT Roadster, BMW Z4, Nissan 370Z Convertible.
Follow Wheels.ca on
Facebook
Instagram