Hefty Toyota Highlander hybrid surprisingly easy on fuel
Toyota Highlander Hybrid brings a spacious interior, smooth luxury-grade ride, seven-passenger seating, and a rocking 12-speaker stereo.
Some believe that hybridizing large SUVs is like ordering a diet Coke to atone for your triple cheeseburger.
I would suggest quite the opposite.
It is these otherwise gas-sucking vehicles that provide maximum return.
You can load them up with cylinder deactivation, auto start/stop and power-sapping Eco buttons, but their net effect won't match any good hybrid system.
I'll leave it to the bean counters to decide whether or not fuel savings justify the higher purchase price. That discussion is a real snoozer, and it's largely dependent on gas prices which have been dropping as of late.
My point is you'll be spending significantly less time and money at the pump, whether the going rate is 95 cents a litre or a wallet-destroying buck-forty.
My tester for the week – a 2016 Toyota Highlander Hybrid – bore this out.
You can order the Highlander as a straight petrol burner, with a price range of $33,355 to $46,980, excluding freight and taxes.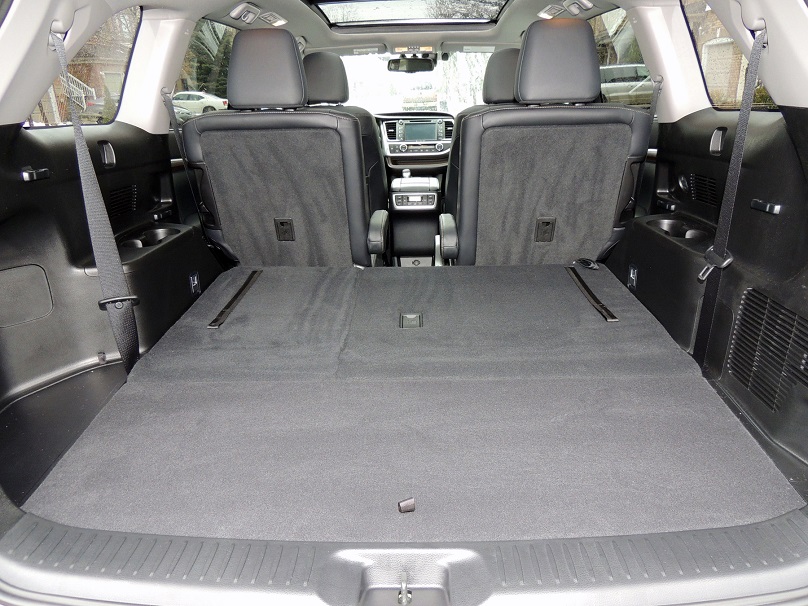 Or open your wallet even further for the Hybrid.
The base LE begins at $45,755, rising to $48,285 for XLE trim and $54,960 for the range-topping Limited, as tested. This may seem a huge price bump, but keep in mind gas and hybrid content lists don't line up – for example, the non-hybrid LE is only FWD whereas all hybrid models come standard with AWD.
Even more significant are their differences in fuel economy.
The conventional Highlander AWD Limited is rated at 13.0/9.8/11.6 litres/100 km. The top-trim hybrid sips in the single digits: 8.6/8.5/8.5 (city/hwy/comb).
My own result was closer to 10 litres combined, but in an earlier test of the 2014 model, I managed 9.3 L/100 km with a marginally lighter foot. Either way, that's pretty good for a vehicle that tips the scales at well over three tons.
You might think such penny pinching would kill performance, but Toyota has wisely mated a V6 to its electric motor, rather than the 2.5-litre four cylinder found in Camry and RAV4 hybrids.
Highlander's 24-valve, 3.5-litre DOHC six cylinder, which in the non-hybrid makes 270 hp and 248 lb/ft of torque, nets out at 280 hp in the hybrid.
Net torque, however, isn't published, but with gas and electric working in tandem, takeoff and passing are surprisingly quick.
Transmission is an electronically-controlled CVT. I'm usually not a fan of these, but today's units no longer suffer from a "rubber band" feel. And in "sport mode", which increases throttle response and raises the virtual "shift points," the driving experience will match most SUVs in its segment.
Just skip the rock crawling and stick to cottage roads. This Highlander does come standard with AWD-i, but it's not intended for anything too far off the grid.
Under normal conditions, the system operates in FWD mode for better fuel economy. When more traction is needed, sensors wake up an electric motor to drive the rear wheels, and then switch it off when conditions warrant.
For what it's worth, Highlander can operate on battery only for short distances, but it doesn't take more than a mild prod to fire up the gas engine. I've always thought EV mode to be a novelty, but it does have some merit in underground garages or when sneaking in late at night.
The interior takes a few upscale cues from Lexus in its use of soft-touch surfaces (two-toned black and brown as tested), faux stitching throughout the upper dash, as well as woodgrain appliques and matt-finish aluminum accents.
There's a long shelf below the uncluttered dash, where you can slide cellphones and other small items. Also handy is a large storage well beneath the centre armrest.
The third row is reclinable, but offers scant room for knees and feet. Although it's relatively easy to access, thanks to the one-step sliding second row, this backbench is best suited to kids.
The second row, however, has loads of leg and headroom, and in my tester consisted of two heated captain's chairs with adjustable armrests – and a popup shelf with cupholders. Lower trim models get a 60/40 bench.
Here, my ride also included a full set of climate controls, reading lights and manual side window shades.
The available panoramic sunroof extends through the middle row, really brightening the interior, and adding to its feeling of spaciousness.
As a fan of classic rock, I enjoy good audio, and the available 12-speaker JBL system really cranks it out. It comes with an eight-inch display, which also works with the backup camera and navigation, along with managing text-to-speech, email-to-speech and other infotainment functions.
But you needn't crack $50K for a well-equipped Highlander Hybrid, as the "basic" content list is hardly entry level. Features include eight-inch display audio with six speakers, three-zone climate control, power rear door with flip-up window, leather-trimmed steering with audio controls, pushbutton start and 18-inch alloys. And with it, compact car fuel economy.
Regardless of trim level, Highlander's penny pinching doesn't come cheap. Then again, competitors like Pilot, Explorer and Enclave can also command a steep sticker price, without being as forgiving at the pump.
 RELATED: 2016 Honda Pilot mid-size CUV Review 

                     & 2016 Ford Explorer Platinum SUV Review

 
Toyota Highlander Hybrid Limited 2016 
BODY STYLE:
DRIVE METHOD: Front-engine, all-wheel-drive, electronically controlled CVT
ENGINE: DOHC 24-valve 3.5 litre V6 with VVT-i and Hybrid Synergy Drive
FUEL ECONOMY: as tested 8.6/8.5/8.5 L/100km (city/hwy/comb)
CARGO: 385 litres behind third row; 1,189 litres behind second row; 2,339 litres max
TOWING: hybrid as tested 1,588 kg (3,500 lbs); gas-only Highlander 2,268 kg (5,000 lbs)
PRICING: LE $45,755, XLE $48,285; Limited $54,960
WEB: www.toyota.ca