He said/She said – 2016 Jeep Renegade
This is the first Jeep vehicle developed with the help of Fiat. What Fiat does well is small cars and Jeep understands off-roading. What a great combination! Dan and Lacey review the 2016 Jeep Renegade on this edition of He Said/She Said.
This is the first Jeep vehicle developed with the help of Fiat. What Fiat does well is small cars and Jeep understands off-roading. What a great combination!
STYLING
Lacey Elliott: At first glance, I love the cuteness of the Renegade. The front end has softer lines than the Wrangler, yet it features the very distinguishable round head lamps and 7-slot grille that Jeep is known for. From the side profile and back end, the style does nothing for me. It makes me think the Nissan Cube and the Jeep Wrangler had an offspring. Several 'X' patterns designed to mimic a military style jerry can are found on cup holders, roof panels and the tail lights. It's a unique detail but I think it looks funny on the rear lights.
I love the fact that this 2016 Jeep Renegade also comes in nine color options like Jetset Blue and Omaha Orange. Pretty sure this is a girl thing, but I like options that add a bit more personality to my vehicle.
Inside is a balance of ruggedness and luxury. Buttons and knobs are large yet unassuming. Nice soft touch plastic, chrome accents and splashes of color on some trim levels give the interior a first class finish. The seats are the perfect firmness for me and I have a lot room. For such a small looking vehicle, I had no complaints from friends in the back seat either.
My favorite feature on the Renegade is the optional My Sky roof. Large panels cover both the front and the back seats. They can be completely removed then stored beneath the cargo area in the back. This really is the best of both worlds if you're like me and enjoy going topless on sunny days. It's not as easy to pop back up as push button convertibles but, it's a whole heck of a lot easier to maneuver than the Freedom Top on the Wrangler.
Dan Heyman: Well, there's little question that this is a Jeep product, that's for sure. It's got the grille, the round headlights, the squared-off profile styling; you'd never know that underneath it all, there's a very European, Fiat-derived powertrain.
Lacey calls it "cute", and I'd have to agree with her. Especially in the spec you see here; this is the high-selling, Canada-only North edition, which gets nice alloy wheels, but loses the plastic cladding and tow hooks of its more butch Renegade Trailhawk cousin.
I also like that there are numerous colour choices, but it goes further than that; I like that there are actual colour choices; no sort-of-grey-blues or sort-of-dark-maroon reds here. Just big, bold colour options that ensure even with its diminutive size, the Renegade will stand out from the rest of the compact-crossover crowd.
I have to agree with Lacey about the crosshair taillights, though; I guess maybe they're trying to channel a classic Jeep that might have worn some metal mesh over its taillights for protection, but I don't know if it really works. It's a sore spot in what is otherwise a strong styling package.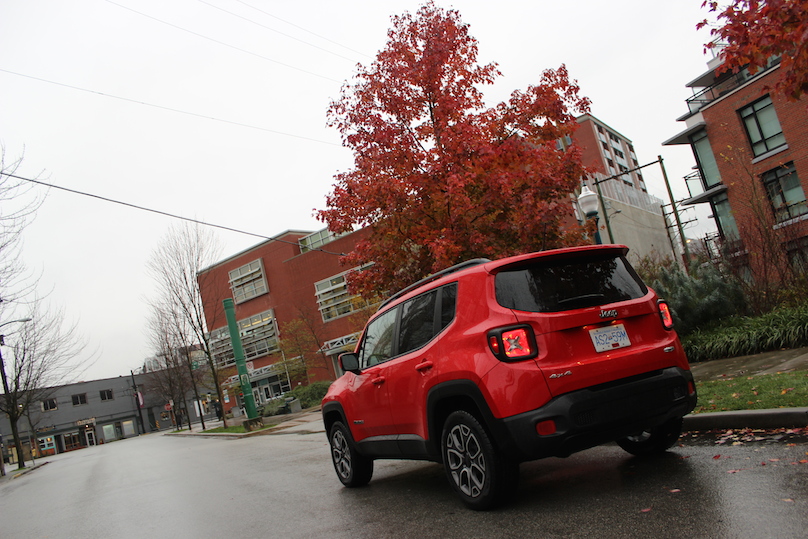 Inside, in addition to all that jerry can stuff Lacey talked about, there's a smattering (literally, as we'll see in a moment) of other details that are neat to discover. I'm especially a fan of the Jeep signature logos on the windshield. It does well to appeal to the cult-like status of the Jeep brand.
Right. That "smattering" we talked about. If you look closely at the gauges, you'll notice that instead of your typical redline indicator, there's actually what looks like a splatter of paint in some avant-garde painting from Maude Lebowski of The Big Lebowski fame. It's actually there to look as if a paintball had hit the gauges, a nod to the playful intentions of the car.
As far as cargo room goes, my wife and I took a trip from Vancouver, BC to Tacoma, WA, fully-laden with wedding gifts and suitcases. I also had no trouble fitting my hockey bag in the trunk, a task made much easier by the square opening of the rear hatch.
ON THE ROAD:
LE: Having just spent a week in the very rugged feeling Wrangler, this Renegade is like a breath of fresh air. The suspension is comfortable and the interior is silent at all speeds. It is nimble on most roads, but I found the Mazda CX-3 to be a bit more fun when tackling windy streets. Other then the Jeep badging found on the steering wheel, very little of driving this Renegade lets me know that it is even capable of going off-road. The thing is, unlike the Mazda, the Renegade is a true SUV. It has two available 4×4 systems to choose from. They are both backed of course, by Jeep's renowned off road capabilities. It can tow up to 907kg and has a cargo capacity of 524 liters.
RELATED: He said/She said – 2015 Jeep Wrangler Unlimited Sahara
The Jeep Selec-Terrain has different modes for Snow, Sand, Mud and Auto that are easily selected with a large rotary knob. The TrailHawk model starts at just under $33,000, also has a Rock mode that gives Jeep Trail Rated availability and would be fine to take on pretty much any adventure you can think of.
On the base Sport model for just under $21,000 you can choose from a 1.4L MultiAir Turbo I-4 or a 2.4L Tigershark MultiAir 1-4 engine; 6-speed manual or 9 speed automatic. The Trailhawk and Limited come standard with the 2.4Litre and 9-speed automatic transmission.
DH: Oh, that nine-speed auto. Some have applauded it, but many more have derided it for its lack of commitment when it comes to holding on to a gear, always unsure of which gear it needs to be in.
I guess I'm going to be keeping a foot in each camp; yes, when it comes to long, highway drives at speed—as my wife and I experienced on that trip—it does tend to shuffle rather unceremoniously between gears. It's especially grating when climbing, and especially when you're running the least-powerful of the two available engines.
That being said: when it comes time to enter the freeway, the tightly-spaced ratios have the Renegade up to speed in no time. The same goes when you take the battle to the city streets; the transmission allows the Renegade and either of its little four-bangers to zip forward with gumption.
The engine is a little harsh and a little noisy in its report, but I wouldn't say that it struggles to get the Renegade going. The turbo makes 160 horsepower and 184 lb.-ft. of torque, while the larger, non-turbocharged 2.4L makes more power (180 hp) but less torque (175 lb.-ft.) so once you get past the turbo lag, you'll get a little more performance from the turbo, while the 2.4L is a little smoother and more refined.
Thing is, as much as we like to discuss the Renegade's powertrain chops, it's the on-road manners that are often of utmost importance for buyers of compact crossovers like this.
While I thought the Renegade would be bouncing to and fro due to its short wheelbase, I was impressed with how composed it really was. This is not a harsh riding car, especially when you consider its off-road chops, which we'll discuss in the next section.
I do have to caution, though, that being a compact crossover, the Renegade is not the most spacious of vehicles. The longer-legged folks like myself will find that the centre stack digs a little too much into your shin, as the pedal box is not the roomiest, and with just 891 millimetres of leg room, nor are the rear seats. It's not a vehicle you want to use to transport four adults for the long haul. They do fold nicely flat, though, providing up to 1,438 L of cargo room.
TECHNOLOGY/ SAFETY:
LE: Lots of technology is offered on this little SUV. Available Uconnect with a large 5-inch or even larger and easier to read 6.5-inch touch screen. Navigation and Uconnect with Voice Command and Bluetooth. Keyless Enter'n Go, remote start system, BeatsAudio premium sound system, back up camera and heated seats are all available.
To improve fuel economy the Renegade Limited comes with Jeep Active Drive. It's a dedicated 4-wheel drive system with a disconnecting rear axle and delivers 4×4 traction when needed. When driving on normal road conditions the system reverts to a front wheel drive vehicle. Getting about 10 liters/100k in city driving and 7.5 on the highway. When compared to some similar vehicles, the Jeep doesn't do so well. The Juke and HR-V both do better, but keep in mind the Jeeps 2.4Litre puts out more power than either of them.
You will feel safe knowing that seven air bags, electronic Roll Mitigation, Stability Control, All-Speed Traction control and remote keyless entry with security alarm come standard.
DH: I was lucky enough to experience the Renegade on a proper, muddy, steep off-road course at the Automobile Journalist Association of Canada's Canadian Car of the Year competition, and I was pleasantly surprised.
It wasn't just muddy; it was a mud pit as hurricane Joaquin was raging at the time, and while the eye of the storm was a long way away, the offshoot was enough to make for a wet affair.
So wet, in fact, that the course was shutdown a few minutes after I tackled it. Didn't matter; I put the Active Drive AWD system in "mud" with a twist of the wheel on the centre-stack and proceeded to slop my way around the course. I also selected manual mode in case I needed a little extra bite, but I'm not sure it made a huge difference. The Renegade is a little bulldog on the slopes. Which makes sense, because while there are a lot of SUVs and crossovers that will never be taken off road, I'll bet the active lifestyle-ers that the Renegade is aimed at will like to have the ability to take it off the beaten track on a regular basis.
Young buyers like that also like good infotainment, and the Renegade has that covered, too; it uses a version of Chrysler's UConnect system, which remains one of the most intuitive in the biz. My tester, though, was the North edition meaning I didn't have the biggest screen available so the buttons are a little tougher to use. Still, though; the interface is smooth, getting from screen to screen is never more than a single button push away, which can't always be said, even today.
LE: The only thing holding me back from loving this Jeep is the styling, and that is subjective. I can't really compare this to anything else, because nothing else can really do what this Renegade is capable of. It's in a class of its own.
DH: The Renegade is pretty easy for me to recommend on the basis of its off-road chops, its ride and its quintessential "Jeep"-ness. I guess I agree with Lacey, though, that the styling isn't for everyone. Personally, I find it a little cutesy, a little less rugged than the Patriot it replaces. Then again, I'd say it's better-looking than that other baby Jeep—the Compass—that we also recently bid adieu to. In the end, I feel like the Renegade is a vehicle that should do well for Jeep, even if the sales figures haven't quite borne that out yet. Chalk it up, perhaps, to folks not quite ready to make the jump to the new—to Canadians, anyway—compact crossover segment.
Previous He Said/She Said Reviews
He said/She said: 2016 Mazda CX-3 CUV Review

He said/She said 2015 Honda HR-V Review
He said/She said 2016 Nissan Murano Review
He said/She said Mazda MX-5 Review
He said/she said: 2015 Ram 1500 Big Horn EcoDiesel