Comparison: Lexus CT 200h vs. Mercedes-Benz B 250
The smallest offerings from two noted sports-luxury automakers.
The Mercedes-Benz B 250 and Lexus CT 200h are the smallest offerings from two noted sports-luxury automakers. The pair may be entry-level models, but you're dealing with vehicles from a pair of the top brands in personal transportation.
This pair of four-door sedans may be expensive when compared to other makes of the same physical size and power, but once inside and down the road these little guys hold back nothing in terms of fit and finish to their larger stable mates.
First off, the Benz is more of a driver's car. The B 250 4Matic Sports Tourer features an on-demand all-wheel drive system that gets its power from a 208 horsepower 2.0-litre four-cylinder engine coupled to a seven-speed dual-clutch transmission. This combination provides sufficient power, and when pressed it moves the car along with authority, although there is more engine noise than one would think. There is the extra weight of the all-wheel drive system over the standard two-wheel drive configuration, but this performance handicap is offset for the safety and assurance of powering all four wheels during winter situations.
RELATED: 2015 Mercedes-Benz B 250 4Matic Review
The Lexus is a hybrid, with a 1.8-litre four-cylinder Atkinson Cycle engine producing 134 horsepower, complimented with an electric motor/201.6-volt nickel battery setup for EV driving. With a gross vehicle weight of 1,420 kg, the CT200h is somewhat slower accelerating when compared to the B 250, but its power is adequate for most situations.
RELATED: 2015 Lexus CT 200h F-Sport Review
If needed, the little engine will roar away when getting on an expressway. Driving the car in EV mode, which requires a delicate touch on the accelerator, is smooth and quiet. The engine will kick in when needed, such as during hard acceleration or harsh temperature conditions. While coasting and braking, the car runs in EV mode and the braking action generates electricity back into the battery. The car uses a continuously variable transmission (CVT).
The CT200h is available in several trim packages, including the loaded-to-the-max F Sport Series 2 tested here. It features a host of suspension, electronic and appearance items. Little of this enhances the car's performance, but it does enhance its image with such items as a different grille, steering wheel and special leather seats.
The steering in the B 250 responds well to a driver's wishes. There is some body roll during hard cornering, but this is a sedan, not a sports car. The brakes provide secure stopping power with a well-modulated pedal. Our tester sported paddle shifters for those wishing to try shifting for themselves, although leaving the seven-speed 'box in Drive produces seamless shifts. With a weight of 1,465 kg, the B 250 returned 9.45 L/100 km overall consumption, and it requires premium fuel.
The CT 200h has excellent sure-footed brakes. The optional sport package with upgraded 17-inch rims along with suspension tweaks to the MacPherson front struts and double-wishbone coil springs in the rear gives the Lexus an advantage in cornering and handling over the B 250, but it also has a harsher ride.
Sitting on 17-inch rims and with a gross weight of 1,840 kg, the Lexus offered 5.3 L/100 km using regular fuel.
Inside, the B 250 is larger than the CT 200h. Both cars have leather seating and trim. The gear selector in the B 250 is a small arm on the right side of the steering column, while the CT 200h uses a small shifter on the left of the centre console with a knob that resembles the head of the creature in the movie Alien.
The central consoles are quite busy in both vehicles, with the Mercedes having more buttons to push. The controls and switchgear in both are high quality and well placed, with the Lexus being a little busier. The sound systems in both cars are excellent. Both cars come equipped with a sunroof and a glass area in the rear of the roof.
Both the Lexus and the Benz review models were equipped with the infotainment system high up on the console, which can be bothersome. They should be lower, below the lip of the dashboard, for better visibility out the windshield.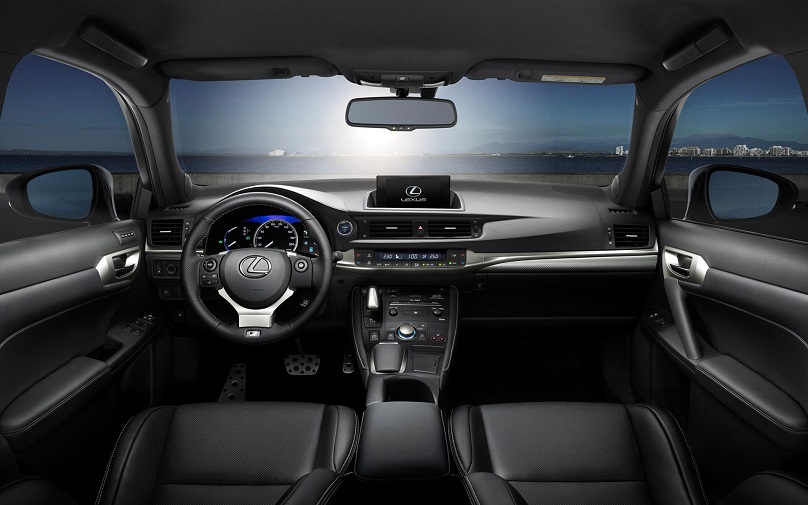 As for visibility, rear vision is more limited in the CT 200h than in the B 250. Forward visibility in both models is excellent. The Lexus employs an audible reversing beeper inside the cockpit, not outside. While this is a unique safety feature, the beeping could get annoying.
As for exterior styling, here we have two functional four-doors with a somewhat different approach. The Benz is more subdued, a little boxy and upright, but well-proportioned with clean lines. The Lexus appears more stout, a little chunkier, but well-proportioned as well. The large grille with the double vee shape, which is common to all Lexus models, dominates and almost overwhelms the front of the car. With the 250's three-pointed star in the front grille, there is no questioning what brand of vehicle you are driving.
Both of these small but high-end cars are built by well-established automakers in this field, and offer an honest approach to a sensible fuel-efficient vehicle which may be just the ticket for comfortable and plush motoring.
MERCEDES-BENZ B 250 4MATIC Sports Tourer
PRICE/AS TESTED: $33,500/$41,950
ADD-ONS: Versatility package (1,800), Premium package ($3,800), Premium seating ($1,900), Special interior trim ($250), Keyless entry ($700).
PROPULSION: Front-engined, two/four-wheel drive
CARGO: 488 L with rear seat up, 1,547 L with rear seat folded
ENGINE: 2.0-litre turbocharged inline four
TRANSMISSION: Seven-speed automatic
POWER/TORQUE: 208 horsepower, 258 ft-lb.
FUEL CONSUMPTION (L/100 km, premium required): 10.4 city, 8.5 hwy.
BRAKES: Four-wheel disc
TIRES: P225/45R17 all season
STANDARD FEATURES: Power windows, power sunroof, automatic climate control, auto dimming mirrors, power driver's seat, heated front seats, steering wheel shift paddles, leather-covered multi-function steering wheel
ACCESSIBILITY: Excellent
WHAT'S BEST: Performance, roomy interior, fit and finish
WHAT'S WORST: More engine noise than expected, location of infotainment system
MOST INTERESTING: Most larger Benz features have been integrated into the B 250
LEXUS CT 200H
PRICE/AS TESTED: $31,650/$42,826.97
ADD-ONS: F SPORT Series 2 package options ($9,000), which includes F Sport performance and appearance items, leather seats, power moonroof, LED headlamps, rain-sensing wipers.
PROPULSION: Front-engined with electric hybrid drive, front-wheel drive
CARGO: 405 L with rear seat up, 916 L with the rear seats down, 42 L cargo box, 958 L total
TOW-RATING: N/A
ENGINE: 1.8-litre inline four, gasoline
TRANSMISSION: Continuously variable transmission (CVT)
POWER: 134 horsepower, engine and electric motor combined
FUEL CONSUMPTION (L/100 km): 5.47 city, 5.6 hwy.
BRAKES: Four-wheel disc
TIRES: P205/55/R16 all season
STANDARD FEATURES: Power windows, power sunroof, power and heated front leather seats, steering wheel audio, phoneand display controls, cruise control
ACCESSIBILITY: Excellent
WHAT'S BEST: Handling, fit and finish, large cargo area
WHAT'S WORST: Reversing beeper, cruise control location, console controls
MOST INTERESTING: Lexus' parent company, Toyota, has an established and successful background with hybrid vehicles
Freelance writer Tim Miller is a regular contributor to Toronto Star Wheels. To reach him, email wheels@thestar.ca and put his name in the subject line.