Chevrolet Tahoe LT 4WD 2016
Tahoe LT 4WD is a lot of truck that starts to justify its price when you consider it is probably good for a decade of service and with great resale after that.
THE PROS & CONS
What's Best: The ability to handle just about any cargo/utility/towing situation that might arise.

What's Worst: When fuel cost climbs back up, and it will, operation could be expensive.

What's Interesting: How something this big and weighing 2,541 kg is so easy to drive, steer and handle.
When I attended the press launch of the Chevrolet Suburban and Tahoe in 2014, the engineers on hand said they faced many challenges — the chief being how to make something as big as these SUVs feel like a smaller truck.
As tested here, the 2016 Chevrolet Tahoe LT 4WD weighs in at 2,541 kg (5,602 lb), and at just over five meters long (5,182 mm, 204.4 in), the Tahoe is a full body on frame SUV that offers many advantages, but some disadvantages.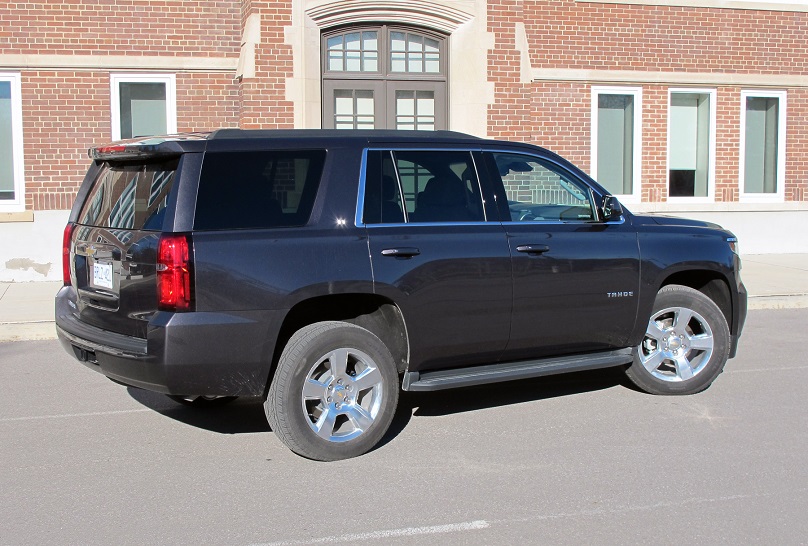 One of the disadvantages of older SUVs is body shake, as the truck gets older, leading to a perception of sloppy handling.
To change the driving dynamics, hydraulic engine mounts were redesigned for more isolation and torque damping and there is now electric power steering. The former gives what Chevy calls a "connected to the road" feeling, while the latter really takes a lot of effort out of low-speed turning and parking.
The body is connected to the frame with new mounts to reduce body shake, while the tires were designed for better ride quality, but also improved stopping power and fuel economy. The body is stiffer with front-end rigidity increased dramatically.
RELATED: PREVIEW: 2015 Ford Expedition
In terms of making the Tahoe handle better, it rides on a new, tuned coil over shock design with forged aluminum control arms that are 25 per cent stiffer than before.
Available in rear- and four-wheel-drive, mode selection is wonderfully simple with a rotary knob to the left of the steering wheel for 2WD, Auto, 4Hi and 4Lo. And right beside that is a trailer brake adjustment. The 4WD version is by far the biggest seller.
It allows towing of up to 3,901 kg (8,600 lb) in RWD and up to 3,810 (8,400 lb) in 4WD. This is accomplished by the very reasonably priced ($795) towing package with trailer brake controller, the two-speed version of the "Autotrac" transfer case and beefed up Z85 suspension.
Cargo volume is expectedly large. With the second and third row seats folded, there is 2,682 litres (94.7 cu ft) of space. With the second row folded there is 1,464 litres (51.7 cu ft) with 433 litres (15.3 cu ft) behind the rear seat.
Payload with the RWD is 780 kg (1,720 lb) and 757 kg (1,670 lb) in the 4WD as tested.
With all that weight you're towing, braking is important and the Tahoe comes with GM's DuraLife disc brakes with a hardened and strengthened surface to reduce corrosion.
GM claims they can last up to twice as long as conventional rotors and provide quieter braking with less vibration.
Power comes from GM's trusty, direct injection OHV 5.3-litre V8 with 355 hp and 383 lb/ft of torque with a six-speed automatic transmission. Running on regular gasoline, fuel consumption for the Tahoe 4WD models is 15.2/13.2/10.8L/100 km city/highway/combined.
Tested here is what I would consider to be the volume model, the mid-trim level LT with 4WD.
The interior had a big makeover in 2015, but Chevrolet has really upped the connectivity with Apple CarPlay compatibility, a first in the segment. It comes with OnStar 4G LTE making the Tahoe a rolling WiFi hotspot.
Depending on trim level, there are up to 13 charging ports as well as charging pad on the top of the centre console.
You can use the OnStar RemoteLink app on your smartphone to start or stop the engine or lock and unlock the doors from anywhere there is cell service.
Climbing high up into the cabin, or more correctly climbing down and getting out, was about the only challenge, with great sightlines, thanks to the elevated seating position and well placed outside mirrors.
The standard seating configuration is 2/2/3, but a second row bench is an optional.
But what stands out most of all is the amount of seating room to really stretch out in. Because of its width, the centre aisle to the third row is easy for anyone to walk through.
While not making it handle like a Camaro, the Tahoe was very responsive to driver inputs.
It was also very quiet up in the cabin with huge, 20-inch tires not intruding, showing the noise and vibration guys got things right.
Do you really need 4WD or AWD?
Just look at winter in the eastern half of Canada last year and that question has already been answered. As I write this on Boxing Day, is a balmy 4 C, but I know we're overdue for a dump of snow.
RELATED: Review: 2014 Dodge Durango
Pricing for the LT 4WD lists at $62,760. With $10,255 in options it came in at $74,780 including a $1,695 shipping fee.
Tahoe LT 4WD is a lot of truck that starts to justify its price when you consider it is probably good for a decade of service and with great resale after that.
And having said all that, the 2016 Tahoe is right for a large number of Canadians, as shown by the sales numbers, which keeps it a perennial favourite.
Chevrolet Tahoe LT 4WD 2016 at a glance
BODY STYLE: Full-size, 7/8-passenger body-on-frame SUV
DRIVE METHOD: front-engine, rear-/four-wheel-drive
 with six-speed automatic transmission
ENGINE: 5.3-litre direct injection overhead valve V8 (355 hp, 383 lb/ft)
FUEL CONSUMPTION: (Regular) 15.2/13.2/10.8L/100 km city/highway/combined
CARGO CAPACITY: 2,682 litres (94.7 cu ft) behind front seat; second row folded, 1,464 litres (51.7 cu ft); behind third row 433 litres (15.3 cu ft)
PAYLOAD: 757 kg (1,670 lb) in the 4WD as tested.
TOW RATING: 4WD with trailering package, 3,810 kg (8,400 lb)
PRICE: LT 4WD, $62,780; as tested, $74,780 including $1,695 shipping fee
WEB SITE: www.gm.ca