2016 Volvo XC90 T6 AWD Review
Unless I have a crowd to carry or load to haul, bulky rides like minivans and seven-passenger SUVs aren't typically on my radar.
THE PROS & CONS
What's Best: Superb interior and snappy performance for a large vehicle

What's Worst: A little pricey – but consider the competition

What's Interesting: Four-cylinder powertrains employ a supercharger and turbocharger for good low- and mid-range power
2016 Volvo XC90 AWD T6 at a glance
BODY STYLE: three-row sport utility
DRIVE METHOD: front-engine, all-wheel-drive
ENGINE: T6 powertrain, 2.0-litre four-cylinder with supercharger and turbocharger (320 hp and 295 lb/ft of torque); T8 powertrain, 2.0-litre four-cylinder with supercharger, turbocharger and 80 hp electric motor (407 hp and 472 lb/ft of torque)
FUEL ECONOMY: T6, 11.5/9.5/10.6 L/100 km (city/hwy/comb)
CARGO: 279 litres behind third row, 2,427 litres with all seats folded
PRICE: T6 Momentum $60,700, T6 R-Design $65,200, T6 Inscription $66,800, T8 PHEV R-Design $73,400, check website for additional packages and options
Unless I have a crowd to carry or load to haul, bulky rides like minivans and seven-passenger SUVs aren't typically on my radar.
So when Volvo announced they were unveiling the all-new XC90 in Stockholm last August, my excitement was directed largely toward the co-main event – a first drive of their potent, track-ready Polestar sedans and wagons.
That being said, I was still pleasantly surprised when they took the wraps off the completely redesigned XC90. Not so much for the styling, which is handsome but not groundbreaking, but for new ideas they've brought to this segment.
More on this later.
Volvo has high expectations for a model that hasn't seen any significant changes since launching in 2002. Other than a few minor facelifts along the way, the XC90 was getting long in the tooth.
So nearly a year after the unveiling, I'm spending a week with a vehicle that's been three years in the making – and part of an (US) $11 billion investment that includes retooling for Scalable Product Architecture, which debuts in the XC90 and will allow the company to cost-efficiently build multiple vehicles on the same platform.
RELATED: Volvo Cars' Standard Safety Technology Cuts Accidents by 28 per cent
Ergo, the new design is significant not only in reviving a once popular SUV, but in heralding a brand renewal. Expect an entirely new Volvo lineup to emerge over the next several years.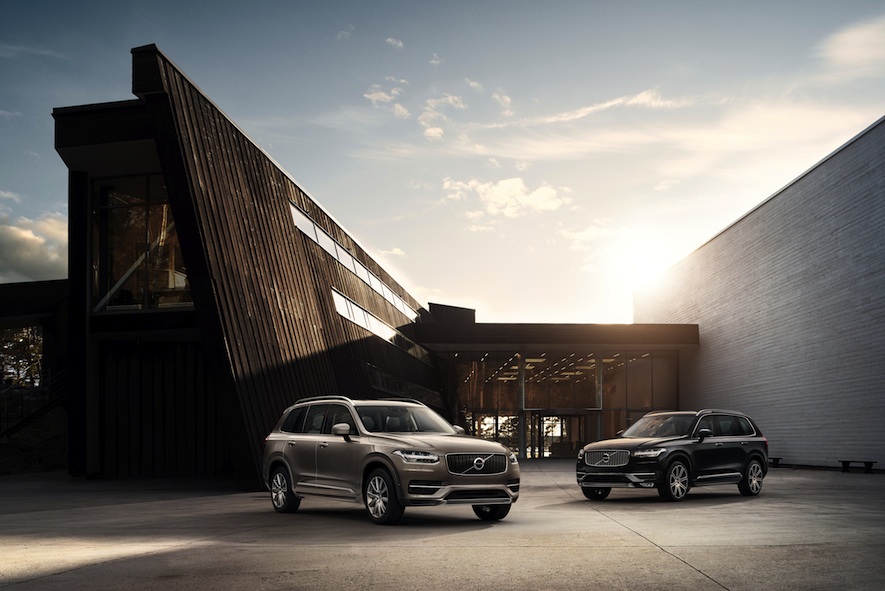 Whether you've read my recent review on the V60 Cross Country, or have seen some current product, it's clear Volvo's traditional boxiness has finally relented to a few creases and curves.
XC90 may not be the best example of this, starting with its big upright grille, but with the signature diagonal slash and new iron mark logo, flanked by narrow-cut headlights and "Thor's Hammer" T-shaped LED running lights, it creates a bold first impression.
Like a fist!
There's also a longer hood and high beltline, with sharpened shoulders, not to mention large wheel openings that accommodate up to 22-inch alloys – all forming a robust side profile.
A prominent roof spoiler, big vertical taillights and pair of rectangular exhaust finishers nicely complete the rear view.
But it's under the skin where Volvo marches to the beat of its own drummer. For example, a dimpled chrome knob between the seats replaces the usual dash-mounted pushbutton start. Just twist to fire up the engine.
Which in my tester was the T6, starting at $60,700. Not a turbocharged inline six as you might expect from Volvos past, but a 2.0-litre four cylinder with both supercharger and turbo. This Drive-E powertrain delivers an impressive 320 hp and 295 lb/ft of torque, along with rated fuel economy of 11.5/9.5/10.6 L/100km (city/hwy/comb).
Not bad for a behemoth that tips the scales at well over two tons.
Still more unorthodox is XC90's second powertrain – the T8. Once again, its 2.0-litre four employs both supercharger and turbocharger, aided by an electric motor to thump out a whopping 407 hp and 472 lb/ft of torque.
RELATED: Volvo Cars Drive-E T5 Wins Ward's 10 Best Engines Of 2015
This plug-in hybrid can run on battery alone for up to 43 km, and will do the zero-100 km/h sprint in only 5.6 seconds.
Not at the same time, of course.
Both AWD powertrains are mated to an eight-speed Geartronic automatic with sequential shift, but the T8, which starts at $73,400, won't be available until sometime this winter. For now I'm quite happy with the T6, which outmuscles its 3.2-litre six-cylinder predecessor by 80 hp and 59 lb/ft.
So why would Volvo force-feed its new engine with two separate units? Consider that while the exhaust-driven turbocharger is spooling up to deliver its boost, the engine-driven supercharger is already at work.
Plant the pedal, and the XC90 bolts off the line, accompanied by a delightful whine from the supercharger. Power builds through the mid range as the turbo joins in, taking the T6 model from zero to 100 km/h in a still snappy 6.5 seconds.
Of course, that's in Dynamic mode, one of five drive options selected by clicking and rolling a uniquely-styled chrome cylinder that toggles between Eco, Comfort, Off Road, Dynamic and Individual.
All are displayed on a 9.3-inch touchscreen that works like your tablet. Just swipe for adjacent screens where the apps are intuitively grouped – for example to the left where you'll find most vehicle functions like safety aids, headlights, wipers and even an app that drops the large middle-row headrests to improve rear visibility.
There's also one for "driver performance," which initially displayed a fuel-sucking 14.7 litres/100 km. That was mostly city driving – in Dynamic mode – so I switched to Eco and with a light pedal and more time on the highway, managed a respectable 10.2.
The XC90's centre console has a clean, minimalist look with its large tablet also taking care of navigation, audio, phone and climate – leaving only a thin strip of buttons and single knob below.
Overall, interior fit and finish, not to mention material choices, are as good as anything I've driven in the XC90's price range – and better than some. Seating for all models are upholstered in leather, and even my base tester had leather steering wheel, chrome and aluminum brightwork, and a panoramic sunroof with power sunshade.
Every model also gets four-zone automatic climate, and second-row occupants enjoy individual settings for right and left passenger, and a set of touch-sensitive controls for the optional heated seats.
The standard-equipped third row is ideal for kids – or at least one of them when separating a squabbling brother and sister – but they're a bit squishy for adults much over five-foot-seven.
Space behind them is limited (279 litres), but drop the 50/50 back row and the 40/20/40 second row for a cavernous 2,427 litres. And all seats fold flat.
RELATED: Why Wagons Don't Suck
Other standard features include power tailgate; 19-inch alloy wheels; heated front seats with eight-way power for both and memory for the driver; rain-sensing wipers and a ten-speaker audio system.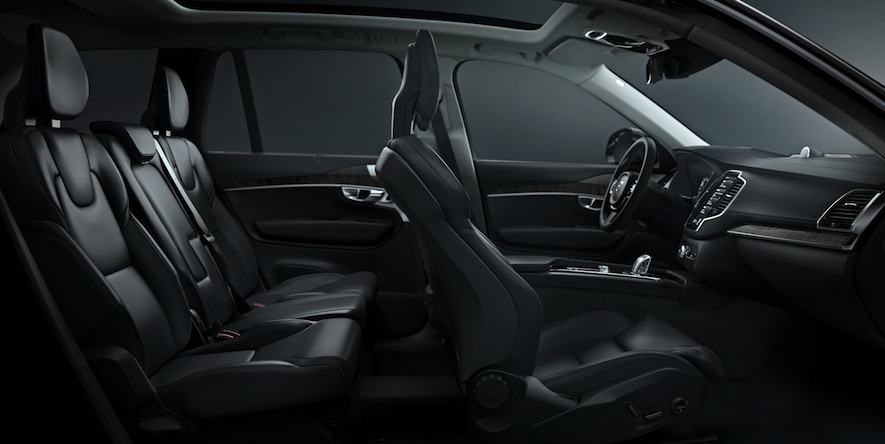 All that, and a pack of driver aids like pedestrian and cyclist detection, lane departure warning, speed limit information, road edge barrier detection with auto steer, and park assist camera.
With alternatives like BMW X5, Mercedes M-Class and Lexus RX, the XC90 has always faced stiff competition.
But after this bumper-to-bumper remake, I'd suggest it can challenge the best in its class – not just in terms of Volvo's customary safety, but in any area that truly matters to the luxury buyer.