2016 Porsche Boxster Spyder – Pure motoring
A quick flick of the wrist has the nose pointing to the apex in immediate fashion, the body hardly unsettled by any weight transfer or traction change; it's incredible how together everything feels considering this is a roadster.
THE PROS & CONS
What's best: Handling, styling, sense of occasion

What's worst: Very Little. OK; that roof's a pain

What's interesting: Rear clamshell hinges look like works of art
I drove the Porsche Boxster Spyder you see here before the announcement came down from Stuttgart that the next version of the Boxster and its fixed-top sibling—the Cayman—would be adopting the "718" model desgination. I would have to say, however, that it embodies everything that number was associated with.
RELATED: Porsche Boxster and Cayman will be rebranded as the 718.
You see, the Porsche 718 RSK was as pure a car Porsche made in the '50s and '60s; it was a development of the successful 550 racer, which itself was a development of the bare bones cars Porsche was known for early on in its existence: the 356 series.
That meant cutting out weight wherever they could (often with little thought of how it could affect driver comfort…), and tuning it so it drove as if it were a kid with too much energy drink in their system, all the time. It was crazy, but it was enough to prompt comedian Jerry Seinfeld—he of the 50-Porsche collection—to say on his popular show Comedians in Cars Getting Coffee that "If you just want to go for a drive for the pure joy of it, I think (the 718) is just about the best there is."
Of course, a few minutes later, Seinfeld's guest for the episode, fellow comedian Kevin Hart, would follow that comment up with a gem of his own: "This car is very loud. This isn't a good date car."
The thing about the 2016 Boxster Spyder you see here is, although it's also loud, it's a very good date car. Or, perhaps more specifically, it's a great car for getting a date, if you know what I mean.
Just look at it.
The latest Boxster is already quite the looker in its own right, what with those taut body panels that just barely stretch over its bulging muscles—especially around the rear haunches—ground-hugging stance, and deep air-intakes up front.
The Spyder, though, takes things up a notch with a more steeply-raked windshield, front and rear bumper extensions (it's longer overall than a standard Boxster) and a dual-hump clamshell rear deck cover, which we'll talk more about in a minute as it's a big part of the Spyder story.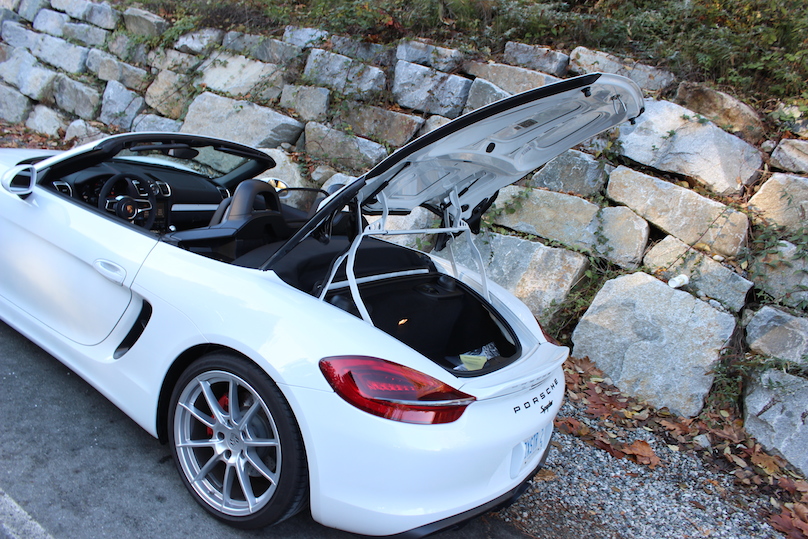 Perhaps most importantly is how much better the Spyder looks than its Boxster, Boxster S and Boxster GTS cousins when the top's up. A manual-folding soft top is your only option, a part of the weight-saving regimen underwent by the Spyder. However, that manual top also allows for a different roof shape than other Boxsters, giving a bit of a chopped-top that looks much more aerodynamic and less awkward. Plus, the gorgeous hinges that display themselves when the clamshell is opened are just another detail indicating how special this particular Boxster really is.
The offshoot, though, is a top that takes a little bit of learning to get right. It's best described in video form—and indeed, Porsche has put one on YouTube—just know that it's good that the car could help you get a date, because you'll likely need them to help you with that top. Yes, you flick a console-mounted button to unlock it, but that's all the button does for you. The rest is all human-powered.
You won't require much help from them when it comes to enjoying the drive, though the smile on their face will add a flare to the proceedings.
Actually, it kind of starts before the drive as you sit in the Spyder's cockpit, surrounded by Alcantara, carbon fibre, and gorgeous red-on-black stitching. You know you're in something special when you drop into those deep bucket seats. Oh, and if those aren't hardcore enough for you, there are the optional fixed-back carbon fibre numbers.
Power from the 3.8-litre flat-6 shared with the 911 Carrera S comes in at 375 horsepower and 309 lb.-ft. of torque, but those numbers are only a small part of the story.
We talked a little bit about the diet earlier—the Spyder weighs 30 kilos less than the GTS—thanks in part to that roof mechanism. Other weight-saving measures include nylon straps as door pulls and a short-throw six-speed manual as your sole choice.
The trade-off? A car that explodes off the line with gumption and changes directions like a gazelle, just like a sports car from one of the best in the business should.
The howl through the twin rear tailpipes is familiar in that at its base, it provides the trademark metallic hum associated with most Porsches. Only with the Spyder, it's taken up a few notches in the volume department, whether you've activated the sports exhaust or not by pressing a button mounted just below the shifter. This thing doesn't just growl, it yowls and you can just picture the sound bouncing of the cliff walls as you carve a swathe along France's Côte d'Azur and make your way to the baccarat table at the Monte Carlo casino.
Oh, you'll be carving a swathe, all right.
Unlike the Spyder's Cayman GT4 cousin, the front suspension isn't lifted directly from the 911 GT3. It does receive some sport tuning by way of stiffer dampers and a 200 mm-lower ride height, though, and the response that it helps provide to steering inputs is fantastic.
RELATED: Best new performance car of 2016: Porsche Cayman GT4
A quick flick of the wrist has the nose pointing to the apex in immediate fashion, the body hardly unsettled by any weight transfer or traction change; it's incredible how together everything feels considering this is a roadster. Then, once you've clipped your apex and start heading toward corner exit, you can get on the power and let that fantastic engine breathe again, traction hardly bothered thanks to a well-implemented traction control system and sticky Michelin performance rubber.
Of course, the TCS system can been deactivated if you wish, allowing the Spyder a rump shake or two as you send the tach soaring towards peak power, at 6,700 r.p.m; it's also a good way to test the car's claimed 4.5-second 0-100 km/h time. The flow allowed by such an in-tune and sorted chassis is the stuff of legend, and it's a great indicator of the many lessons Porsche has learned over the decades it's spent developing top-flite sports and race cars.
Yes, you'll get more features for similar money with the Boxster GTS; features like a back-up cam, or heated seats, for example. Yes, that roof can be a real pain if you're caught in the rain but rare is it that these apparent "shortcomings" have so little bearing on the experience provided by a car. The 2016 Boxster Spyder is a car that's meant to be driven, and it doesn't pretend to be coddling, or quiet, or intend to be taken lightly. This is pure, old-school motoring at its best.
Porsche Boxster Spyder 2016 at a glance
BODY STYLE: Two-passenger roadster
DRIVE METHOD: mid-engine, rear-wheel-drive; six-speed manual
ENGINE: 3.8-litre flat-6 (375 hp, 309 ft.-lb.)
FUEL ECONOMY: (Premium) 13.1/9.9 L/100 km city/highway
CARGO: 280 litres, divided between front and rear compartments
PRICE: (Starting price) $93,700
WEB: www.porsche.com