2015 Dodge Challenger 392 Hemi Scat Pack Shaker-Shake, rattle and roll
Hemi V8 grunt, retro rock n' roll styling, rear-wheel drive and doors for two; yep, good to know there's still room for cars like this out there.
THE PROS & CONS
What's Best: Styling, Hemi V8, well-appointed interior

What's Worst: Chassis can't quite keep up with engine, fuel economy

What's Interesting: Watching that Shaker hood scoop roll to and fro as you dip the throttle
For a car guy or girl, there really is nothing else like it. The noise. The power delivery. The way it somehow manages to bore itself straight into your sternum; ah, yes. There is nothing quite like two doors, rear-wheel drive and a big, pulsating V8 motor rumbling away under the hood in front of you. It's addictive. It's enormous and perhaps best of all, it's pure.
That kind of purity is not so easy to come by these days; people may be buying more cars, but households are lowering their car count, meaning that pickup you bought has to also be able to ferry the kids around in comfort, meaning your need four doors and more rear-seat creature comforts, and that crossover you bought has to be able to pack longer items, and get around on as little fuel as possible. It's funny that I mention "crossover" here, only because it seems that everything has to be able to cross over somehow, some way these days.
RELATED: 2016 Chevrolet Camaro SS Review 
The 2015 Dodge Challenger 392 Scat Pack Shaker (I'll give you a second to catch your breath…), however, is no such thing.
About the only nod it gives to any kind of other vehicle segment is its ability to shut down half its cylinders when cruising, to help conserve fuel. You have to ask yourself, though: where's the fun in that? Dom Torretto definitely didn't have any newfangled cylinder deactivation nonsense in his steed, and it's served him pretty well…
Indeed.
Power from the 6.4L Hemi engine under that big hood with exposed "Shaker" hood scoop—more of which we'll discuss in a minute—comes in at 485 horsepower and 475 lb.-ft. of torque, enough to propel the big coupe from rest to 100 km/h in about 5 seconds, sure to send its drivers and passengers into a tizzy while it's at it.
I say "passengers" because while it is a two-door, its based on the Charger full-size sedan, meaning the Challenger actually has some somewhat useable rear seats. They're not perfect—it seems that the trunk has benefitted the most from the larger platform, considering its 458 litres of capacity—but there's more to work with here than there is in a Ford Mustang or Chevrolet Camaro.
More seat room or not, one thing your rear seat passengers won't get is the view over that spectacular hood, punctuated by the aforementioned Shaker hood scoop.
While the '15 Challenger is a call back to Dodges of old in general, the Shaker hood takes things up a notch. It's called as such because that's exactly what it does; dip the throttle while at rest, and watch as the hood scoop bobs back and forth as you start to let the engine breathe. It may seem like such a basic thing, but the sense of occasion it adds is hard to deny. In addition to the special hood, the Shaker package also adds a cold air intake, 245-section performance tires wrapped in 20-inch wheels and performance-tuned steering.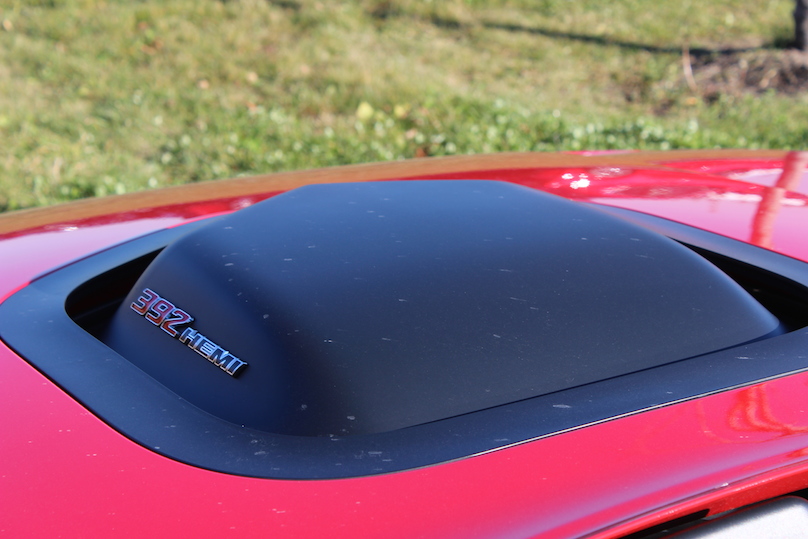 Not that a car with a monster V8 like this needs anything to help improve or makes its presence felt.
It's not the most powerful engine in the Challenger line-up—that distinction goes to the supercharged, 707-hp Hellcat model—but at 6.4 L, it is the biggest engine and plays into the classic "no replacement for displacement" motto (it's got 392 CI) that has been the muscle car mantra for as long as there's been muscle cars.
I've also driven the Hellcat and if I'm honest, as much a muscle-car head that I am, I don't think it's the car I'd want to live with on the day-to-day. The clutch is heavy, the exhaust note has been turned up to 11 and the steering? Well, put it to you this way: just make sure you have your spinach before taking the Hellcat through town.
The Scat Pack is a little easier on the body, and while I'm sure there are people out there that believe you have to earn the right to drive a muscle car through, um, gratuitous muscle use (for the steering, for the clutch, etc.), I also think that aside from my earlier purity discussion, I'd like to be able to use my muscle car more often.
The Scat Pack makes this a little easier; yes, I guess you could say that if you really wanted a day-to-day muscle car you'd forgo my tester's Tremec six-speed manual for the available 8-speed automatic option, but that's where I have to draw the line.
The manual is just so much fun to row, and has been improved from the previous-gen car; the shift action is smoother, the slots are easier to find and the clutch a little easier to modulate.
Plus, you will never, ever be able to equal the sensation of bang-bang-banging though the gears as you drop the hammer and try and turn that empty, early-morning country back road into a drag strip. There's even a launch control system that lets you set the max revs, so all you have to do once it's activated is slot first, floor it, sidestep the clutch and be on your way. It is a shame they've done away with the last car's pistol grip shifter, though. Quite the spectacle, that was.
The launch control system is only a small window into what's on offer from the Challenger in the tech department. It comes with a g-meter, acceleration timer, and even a brake-distance indicator. All this is part of the Dodge Performance Pages app, as standard on the car.
It's nice to have, but the Performance Pages requires a track to make any use of, and I'm not sure how many Scat Pack owners are going to take their car to the track. The drag strip perhaps, but when it comes to bends, the Scat Pack is not your best friend. Yes, those tires are sticky and the power is there, but the chassis flex is surprising. That 6.4L lump ahead of you is heavy, and the car just feels a little big in general. I've also experienced the lighter 5.7L R/T model, which is probably a bit more track worthy.
Good, then, that the rest of the driver and passenger experience is well executed; the interior is a nice place to be, from the leather seats (standard on the Scat Pack, but made to look a little more special on our car thanks to the $695 Scat Pack Appearance Group, which adds nicely-stitched Scat Pack logos to the seats, as well as HID headlights, special exterior striping and premium floor mats), to the enormous (like, 8.4-inch enormous) UConnect infotainment screen and gauge cluster with its own 5-inch display between the two main gauges. We also had Garmin-based navigation, which comes at a $700 premium.
Really, though, all you'll need to navigate to is the nearest country road to get a quick taste of the performance and grunt that the Challenger has to offer. Just sit down, strap in, press the starter button and follow along with that great Shaker hood scoop as a dollop of some good ol' Route 66 crushin', tarmac-tearin' made-in-Canada-Mopar-muscle sends you surging to the horizon.
Dodge Challenger 392 Hemi Scat Pack Shaker 2015 at a glance
BODY STYLE: Five-passenger Coupe
DRIVE METHOD: Front-engine, rear-wheel-drive; six-speed manual or available eight-speed automatic
ENGINE: 6.4-litre V8 (485 hp, 475 ft.-lb.)
FUEL ECONOMY: (Regular) 16.4/10.8 L/100 km city/highway
CARGO: 458 litres
PRICE: (Starting price) $46,995
WEB: www.dodge.ca