THE PROS & CONS
What's Best: Everything from looks, performance, handling and, most of all, character that makes the 4C a true sportscar in every aspect.
What's Worst: Cramped cockpit, almost non-existent rear vision.
What's Interesting: Alfa Romeo has come up with a sportscar that deserves the name and at an astonishing low price for what you get.
2015 Alfa Romeo 4C at a glance
BODY STYLE: Two seat high performance Coupe and Spider
DRIVE METHOD: Mid-engine, rear-drive
ENGINE: 1.75-litre, direct injection turbocharged inline four-cylinder (237 hp, 256 lb/ft) with six-speed dry dual clutch transmission
FUEL ECONOMY: (Premium) 9.7/6.9L/100 km (29/41 mpg) city/highway.
CARGO: 105 litres (3.7 cu ft)
TOW RATING: Not recommended
PRICE: $64,495; Launch Edition, $78,495: Spider, TBA
MALIBU, CA- Within the first 10 feet I knew the 2015 Alfa Romeo 4C was special.
Very small and very fast at 0-100 km/h in 4.5 seconds (4.1 seconds in Race mode) and a top speed of 258 km/h, this is the definition of what a sports car is and should be.
No backup camera, no 14-speaker surround-sound system, no big screen infotainment screen because you don't need them in a car like this.
With the engine mounted right behind your head, the 4C is all about balance, lightning quick response and a glorious barely muffled exhaust note.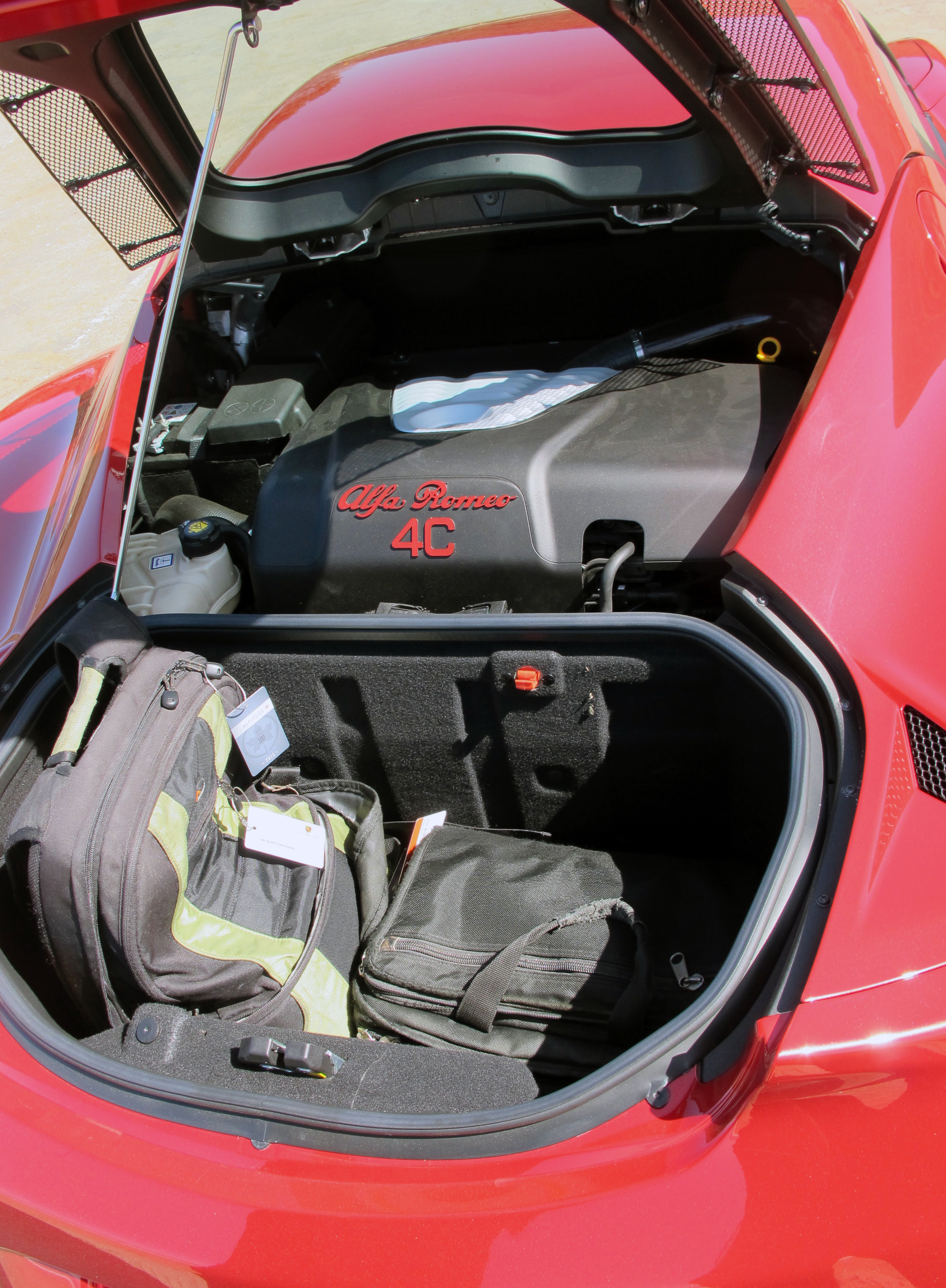 It is possibly the most enjoyable drive I've had in five years – maybe a decade.
And then there are the lines. Big rear haunches all flowing back from the classic Alfa Romeo inverted triangle grille. The blood red paint is what you want on an Italian sports car.
The 4C is not for everyone, especially if you are more than six-feet tall.
At just 118 cm tall and 200 cm wide, the cabin, engine and transmission have to fit in the less than 2.4 metre wheelbase and the whole car isn't quite four meters in overall length.
I am five-feet, 10-inches tall. Getting in the driver's seat meant putting one foot in first over large seat bolsters, bending the head down to the belly, hit the seat and then try to bend the other leg through 90 degrees and drag the foot over the doorsill. Getting out is even tougher.
It's worse for the passenger because the secondary controls such as HVAC are on the centre stack that juts out over the centre console and is angled toward the driver. In front of the passenger seat is another ledge that sticks out and holds an airbag and HVAC venting. Ingress and egress is a very serious challenge for those like me who are, shall we say, full-figured.
That all disappears when you push the start button and the engine snaps into life.
The engine is a 1,750 cc turbo DOHC direct injection four-cylinder with 237 hp and 256 lb/ft of torque mounted in the middle of the car bundled up with Alfa's six-speed dry dual clutch automatic transmission.
Gasoline rating (premium) is 9.7/6.9L/100 km (29/41 mpg) city/highway.
Using lessons learned from Ferrari Formula One cars, it boasts leading edge technology such as a turbo scavenging system that eliminates lag.
The transmission can be run in automatic or sequentially with paddle shifters.
On the centre console is a rocker switch the company calls the Alfa DNA selector, with three standard modes – Dynamic, Neutral and All Weather. In addition there is fourth mode called Race, which gives the 4C the highest level of performance.
RELATED: After 20 years, the new Alfa Romeo 4C makes a comeback in North America
Driving around north of Los Angeles in those great canyon roads that wind up from the ocean into the hills, the 4C provided measures of tractability and throttle/suspension response I'd forgotten were possible.
Up and down through the gears, even in automatic, there was a wondrously loud "blap" from the exhaust as the transmission meshed speed with the revs of the engine.
The manual steering (no power offered), is heavy at low speed, but takes on a life of its own with steering wheel road "feel" that actually lets your fingers sense the different grain of the road surface.
The three-season tires are so low profile that they look like rubber bands on the alloy wheels. Each tire has a pressure sensor in the valve stem so the driver knows if a tire is going down.
More to the point, the 4C reaches up to 1.1-g in cornering and 1.15-g under full braking.
There is virtually no rear vision let alone Blind Spot warning, but who cares. You will have to position your mirrors very well, but then again, this car is about going forward, not looking back.
About the only road-going car I can think that compares was the first generation BMW M3 before they got fat and pretentious.
RELATED: Alfa Romeo needs a 'wop engine,' says Fiat CEO Marchionne
As small as it is, the 4C feels immensely solid, which is not really a surprise as the cabin is built at the Maserati factory in Modena, Italy using knowledge learned from racing.
It consists of a carbon-fibre monocoque passenger cell that is three times stronger than steel and seven times lighter at 107 lb. At the front and back are aluminum sub-frames with a double wishbone front suspension and the MacPherson strut suspension plus engine and transmission at the rear.
In fact the curb weight is 1,118 kg (2,465 lb) for the Coupe and 1,128 kg (2,487 lb) for the Spider.
Every component in the 4C is there with weight and performance in mind. If it adds nothing to outright performance, it's not included.
For instance, the seats have a carbon-fibre frame because it is lighter and the side windows are thin glass. Secondary controls are few and the instrument cluster is a seven-inch TFT display direct in front of the driver. You won't find universal garage door openers or sub-woofers. They add nothing to the pace.
The inspiration of the 4C comes from the 1967 Alfa Romeo Tipo 33 Stradale, an all-out racing sports car that went head-to-head with the likes of Ferrari 312PB and Porsche 908-3 during what I consider was the greatest racing era of all time.
There is a trunk, of sorts, found in the tail behind the engine offering 105 litres (3.7 cu ft) of space, enough for two small overnight bags. Golf clubs are out of the question unless you use the passenger seat.
The Coupe is now in Canadian showrooms starting at $64,495 and there is also a Launch Edition at $78,495 with extras such as red leather seats, silver brake callipers and special wheels. Later this year the 4C Spider will arrive but pricing has yet to be announced.
If you want to cruise down the boulevard looking sporty, get a Porsche or Jag F-type.
If you want to enjoy driving a real sports car, the Alfa Romeo 4C is for you.
RELATED: MY FIRST CAR: Photographer's first Alfa a 'horrible' lemon